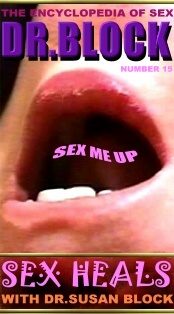 SEX HEALS
Throw Out Your Old Tired Roadmaps to Health!
Why do some people live longer, age better, smile more? Could it have something to do with their sex lives? Why are sex healers and sex educators often persecuted, executed, fined, beaten, chastised, ostracized and generally treated like criminals? Why are the facts of sexual healing still suppressed in our society? How can regular masturbation prevent prostate cancer and other diseases? What kind of eggs can you scramble with an eggbeater vibrator? How can giving oral sex alleviate symptoms of bells palsy? How can explosive orgasms clear up a stuffy nose? How can tender lovemaking cure West Nile Virus? How can sex heal what ails you? Learn the answers to these questions and more in Dr. Suzy's SEX HEALS. This is the ultimate antidote to the rampant sex denigration heaped upon us by most religions, government and the media with genuine, useful sex education and information, plus a little titillation. Nothing wrong with a little titillation with your education. Nothing wrong with a little pleasure in your life. In fact, it's good for you! SEX HEALS shows you why and how.
Approximate running time: 1 hour. Watch anytime 48 hours.
WATCH IT NOW - 48 HOUR ACCESS!
GET THE VIDEO . GET THE DVD.
GET THE DOWNLOAD
TALK PRIVATELY ABOUT YOUR SEXUALITY: 213.749.1330

"Dr. Susan Block is a genius when it comes to sexual matters, and I hold her in the highest regard...She is brilliant in front of the camera. She works her audience so well as she presses her sexual freedom beliefs and sexual healing theories...Her fans adore her. She received phone call after phone call, and she responded to each one with compassion and understanding. She added plenty of sassiness and witticism too...She has helped thousands of people become more sexually satisfied through her television show and over the Internet, her books, including The Ten Commandments of Pleasure, her newsletter, and her private consultations... She is my idol."
Laura Moore, Penthouse science writer, Sex Heals




Return to Erotic Theater Menu

Go BackStage