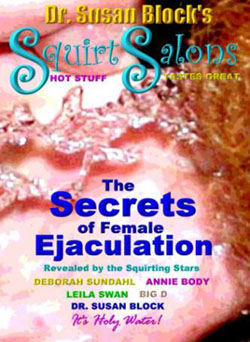 DR. SUZY'S
SQUIRT SALON
The Secrets of Female Ejaculation
Ladies, uncork your champagne! Gentlemen, get ready to get soaked! Go on an unprecedented 150-minute journey into the explosive wet center of the female universe. Witness the 8th Wonder of the World! Learn how to squirt and how to make your partner squirt. Enjoy the awesome beauty of three lovely ladies and one gorgeous gentleman ejaculating in ecstasy. Toast the New Age of Squirting with a champagne flute of crystal clear ejaculate! Have buckets of fun! As in all her private productions, in this premiere release of her SQUIRT SALONS, world-renowned, Yale-educated sex therapist, best-selling author and ground-breaking TV host Dr. Susan Block reaches the heights and plumbs the depths of human sexual experience in a fun, erotic, educational presentation that is already generating shock and awe (with zero casualties) in audiences around the world. Dr. Suzy's SQUIRT SALON features historic first-time close-up images of the elusive G-spot in various states of arousal, as well as many other unforgettable "firsts," in this extraordinary landmark film. What are the Secrets of G-Spot Female Ejaculation? Some of the greatest sexological minds have noodled this question. Dr. Suzy's SQUIRT SALON gives you the answers, starring the world's foremost teacher of G-Spot Female Ejaculation, Deborah Sundahl, the amazing Geyser of Desire, Annie Body, the lovely Missionary of Squirting, Leila Swan, gorgeous tantric trainer, Big D, and the inimitable Dr. Suzy herself, in a celebration, exploration and detailed explanation of human female orgasmic potential. Approximate running time: 150 min. That's 2 1/2 hours!

CLICK HERE TO GET THE DOWNLOAD FOR JUST $29.95
You Get the Best Quality in the DOWNLOAD
If You Can't Get the Download,
WATCH IT IN STREAMING VIDEO
72 HOUR ACCESS FOR ONLY $19.95!
TALK PRIVATELY ABOUT FEMALE EJACULATION 213.749.1330



Detailed Close-Up Instruction

"Dr. Susan Block has raised the bar for Female Ejaculation videos. Previous attempts produced dull 'medical' looking films, or crude 'circle jerk' shows with very little redeeming value. But 'Dr. Suzy's Squirt Salon' brings out the best in Southern California – people who know how to have wild orgasmic fun while focusing on a serious educational objective. Masterful editing combines live conversations and accurate narrative with the perfect mood music -- and selected artistic and historical "still" shots with intense interactive sex play on Dr. Suzy's famous made-for-TV bed."
John D. Perry, PhD, MDiv, BCIA (Senior Fellow Emeritus), BCIA-PMDC, Dip. Am Bd. of Sexology, and
Author of the International Best-Seller "The G-Spot"

Return to Erotic Theater Menu

Go BackStage