Educating, Stimulating and Agitating on the Internet Since 1996



F E E L M E
Dr. Susan Block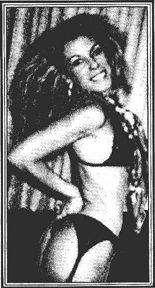 I love the way you feel me, the way you scroll through my pages, the way your fingertips caress your mouse and touch your keys, the way your soft breath fogs the screen, the way you look at me, your eyes gazing so intently, reading me like a journal. Wait a second--I AM a journal! I'm your journal. I'm also Dr. Susan Block's Journal.

But you already knew that, didn't you? Maybe you already know her. Maybe you've talked with her on the phone. Maybe you've heard her voice on your radio, seen her in bed on your TV, caught her show on HBO, or read her 10 Commandments of Pleasure. Maybe you don't know who the hell she is (let alone who she thinks she is), but guess who else she is: she's my publisher. As you can see by my name, her ego is as big as Forbes' or Mirabella's. And though she's known for her outrageousness, she's also a traditionalist. So while you're feeling me up, she's kicking me off with an old publisher's tradition: A Mission Statement. Or, as she puts it...
---
My Missionary Position
---
Positioning is important. It says a lot about you--your political position, professional position, financial position, social position. But what about your sexual position? Sexual positions are at least as important as any position and, as publisher, one of my main missions is for my little Journal here to assume a strong sexual position on everything.
That's what I tell my staff every day: "Assume the position!"
That is, whatever we write about--from new cafés to old politicians, from ancient art to modern war--we cover from a sexual perspective, or position. You may consider this an imposition--immoral, or at least, impolite. I consider it an essential, not to mention exciting part of civilized discourse that's tragically absent from most mainstream media.
So...doggy-style, anyone?
Actually, "missionary" is one of my favorite positions, though the name conjures images of Jesuit priests falling down between the outstretched legs of heathen savages, their crosses flailing, their voices wailing, "Hail Mary, Mother of God, I'm having an orgasm!" Whew! Must get into that image next time I'm making whoopy from down under...
Though lately, I prefer to position myself on top of things (and Max)--also called the "woman superior" position--for reasons having as much to do with physical leverage as body politics. I'm a Realist (Max is a lot bigger than me), and a Feminist. I'm also an Ethical Hedonist--I support the pursuit and cultivation of pleasure while maintaining the peace as civilized, considerate ladies and gentlemen.
---
Sexual stupidity is at the root of a lot of human problems.
---
That's the basic position of this Journal--though we also like doggie-style, spoon-style, yogi-style, hanging from the rafters, swinging from the chandeliers, suspended over the bathroom sink, up against the steering wheel, the man walking around with the woman wrapped around him, the woman trying to wash the dishes with the man trying to clean her clock. There's room for all kinds of positions--sexual and otherwise--in the webpages of my Private Journal.
Speaking of which, what position are you in right now? Are you comfortable? My Journal is best handled--and fondled--in a comfortable position. So, relax. Take your shoes off. Take your clothes off, if you like. Sip something smooth, light something up, turn something (your vibrator?) on, or just take a deep, delicious breath. Cool out. Kick back. Open up. Read on...
Now that you're in a comfortable position, please permit me to define my mission. No, it's not impossible (groan). But it's not easy. My mission is to wipe out sexual stupidity. Sexual stupidity is at the root of a lot of human problems. And I'm not just talking about not practicing safe sex, though that can be a problem. Sexual stupidity is much larger and more pervasive than that. Out of sexual stupidity comes prejudice and bigotry, heartache and misery, loneliness and violence.
---
Education is power, and sex education is sexual power.
---
So, practice your ABCs, darling, learn about computers, study your history, get your M.B.A., J.D., or Ph.D. They're all important.
But get smart about sex.
Education is power, and sex education is sexual power--the power to attract and cultivate healthy, exciting relationships, the power to understand and partake in the pervasive sexual dynamics of life, the power to give and receive pleasure, the power to love and be loved.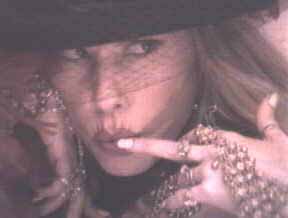 But where are we to get educated when we relegate sex to the darkest, dirtiest corners of our lives? Most of our parents don't teach us about sex, except in the sketchiest or most moral-izing manner. School sex ed courses are only on conception and contraception, never about how to keep love alive or give great head or roleplay fantasies or deal with the various frictions of sexual contradictions.
Fortunately, there are a few places to learn about sex, and more and more are popping up like hard-ons on the horizon. Look through the pages of my Journal, and you'll find evidence of a veritable Sexual Renaissance--books, videos, salons, seminars, clubs, shops, conventions, dungeons, even institutes where you can study some of the many-splendored aspects of sex.
---
Sure, sex is "natural," if you're happy being a male premature ejaculator...
---
Of course, the nicest place to learn about sex is through the sexiest head-master or headmistress on earth: your "primemate," your partner-in-love. Yet, all too often your partner doesn't know much or has trouble expressing him or herself sexually. That's where the sex books, sex workers, sex educators, professional pervies, costume designers and relationship referees come in.
"But why learn about sex?" folks ask me time and again, "Isn't sex natural?" Sure, sex is "natural," if you're happy being a male premature ejaculator or a preorgasmic woman or a couple that stops having sex after infatuation wears off. But if you want sex to be good, if you want love to last, you have to learn a thing or two. As that horny old Latin lover Ovid said a millenium and a half before Masters and Johnson, "Skill makes love unending."
Another reason we need to learn our sexual ABC's & triple XYZ's: Repression relies on ignorance. Fascists tried to control their flocks by censoring and/or criminalizing erotic entertainment and sex education. But bit by bit, they are losing control. Though vociferous, erotophobic, anti-sex goons fight it like the proverbial dickens, the forces of sex education are winning over the forces of evil and ignorance, as it becomes irrepressibly apparent that this is what a civilized society needs..
We need education in the sexual sciences to wipe out damaging, sometimes deadly superstition and misinformation.
We need education in the sexual arts to help improve our erotic lives and keep our families intact.
We need education in sexual psychology and philosophy to help us understand our true sexual nature and to cultivate it in a fulfilling, ethical, manner.
So...Our Mission (or is that "emission"?) is to educate your body and masturbate your mind (and vice versa) on every single sensual page of this Journal--just like we do in our shows, videos, books, website, our work at the Institute and our play at the Speakeasies. It's all part of our mission...
As sexual missionaries, we assume some fairly hot positions. We're pro-love, pro-choice, pro-freedom-of-speech, pro-decriminalization-of-prostitution, pro-education, and of course, pro-pleasure. We believe in The Bonobo Way of peace through pleasure. Our motto: If you're so keyed up you want to shoot something, just shoot the "gun" between your legs!
---

---
We're also pro-fun, since humor makes sex great and life bearable. Oh, we weep and wail at times; the life of a sexual missionary is not always just a bowl of orgasms. But for the most part, we assume the position of our fellow Sexual Revelationary, Camille Paglia: "Sex is a comedy, not a tragedy." Tickle, tickle, tickle.
So, having positioned my Journal for you, I want your positions. Don't hide from me now. Come on out of the closet and into the papers. Give it up to me. Fill me up with your love. Send me your position papers, personal missions, sexo-philosophical musings, fantasies, fetishes, opinion pieces, "dirty" stories, love letters, hate mail. Or send me photos of you and your loved one(s) in compromising positions. You see, my Journal is "reader-written," so, since you're obviously a reader, you're also, officially, one of my writers.
So come, darling...spill your soul onto creamy white sheets of paper. Send it by post, fax, e-mail, cupid's bow or carrier pigeon. Come join me on my journalistic pleasure trip.
Or just get into an even more comfortable position, and do your thing, whatever it is, while you consume my luscious little Journal. Eat up the writing, the stories, the photos, the videos, the missions and positions. Taste the Bonobo Gang. Take a swig of my primemate Max. In our advertisements and editorial pages, we are fortunate enough to showcase many of the greatest minds, bodies and souls working in the burgeoninng field of sexuality, as well as some regular people. Devour the images, some fresh as next year's news, others from bygone eras, reminding us that eroticism is by no means a new invention. Stroke your keys (it's okay - they like that). Feel my stories. See the light. Inhale my words. Assume the position. Enjoy your trip!

PUBLISHED: SEPTEMBER 1996
FOR JOURNAL ARTICLES, SEE RIGHT COLUMN