Continued from page one of
S Q U I R T I N G
The Geyser of Love
by Dr. Susan Block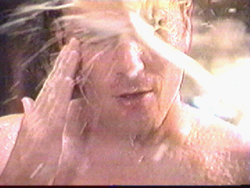 Click Here to Learn to Squirt or
Help Your Partner Squirt
I'd seen several women ejaculate--Kiss, Debbie Sundahl and Carol Queen, to name a few--but I'd never been able to do it myself, not that I'd really tried. I was also one of those skeptics who wondered if it wasn't just peeing while you're coming. Not that there's anything wrong with a nice golden shower, but well, that's just peeing.








Dr. Suzy squirted up a storm, baptizing Axel with her Nectar of Aphrodite.
For the world's best female ejaculation video, check out Dr. Suzy's Squirt Salon

But Axel and Lasse both, each commandeering one of my ears, promised me it wasn't just peeing. Moreover, Axel insisted he could make me squirt without my knowing how to do a thing. As soon as I agreed, Axel disappeared into the bathroom to wash up. Emerging with sleeves rolled up and hands raised, he looked like a surgeon about to operate, or a magician showing he had nothing up his sleeve.
Just to prove to myself that it wasn't urine, I took a nice long whiz right before sitting down with Axel. As I was already highly aroused and very wet (thanks to all that whipping and whispering), Axel didn't have to do much in the way of foreplay. He slid his middle and ring fingers easily between my inner labia and into my vagina and immediately began probing around for my G-Spot. Once he located the raised spongy spot under the roof of my vaginal cave, he pressed it gently yet firmly. I felt a slight pinprick sensation, followed by a gushing feeling in my womb, at which point Axel began his dynamic forceful fingering technique. In and out, in and out. I felt like I was blacking out, but I could hear the oohing and ahhing of spectators around me. I couldn't see myself squirt, but when I was done, everyone assured me that I did. I also noticed that Axel's arm and the towel I sat on, as well as the sofa under it, were soaked with my bountiful juices. Later, I looked at the video. Yes, indeed, there I was, squirting like a burst water pipe.
These juices did not smell like pee. They smelled like pussy.
As for the orgasm itself, it was intense, a little bit painful, and exhilarating like a roller coaster ride, leaving me breathless, dizzy and more than a little worn out. A few minutes afterwards, I found myself feeling hornier than usual and wound up having a lot of wild wet sex that night. No more squirting, but some of my deepest, longest, juiciest orgasms ever.





Post-Ejaculation flooding: See it large!
To learn to female ejaculate, check out Dr. Suzy's Squirt Salon
Since ushering in the 21st century by uncapping my own Champagne de Suzy, I've experienced G-Spot Female Ejaculation about five more times. I don't ejaculate during sex or masturbation, only with the G-Man. But I must say, since I started squirting occasionally, my regular orgasms are stronger, longer and more frequent than ever, and I'm lubricating more easily and more copiously than before.
Self-Squirting
Ivona Diamond , one of the therapists at the Dr. Susan Block Institute, is the best "self-squirter" we know. She started ejaculating via the G-Spot method with Axel a few weeks after I did, the second woman at the Institute to try the G-Man's explosive technique.







See sexy Squirting Star Ivona Diamond squirt like a broken fire hydrant!
Join us BACKSTAGE now.
It was another sexy evening after the show. Ivona's cunning linguist boyfriend Larry went down on her and I teased her succulent nipples just before Axel let his fingers do the walking, using the Braun Method to make her ejaculate forcefully within about 10 minutes.
Ivona is an incredibly hot, physical, sensuous, adventurous woman. So no one was too surprised when she let loose and squirted up a small tropical storm. Still it's a baptismal sexual revelation.








It's tough to see Ivona squirting in thumbnails this small.
Click here to join us BACKSTAGE & see it large
Now Ivona is a Squirting Star. She squirted for me at my birthday party. She squirted at the first show on my broadcast bed at the new Institute on Olive Street (just as they christen a new ship with champagne, we uncorked our own personal Sex Bubbly to kick off a new era for the show in our beautiful new space). She squirted on her own birthday and for Halloween. She squirts regularly at home too.







Bare Witness, Brothers & Sisters, Sinners & Squirters, to a
Baptismal Sexual Revelation! Hallelujah! Amen, and Awomen too!
Ivona still enjoys G-Spot Female Ejaculation according to the Braun Method, which Larry has mastered along with oral sex. But even more remarkably, Ivona can now squirt quite profusely with no G-Spot stimulation at all. With nothing but the firm pressure of her favorite plug-in vibrator, "Mr. Hitachi," Ivona can spray like a turbo-charged sprinkler system in a matter of seconds.
How does she do it? Goddess only knows, but she does it every time! Some women are Squirting Naturals; they do it without even trying. In fact, if they haven't been educated about female ejaculation or if they have ignorant lovers, they may even be embarrassed about it. Of course, they shouldn't be.
Ivona's not exactly a natural. She didn't start squirting until the G-Man pressed her button. But she does practice and, at this point, she can pretty much squirt on command. Here's her essential routine: She lies down, head propped against pillows, legs bent and spread wide, buns raised up slightly off the bed. She lubricates her sizeable clitoris and abundant inner labia with her saliva (or Larry's), then pulls those big wet butterfly lips open, placing Mr. Hitachi's head right under her clitoris and over her spread labia. Then she presses Mr. Hitachi down, turning him on high speed, raising her butt, breathing deep, squeezing and releasing her kegel or pubococcygeous (pc) muscles. After a minute or two, or maybe at the most, three, her eyes squeeze shut and a high-pitched moan emerges from her throat. A second or two later, the Geyser erupts.
It doesn't last long. Maybe up to five seconds. The amount of ejaculate that she releases ranges from not much more than a sparkly spritz of pussy perfume to a dazzling, gushing waterfall of womanhood.
Her secret? Practice, she says. Ivona loves to squirt. Though she says it's easier to for her to squirt a lot when she hasn't done it for a couple of weeks.






See Ivona Squirt--Plus Lots More Sex & Fun--BACKSTAGE
To learn to squirt, see Dr. Suzy's Squirt Salon: Secrets of Female Ejaculation
So, can you squirt? Probably. Even if you're not a squirting "natural," if you try hard enough, if you practice like Ivona or if you find a good G-Man (or G-Woman) like Axel, you'll squirt like a broken fire hydrant.
So, Brothers & Sisters, Sinners & Squirters...

Let the geysers shoot forth!
Enter Here to See the Squirting Photo Collection & More!



Get DR. SUZY'S SQUIRT SALON
on DVD, Download, Stream or VIDEO

Enter Here to See the
Full Squirting Photo Collection!

Would you like to squirt? Let us know.
Both Beginners & Experienced Squirters Welcome

FRONT PAGE