Mario Saucedo's
B O N D A G E . .C R O S S
at
Dr. Susan Block's
Speakeasy Gallery
The castigation of sinners is a vital aspect of any traditional Apocalypse, and a very popular part of our show "Erotic Art of the Apocalypse." If humanity is to be redeemed, the sinner must be made to suffer. Usually, sinners are bound, stripped and whipped, often much to the excitement of the crowd, and the sublime rapture of the sinner.
Which brings me to the Bondage Cross. Though many of the more than 100 works on display in the Speakeasy Gallery's turn-of-the-mill' exhibit "Erotic Art of the Apocalypse" (some of which you can view at www.eroticsgallery.com are singularly spectacular, none have engendered quite as much upheaval, arousal, disgust and delight as a simple yet commanding piece of interactive sculpture.
Photos by Thomas Lane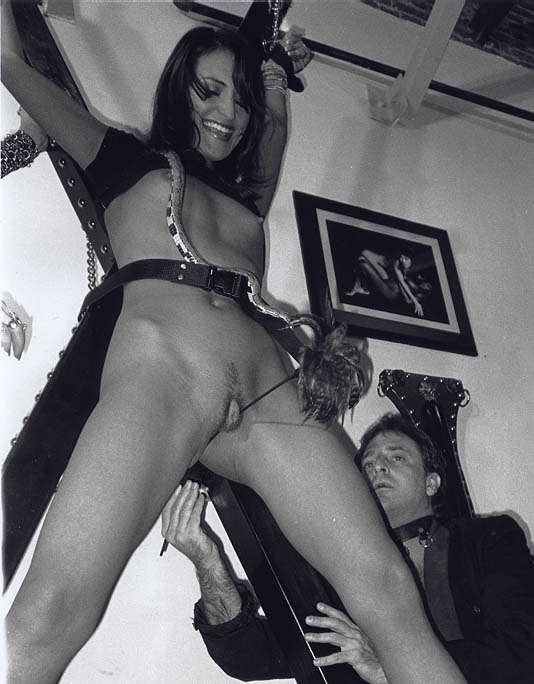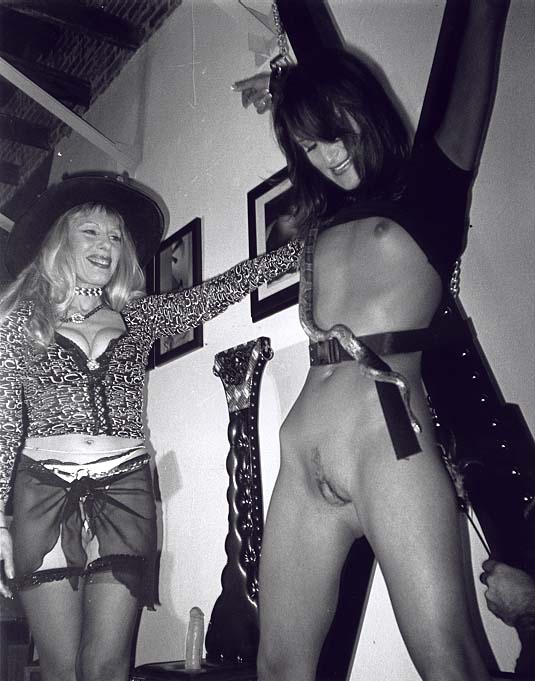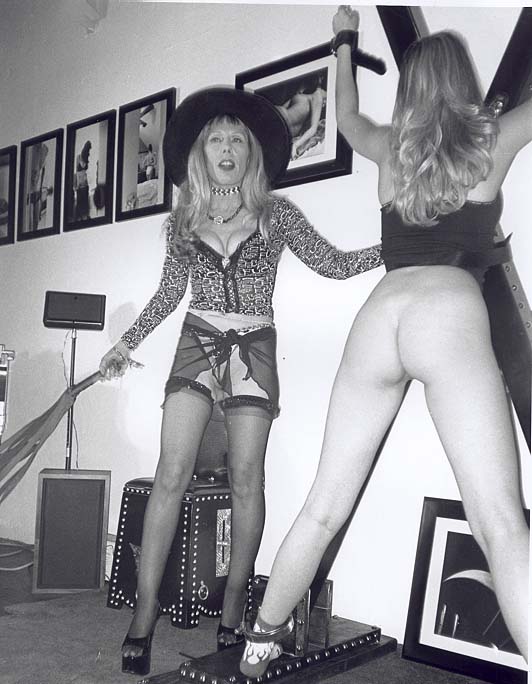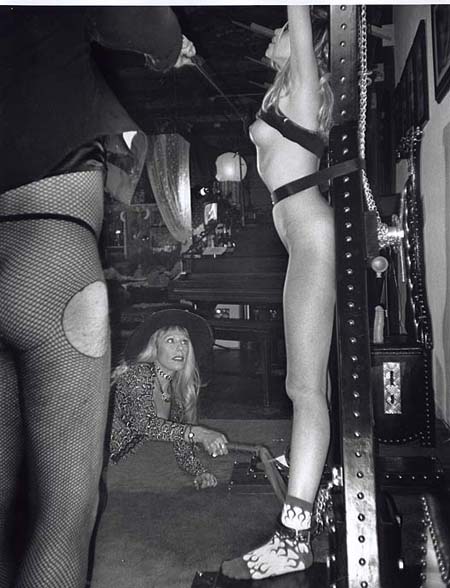 Picture One: Lola on the Cross
Picture Two: The Irreverend Dr. Suzy Displays Lola to the Congregation
Picture Three: Dr. Suzy Whips Alyssa
Picture Four: Alyssa Atones for Our Sins
Picture Five: Passion of Jolie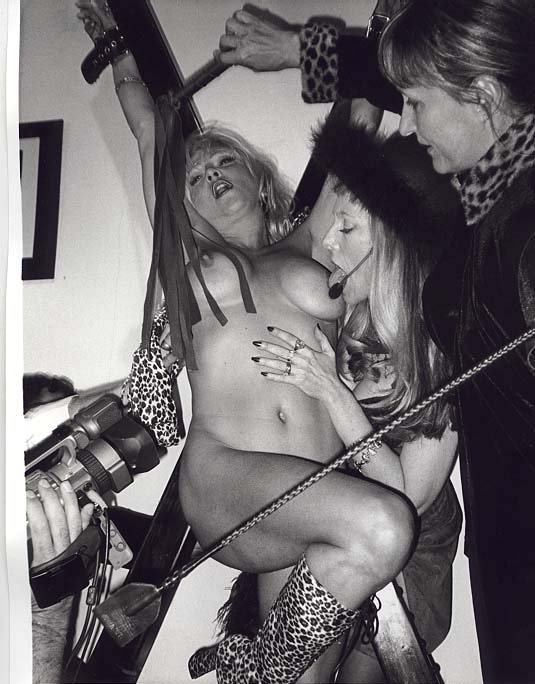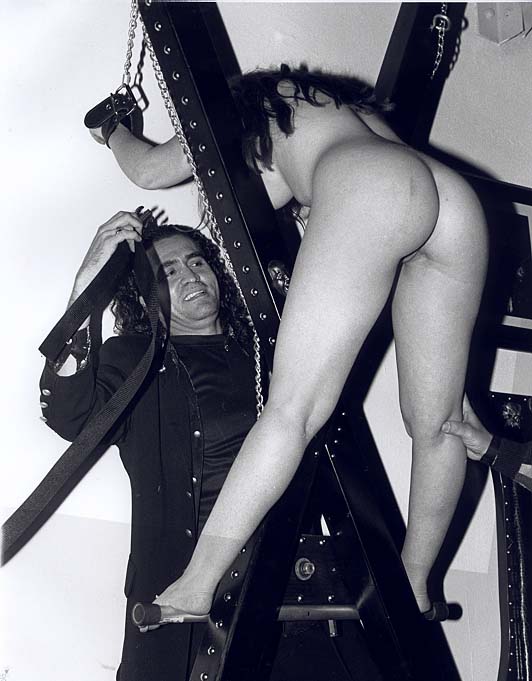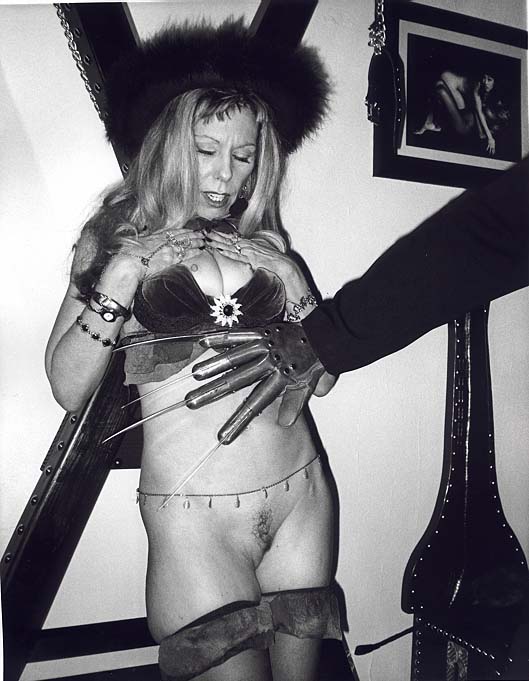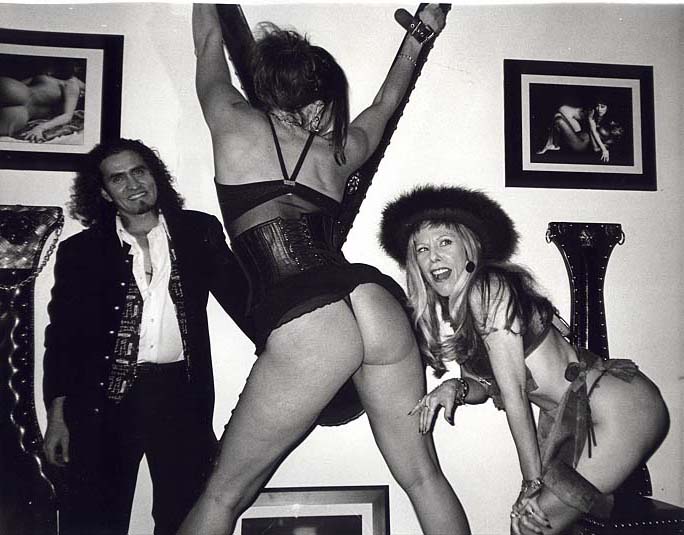 Picture One: The Rapture of Kiss
Picture Two: Brittanny Bends Over
Picture Three: Clawed by Beelzebub
Picture Four: Lars Rides the Cross
From Opening Night to the present, the Bondage Cross, created by Mario Saucedo, has tempted women and men from all walks of life--artists and exhibitionists, sex stars and schoolteachers--to step up to its awe-inspiring, leather-upholstered, silver-studded beams and surrender. They come to the Cross, usually after they've made their way through most of the exhibit, and they see their chance to step right into the Apocalypse, to become part of the art, if they dare.
See the Video Whipping Part One NOW!
See the Video Whipping Part Two NOW!