ARTISTS
----------------------


SITE INDEX
SUBSCRIBE FREE
ADVERTISE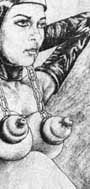 D. Mullotto's S&M Art
Coming Soon
Online Exhibit





SEX . FUN . WISDOM
The Dr. Susan Block Show



Now in 15 countries!



PHOTO: Joseph Franklin
"DEMOCRATIC SEX"

PHOTOGRAPHY

Brian M. Bradley follows his voice and vision through a creative maze. Social goals are evident in his work. These are scripted images. Which he states, "I create solely as a means of self defense against my insanity.



Andrew Dunbar an exhibiting artist from Australia. His arena
and background include advertising and commercial photography.
The unique "Body Piercing" series has shown a new development
of the evolution of artistic photography. Body Piercing book and
postcard special $39.95.


Joseph Franklin a native of Mobile, Alabama. His first intrduction
to photography was during military service. His keen instinct evolved
as an artist and is presently a featured Speakeasy Gallery artist.
Coming soon more featured photographers

SITE INDEX I WHATS NEW? I MEMBERSHIP I THERAPY


FERNET-BRANCA
LIQUEURS & WINES
OF MILAN


B E C H E R O V K A
A delicious herbal
alcoholic elixir with
legendary aphrodisiac
qualities



ZONE VODKA RECIPES