HEF enters the
Erotic Hall of Fame
at the HOLLYWOOD
Erotic Museum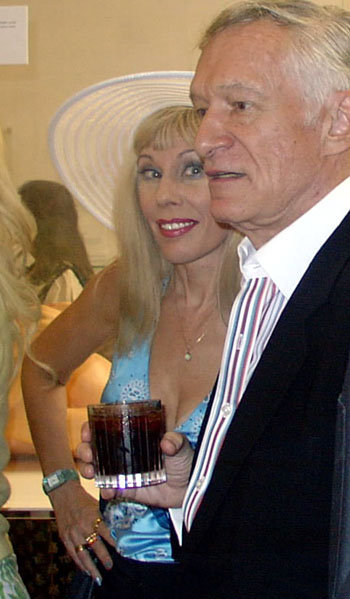 Hef & I have cocktails at the Hollywood Erotic Museum before he gets inducted into the Erotic Hall of Fame ... PHOTO: Mary Withers

by Dr. Susan Block
Years ago, before I started throwing the best parties and shows of anyone I know (so why go anywhere else?), I used to go to parties and "movie nights" at the world-famous Playboy Mansion in Holmby Hills. The thing I enjoyed most about these evenings was not the sex or the glamour, but the comfort. The sprawling, Tudor-style Mansion was a very comfortable place to hang out, especially for a single gal--classy without being stuffy (well, maybe just a little stuffy)--good food, great service, newly released films, full bar, fun games, plush grounds, cute animals, nice restrooms, great pool, and discreet but primo protection from assholic other guests by the helpful Mansion staff. All this, along with a smattering of A-list celebrities and plenty of up-and-coming B-listers, bevies of attractive women (always a benefit to bi-chicks like me), and tons of appreciative men who all seemed to feel that if you, as a female, were there at the Mansion at all, you must be pretty hot stuff.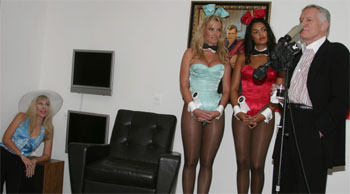 Dr. Suzy and Bunnies (and Hef's empty chair) listen as Hef speaks at the Hollywood Erotic Museum PHOTO: Ellis Martin

I also enjoyed the host. Not that I ever got to know him well. At the time, I was pretty shy, and Hef was pretty busy with one of his girlfriends, vivacious and tempestuous Carrie Leigh, then with one of his wives, Playmate-of-the-Year Kimberly Conrad. But he always found time to stride around in his purple pajamas, greeting and bantering with all his guests, from the A-listers to even us lowly, non-Playmate females. I loved the pj's; they combined sensuality, comfort, humor and great promotion for Playboy, all in one easy costume. Hef in his silk pajamas was one of the great inspirations for me to host my show in lingerie.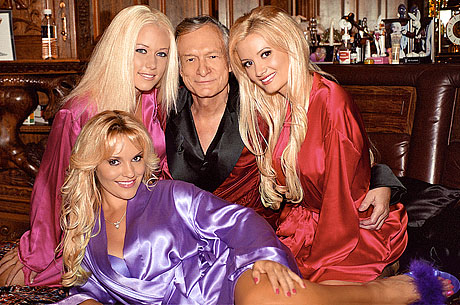 Hef and Girlfriends Holly Madison, Bridget Marquardt and Kendra Wilkinson relax in their satin jammies at the Playboy Mansion

Hef was particularly intrigued by one of my consorts at the time, the lovely, archly articulate radio psychologist Dr. Toni Grant (with whom I had the pleasure of writing "Being A Woman," a NY Times bestseller based on Dr. Toni Wolfe's four aspects of womanhood: the Amazon, the Mother, the Madonna and the Whore). The most exciting thing I ever heard going on at the Mansion was Toni having sex with Screw Magazine Publisher Al Goldstein on the pool table in the Game Room. That was Toni: a Madonna in the Living Room, and a Whore in the Game Room. On the other hand, I don't think Dr. Grant would have had sex on just any pool table. This was Hef's pool table. It was special.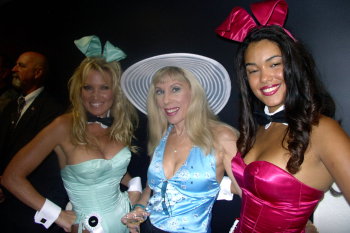 Hanging with the Bunnies .. PHOTO: Mary Withers

I hear there was a time when the Mansion was a sexual Disneyland. Probably that was before, or after my time. The pool table notwithstanding, I didn't see much graphic sex there, certainly nowhere near as much as what goes on at my own little "mansion" in the Soul of Downtown LA. What I did feel was that wonderful, "classy but not too stuffy" level of hedonistic comfort, always presided over by the dapper guy with the pipe and tinkling Jack Daniels.
Hef always acted laid back, like he never worked hard, except maybe at sex. But everyone who knew him knew that he was one of the hardest-working guys in the publishing business. His simple, sensible, hedonistic philosophy has inspired several generations and helped to liberate the world, but his old-fashioned American work ethic is what pushed and still pushes the message out there.
He was still pushing the message the other day, working hard, but sounding and looking chicly casual in a Rat Pack sort of way, sporting an open-necked dress shirt, surrounded by girlfriends and bunnies, when he became the first person to be inducted into the Erotic Hall of Fame at the Hollywood Erotic Museum.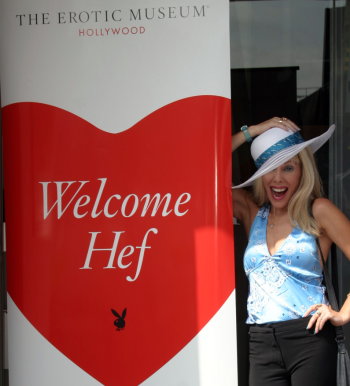 Welcome Hef! ... PHOTO: Ellis Martin

The Erotic Museum is a breath of fresh sex on Hollywood Boulevard, standing apart from both the new Disneyfication and old trash of the area. Hef pronounced it ""very classy," and declared, "a museum that takes sexuality seriously is a good idea."
The folks that run the Hollywood Erotic Museum are a warm and friendly bunch, We don't always see eye-to-eye on politics (CFO Mark Volper idolizes Reagan; need I say more?). But we do strongly agree on the importance of two essentials in life: sex and vodka.
Hef prefers whiskey. And his girlfriends resemble golden flutes of champagne. But sex is like water--the great common denominator.
And sex is what brought us together the other day. when the Erotic Museum held an elegant little private ceremony inducting Mr. Hef into its Erotic Hall of Fame. We assembled early one fine afternoon,.the Hollywood sunshine prying open our tender eyes as we cross the red carpet into the sparkling new two-story museum, all of us there to pay homage to the Original Playboy, still playing after all these years.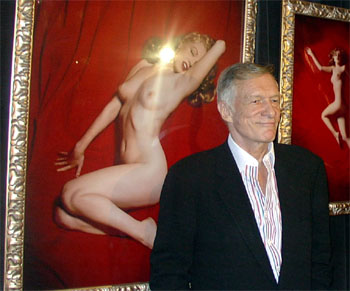 Hef grins in front of his first centerfold Marilyn Monroe
PHOTO: Mary Withers

Hef spoke for me when he said, "It's an unusual part of the day for all us. I had to get my girlfriends up before noon." Recovering from a "Viagra Night"? One can imagine...
Hef also spoke for me when he said, "The major civilizing force is not religion, the major civilizing force is sex." He spoke for me again when he spoke out, calmy and casually, against the war in Iraq, and said "anyone but Bush" when asked who he was supporting in the November election..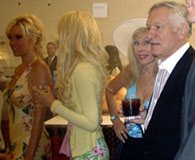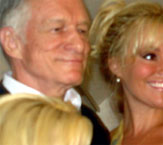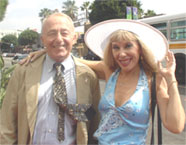 Hollywood Erotic Museum Publicist Christian Antwane introduces Playboy Magnate Hugh Hefner, flanked by Bunnies; Hef, Me and the Girlfriends, Hef with Girlfriends Holly Madison, Bridget Marquardt and Kendra Wilkinson; In the Hollywood sunshine with Vice President of Playboy Entertainment Bill Farley ...

CLICK HERE TO SEE "KENDRA WILKINSON NUDE" ART by XAM

Decked out in tux and tails, Erotic Museum Publicist Christian Antwane spoke first, followed by Museum CFO Mark Volper, an immigrant from the former Soviet Union, who declared Playboy Magazine to be one of the greatest American symbols of liberty, dubbing Hefner "an ambassador to freedom."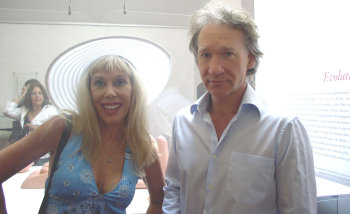 With Bill Mahr giving Mary his "It's way too early in the afternoon for me to get my picture taken" look ... PHOTO: Mary Withers

Host of HBO's "Real Time" and famous practitioner of the Playboy Philosophy, Bill Mahr also spoke for me when he declared that Volper's "immigrant speech" was a lot more inspiring than the one that California Governor Arnold Schwartzenegger gave at the Republican Convention.
Also in the small crowd were Hef's girlfriends, Holly Madison, Bridget Marquardt and Kendra Wilkinson, as well as Playboy Vice President Bill Farley, Erotic Museum CEO Boris Smorodinsky and museum director Marina Smorodinsky, director of special events Alex Katz, a few more Playboy and Museum VIPs, a phalanx of journalists and the ever-present security people.
At some point in the midst of all the speaking, Museum Curator Eric Singley presented Hef with a certificate and an Anton Chechoff painting of himself in his trademark pj's and pipe. "By incorporating erotic imagery into a substantive, meaningful men's lifestyle magazine [Hef] raised the art of pornography to a level which helped the public accept sex as an important and integral part of life."
Back in the sexual Dark Ages of the early 1950s, Hugh Hefner's romantic vision and relentless drive, helped to change American society's ideas about sex, opening the doors to what we call the Sexual Revolution.
This isn't Hef's first Hall of Fame. In 1998, Hefner received proof that his empire had achieved some legitimacy in the publishing world when he was inducted into the American Society of Magazine Editors' Hall of Fame, joining other successful editors such as Cosmopolitan's Helen Gurley Brown and Gloria Steinem of Ms. magazine.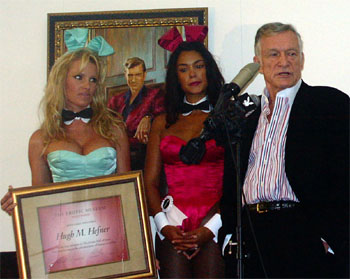 Playboy Founder Hugh Hefner, poses with Bunnies, as he accepts his certificate of Induction into the Erotic Hall of Fame .. PHOTO: Mary Withers

The Hef portrait will hang in the Erotic Museum's Hall of Fame along with similar Anton Chechoff paintings of various "sexual revolutionaries," ranging from scientists, researchers and theorists to actresses, activists and mavericks. including Sigmund Freud, Alfred Kinsey, Woody Allen, Margaret Sanger, Mata Hari, Dr. Ruth and Mae West. According to the Museum, "Each figure has advanced the dialogue on sexual behavior and helped usher the entire spectrum of sex away from opaque pathology and into the cultural mainstream. "
Several people were wondering aloud when a certain LA sex educator would be inducted into the Erotic Museum Hall of Fame, but I won't name names.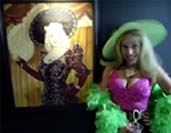 Margaret Sanger, Dr. Ruth Westheimer, Mae West ..
Portraits, Oil on Canvas, 2003 Anton Chechoff

The new Playboy exhibit at the Hollywood Erotic Museum includes some of Hefner's personal artifacts, symbols of the Playboy Philosophy of pleasure and reason: a pipe, a set of silk pajamas, an original Playboy Bunny costume, and original paintings by Alberto Vargas. Of course, everyone has their own idea of what best symbolizes the Playboy Lifestyle.
Personally, I think they should include that pool table.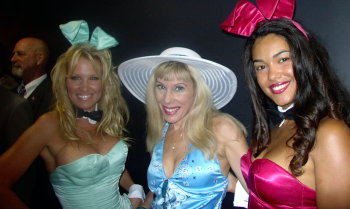 Bunny Hop... PHOTO: Mary Withers

© September 22, 2004, Dr. Susan Block
For reprint rights, please contact rox@blockbooks.com
Dr. Susan Block is a sex educator, cultural commentator, host of The Dr. Susan Block Show and author of The 10 Commandments of Pleasure. Visit her website at http://www.drsusanblock.com
Send all hate mail, love letters, commentary, questions and confessions to her at liberties@blockbooks.com.