Dr. Block's
T R A V E L S . W I T H . M A X

Wherein the Doctor & Her Butler Explore Santa Cruz, San Francisco, Summerhill, Sex, Spirits, Shabui and Shrieking Sashimi
........................
The Nikko & The Queen Anne
San Francisco, California


View from the Top of the Golden Gate Bridge
Photo: Dr. Susan Block
We'd just finished pasting up the last personal ad on our Journal and saying the last word on our radio show, when Max and I hopped into the BlaBla-mobile and headed up route 5 to San Francisco for the National Association of Broadcasters Convention, where once a year some of the deepest voices and the shallowest minds in America get together to eat, drink and kvetch about the ailing radio business. 10,000 station managers, program directors, sales managers, disc jockeys, talk show hosts, but no butlers. I was so lucky to have Max.
Every radio talk show host should have a butler, but I do believe that I'm the only one that does. Not even Jack Clemmons, president of the Mutual Broadcasting System, who, while policing his so-called hospitality suite, behaved like a KGB agent with the manners of a rabid rhinocerous, falsely proclaiming, among other things, that he was the president of Westwood One. Clemmons got so mad at Max and me for giving a copy of our Journal to someone who asked for one that I thought I could see the famous San Francisco fog coming out of his nostrils. The man really needed a butler to do his dirty work because he certainly couldn't do it himself with any sense of dignity befitting the president of anything. But he didn't have a butler - poor dear - nor did any single one of those 10,000 American broadcasting apparatchiks, except me.
But back to our drive. I slept through the whole thing - except when we drove through Gilroy and the garlic woke me up. That area half-way betwen L.A. and The Bay where half the cows in the western hemisphere seem to congregate was also odiferous enough to rouse me from my slumbers. Max drove beautifully - a great butler is also a great chauffeur - and fast - about 120 miles per hour, Max claims. Since I was sleeping, I don't know just how fast we were going, but I vaguely remember wondering at what point we had decided to fly instead of drive.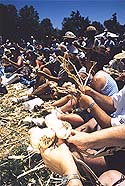 GILROY GARLIC FESTIVAL
Anyway, we made it from L.A. to Santa Cruz inside of about four hours. First, we checked out a local talk radio station; I won't name names to protect the guilty (though how many talk radio stations are there in Santa Cruz?). We met with the program director, a displaced rock n roller, the owner, a New Age, middle-aged, middle-class real estate agent/radio buff, and the owner's brother, a very conservatively-dressed, distinguished-looking man of about 60. They said they were interested in running The Dr. Susan Block Show on their station, but thought it might be a little too hot too handle. They said they were a small but "serious" talk station, not into "shock radio." I discovered that they were into some shocks on a more personal level when I excused myself to go to the ladies room. I went down the hall to the door marked "Ladies Room," opened the unlocked door, and there was the owner's conservatively-dressed, Old Republican-looking brother, sitting on the toilet, grinning at me as if he'd run down the hall and then waited right there for me to catch him - literally - with his pants down. Now those of you who know me know that I'm usually pretty cool about bizarre situations, but I didn't know what to say in this one except "excuse me." I felt sure the gentleman must be thoroughly embarrassed, though I couldn't help but wonder what he was doing sitting on the pot in the ladies room with the door unlocked? (by the way, the men's room was free and clean, so this was not a case of necessity).
I thought it "prudent" not to bring the matter up once we resumed our meeting. But not he. "I guess I gave you quite an eyeful, Dr. Block," he chortled and proceeded to tell everyone present about our privy encounter. "I guess that'll give you something to talk about on that radio show of yours" (it did). I guess even the most conservatively dressed, Old Republican-looking people have a private wild side they're longing to reveal, sometimes in ways that shock even so-called "shock radio" hosts...
Then we visited Michael, one of Max's famous four children, who seems to have adopted his girlfriend's entire family. The Baer Family. Papa (Phil) Baer, Mama (Jane) Baer, and seven Baby Baers. Count 'em--seven--and we did. As soon as Max and I walked into their living room, they all surrounded us and stared at us silently like the Seven Dwarves stared at Snow White. (actually, we were stared at in quite the same way by a lot of the people at that National Broadcasters convention, but more on that later). Finally, these kids started to talk and, amazingly enough, each one had an individual personality. And not only are there more than enough of them to start up a basketball team; none of them go to school. No, they're not all playing hookey. The Baer House is a miniature Summerhill with Papa Phil Baer as the hip head master. And it seems to work better than most American schools; these kids are smart, resourceful, up on current events, etc. A.S. Neil would have been proud. I was impressed - especially with Phil and Jane, a former schoolteacher who's been teaching all seven baby Baers at home for the last 18 years. Talk about maximizing quality time with the kids!
Wednesday morning, we cruised out of Santa Cruz and up the coast through the thickening fog, and arrived in San Francisco, always an exciting city to arrive in - with all the breathtaking bridges and stratospheric hills, the eye-pleasing architecture, the oh-so-cute cable cars careening around the town. I was particularly excited since I had spent three fine years in San Francisco, and I was eager to share the romance of some of my old haunts with Max. But alas, that was not to be, not yet.
First, we had business to attend to, so we checked into the ultimate business hotel, operated by none other than Japan Airlines, The Nikko, a huge establishment with 552 guestrooms, 22 suites, including two authentic Japanese Tatami suites, 13 conference rooms, two restaurants, two lounges and a fully equipped fitness center.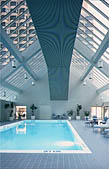 Pool at the Nikko
It is also expensive. I only tell you that because that's what they told us when we drove up to the front entrance. I guess we must have looked rather unkempt after our drive--Max in his captain's cap and me in my bicycle shorts-- because after a male employee confirmed our reservation, a female staffer stopped us and asked discreetly, "Excuse me, but do you know how expensive it is to stay here?" Max nodded and gave the lady his most affluent seafarer's smile. Then we ascended the escalator and entered The Nikko's grand white marbeled lobby, the lulling sound of falling water emanating from a two-level water sculpture spilling over a shaft of patterned glass, drowning out all the disturbing honks and screeches of the city below.
A state-of-the-art Mitsubishi elevator whisked us up at the stomach-rattling rate of 700 feet per minute to our suite. We did not get one of the two authentic Japanese suites (I stopped sleeping on the floor in the '70s anyway), but we did stay in probably the most functionally perfect, aesthetically bland hotel suite I've ever been in.
All the rooms are fashioned according to the Japanese philosophy of interior design that dictates that the room must not compete visually with the people in it. Everything is grey or close to grey; people are supposed to provide the color. Max and I innately responded to this philosophy as soon as we arrived. We not only provided the color; with our umpteen bags and hats and clothes and computers and magazines, we spread color all around the entire suite so it soon looked like one of those Japanese typhoons had struck. Fortunately, The Nikko chambermaids are superb, and had us straighted up in no time.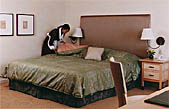 Nikko Room
There is very little art anywhere in the hotel, especially in the rooms. "Art distracts," explained The Nikko's American marketing lady, the congenial Vicki MacKie.
"From what?" I wondered.
"From life."
Art distracts from life. While I can appreciate this as a plausible philosophy; I can't say that I share it. Art has always enhanced, complemented and stimulated my life, so I missed it in the cold, rarified, high-tech, Zen-like perfection of The Nikko.
But if cold, rarified, high-tech, Zen-like perfection is what you're hankering for, The Nikko is definitely the place to check in. And if simple but exquisite, state-of-the-art, body-pampering luxury is what you want, The Nikko is also at the top of the modern hotel game. This I like, having long been a big fan of just about any kind of exquisite body-pampering.
Our living room, bedroom and bathroom were all huge, a gesture to American tastes, I imagine. The beds are discreetly but distinctly voluptuous. Not much to look at - that grey on grey motif again - but the bedding is pure plush silk, utterly conducive to long, luxurious love-making. The curtains are also silk. Grey again, but hey, it could be worse. It could be brown. Even the headboard is covered with sumptuous silk, an unusual touch that makes sitting up in bed without a pillow a pleasure.
Though The Nikko admittedly doesn't cater to art appreciators, it certainly does know how to bring out the exhibitionist and the voyeur in its guests - at least in guests like me and Max. This is done quite subtly, of course; they don't exactly provide a stage for the exhibitionists or binoculars for the voyeurs. But all the rooms have huge picture windows with splendid views of downtown San Francisco, including the windows of a variety of other elegant hotels, so you can imagine the infinite performance and spectating possibilities. If you're in the bathroom, you can also get quite a spectacular view of whoever is taking a shower because the shower stall has sparkling glass walls almost as huge as those picture windows. I've never gotten sexually aroused while flossing my teeth before, but how could I help it when I had a glorious eyeful of Max lathering up his gorgeous royal physique in that big-screen shower stall? As for the shower itself, it's perfect, as close to divine nirvana as an earthly shower can get.
Yes, I must admit that The Nikko's version of Zen and the Art of Hotel Design was beginning to affect me. Even though I'm not usually much for grey. I began to relax. I began to experience shabui, the Japanese word for serenity.
And shabui was exactly what Max and I needed after a half a day at that NAB convention trying to communicate with 10,000 radio drones almost all of whom were wearing grey. Gosh, if they'd stayed at The Nikko, they wouldn't have added color; they'd have blended in with the furniture. There were some bright spots, however, and, I must admit, for one of the first times in my life, I really wished I was my mother. After all, I got to meet three of my mother's great heartthrob-heros--Larry King, Tom Snyder and Mario Cuomo--all in one week.
Among other things, Mario reminded everybody, that though the Japanese had lost to us militarily, of course, they were now "taking over" economically. Max and I realized that in less than two days, the Zen-like perfection of The Nikko had "taken over" us, and we had to agree. The Cold War is over, and the Japanese have won. We recalled the Japanese emperor's originial master plan at the outset of World War II: If we lose militarily, he strategized, we will win culturally and economically. Anyway, if you're of the "can't beat 'em, might as well join 'em" philosophy, that's another good reason to experience the chic "shabui" of The Nikko Hotel.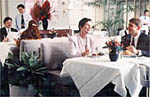 Nikko Dining
Another reason to check out The Nikko: The Benkay Restaurant featuring traditional Japanese cuisine with Kaiseki preparation. We had eight exotic courses, including such fascinating fare as "shrimp marinated fish entrails," which actually didn't taste as weird as it sounds. But one dish even culinary adventurers like us couldn't quite swallow was ordered by Max's friend, Bay Area morning radio personality Alex Bennet. Alex, innocently enough, ordered fresh lobster sashimi, and fresh it was; it was still kicking on the table. I kid you not: they took that hapless crustaceon--alive and shrieking--out of the tank and chopped him in half, sliced his meat up into sashimi and served him right up. Understand me: this lobster was not yet dead. It's claws and pincers were moving up and down and up and down for the next 20 minutes, during which time, we managed to actually eat some of the sashimi part. It was quite good actually, but we all felt guilty doing it with the poor thing dying like that right on our table. A group of Japanese people at the next table laughed at our squeamishness, whereupon we defensively decided that part of Japanese culinary culture involves a distinct power trip over the food.
Continue to More of Dr. Block's Travels with Max