Dr. Block's
T R A V E L S . W I T H . M A X

Wherein the Doctor & Her Butler Commit Sparkling Sex Acts Amidst the Champagne & Chandeliers of New York

........................
The Plaza Hotel
New York, New York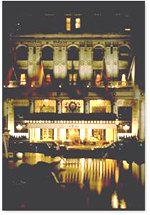 Entrance to The Plaza

Ivana held court here. Truman Capote held his historic "Black and White Ball" here. Mr. and Mrs. Alfred Vanderbilt held many an exclusive banquet here. Eloise held imaginary theatricals here. Hitchcock held us all in suspense along with Cary Grant in North by Northwest here. Scott and Zelda Fitzgerald held their sizeable portion of the Roaring Twenties here.
And now here I was, with Max, holding a little pre-show cocktail soirée for some of our New York friends and relations in our luxurious suite at the legendary Plaza Hotel.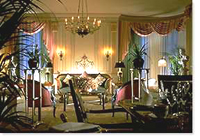 The Vanderbilt Suite at The Plaza
The show for which we were preparing was a performance art piece at the tiny but tony Jack Tilton Art Gallery in Soho which would, within the next six hours or so, be invaded by more than 3000 art-craving New Yorkers.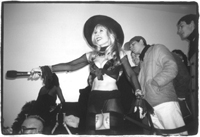 Facilitating Sex Acts at Soho's Jack Tilton Gallery
The piece was called Sex Acts with Heilman-C and involved art patrons "directing" the Sex Acts of two well-toned, amply-endowed married couples (Missy & Mickey and Hank & Anna) frolicking in the nude on a kingsized bed in the middle of Mr. Tilton's revered gallery. My job, as Sex Act Facilitator, was to help the art patrons summon up enough gumption to step up to the microphone and "direct" the couples. This, what with the gallery serving no alcohol and being as stuffy as an overcrowded New York cab, was not as easy as it sounds.
But that duty was still a couple of hours away. And here at The Plaza (now the Fairmount Plaza, but it'll always be The Plaza to me), the alcohol and other amenities flowed like a waterfall streaming through the sunlight. Not that there's much real sunlight in The Plaza, especially while we're here, (for two stays, in November and February). But all those crystal chandeliers...wow.
It's a little girl's dream come true, The Plaza. Doesn't every little girl wish she were Eloise, on her own in a gorgeous, glittering palace filled with princes, ballerinas and delicious creamy desserts?
It's also the stuff of a lot of Big Girl Fantasies (even if those Big Girl Fantasies are sometimes deep in the hearts of men). So much gracious, shimmering opulence surrounding the possibility of meeting a prince.
I already have a prince, my Max, of course. And as everyone knows, a prince in your suite is worth two in the lobby.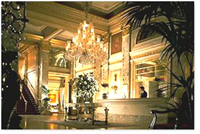 The Plaza Lobby
Loved that lobby though. All that gleaming marble, brass and, of course, the ubiquitous crystal chandeliers, creating starry heavens above wherever you stroll in The Plaza.
When America's most sumptuous Belle Epoque hotel was first built in 1907 at the trés chic address in New York of Fifth Avenue and Central Park South, the hoteliers purchased 1,650 crystal chandeliers from L. Straus & Sons. Elegance and wealth meant sparkle. And I must say, waltzing around inside some of the ballrooms is rather like being inside a giant DeBeers diamond.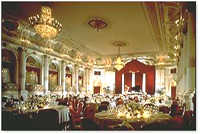 Plaza Ballroom
When the heavens above look like the champagne in your flute, you know you're in the Plaza.
Of course, our suite had also sported a few well-scrubbed, shimmering chandeliers. Hey, there are even chandeliers in some of the bathrooms at the Plaza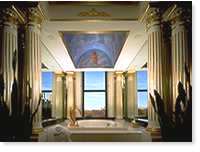 The Lady Astor Suite Marble Bath
The chandelier is a symbol of The Plaza because this is a hotel that sparkles, not just with glass but with class, with history and a kind of holiness, Central Park South style.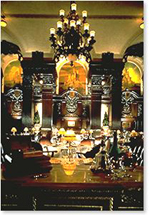 The Oak Room
Service is impeccable, but not as goody-two-shoes-veering-on-oppressive as at the Ritz-Carlton. The opulence of the Plaza may be a bit ostentatious for some. But at least it's not mass-produced in some fake antique factory. It's pomp and glory is real, steeped in the tea of history.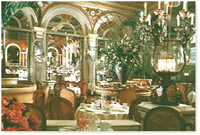 Palm Court
The Plaza is all about Tea, which we took in the Palm Court amidst a cultured jungle of emerald fronds. Of course, you don't have to drink tea at the Palm Court, and we didn't. Champagne mimosas seemed to match the sparkly nature of things Plaza. After our champagne-tea, we staggered around the plush and sparkling halls, ogling the exquisite 18th century French and Belgian museum-quality tapestries hanging on the mammoth walls.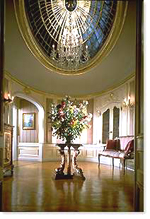 The Presidential Suite
We weren't given the Presidential Suite, but our bedroom, office area and salon were quite airy and elegant. Even the bathroom was spacious for an old New York hotel. The bed was deliciously decadent, with mahagony posts, velvet coverings, goose down pillows and soft sensuous Egyptian cotton sheets.
We actually had to borrow a couple of those sheets for the Sex Acts show. After all, where are you going to get a sheet in Soho on a Saturday night? We felt like a bunch of tacky tourists stealing the towels, even though we kept reminding ourselves that we were only borrowing the sheets, as we stuffed them tackily into our suitcase.
We finished our drinks and limoed down to Soho, only to find hundreds of art-horny patrons crowding around the entrance of the Jack Tilton Gallery, an hour and a half before the doors opened.
It was petty exciting. There I was in the center of the cyclone, the eye of the human hurricane raging in the heart of New York art, smack in the middle of this preposterous, anti-art artwork of pure human sex. Arms legs, tongues, buns, bellybuttons, genitalia, sweat, sperm, astroglide; it was all there.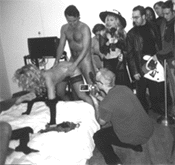 Is it Art?
While I attempted to somehow control the carnival, Max chatted with Jack Tilton, the gallery owner, about how he'd never seen such a big turnout for any art opening in New York. To think that on the other side of town, New York Mayor Rudy Giuliani was closing down peep shows, and here we were performing sex acts you couldn't even see in the most explicit joints in Times Square! Maybe if the strippers called themselves "artists," they wouldn't be shut down. Art is about context and chutzpah.
But is it art? That is the question, the tiresomely obvious question that the television reporters asked me as the last come shots had dried, and the last art patrons drifted out the door. Don't ask me, I replied. Ask yourself. Art is in the eye of the art appreciator, as subjective as beauty, love, tragedy—or pornography. And just because the critics say that it is or isn't art doesn't mean that it is or isn't art.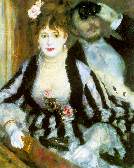 Renoir's La Loge from the
First Impressionist Exhibit
in Paris on April 15, 1874
Some of the most celebrated artwork in history--the Impressionist paintings of the late 19th century, the Dada movement of the early 20th century--were considered "not art" when they first emerged on the scene. When early Renaissance painters depicted scantily clothed Greek-style gods and goddesses in the midst of sex acts with one another as well as various bulls, swans and sheep, rather than the usual Medieval crucifixion scenes, there was outrage. The Christian clergy—the art critics of their day--screamed something to the effect of "That's not art. That's pornography!"--even though the word "pornography" hadn't been invented yet. As Heilman-C herself stated most succinctly, "It's in an art gallery; it must be art." Context and chutzpah rule. After the show, we all tramped over to the spacious and trendy Park Avenue Country Club and congratulated ourselves on having created the biggest art happening New York has seen in a long time. Whether it was art or not-art, we'd just turned on, shocked, exhilarated, amused and inspired multitudes of Manhattanites.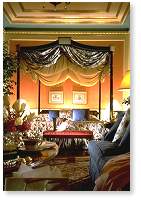 Plaza Boudoir
By the time we got back to our marvelous Plaza suite, Max and I were ready for our own private Sex Acts. Then we remembered that the sheets, now covered with sperm, sweat and astroglide—Yuck! Max rang up room service, and in his most princely, patrician voice proclaimed that we had had a little accident all over the sheets and pillows, and could we please get some fresh ones immediately? The Plaza butler obliged within moments, of course (Ivana, the Vanderbilts, Truman Capote or the Fizgeralds wouldn't have had it any other way), and then we proceeded to commit passionate uncensored Sex Acts until the heartrending but inevitable moment of checkout time.