DR. SUSAN BLOCK'S
T R A V E L S . W I T H . M A X

Wherein We Embark Upon a Book Tour that Evolves into a Motor Tour, Taking Us from the Literary Salons of London and the TV Studios of Paris to the Topless Beaches of Santa Margherita and the Coffeeshops of Amsterdam.
by Dr. Susan Block

Video Shot by Maximillian Lobkowicz (MAX),
Onie Montes (ONIE) & Dr. Susan Block (SUZY)

Sun Star Over France
PHOTO: SUZY
"The real voyage of discovery consists not in seeking new landscapes, but in having new eyes."
Marcel Proust
So decadent yet so civilized, such is the Old World, even or perhaps especially at the turn of the 21st century. This is both relaxing and invigorating for those of us coming from America, Land of the Barbaric Puritan.
Our Spring 2000 European adventure was a zesty mix of business and pleasure, as the best things in life tend to be. It began in London with the British publication of my manifesto, The 10 Commandments of Pleasure: Erotic Keys to a Healthy Sexual Life, by Souvenir Press, Ltd., a venerable publishing house run with Old World panache by the eccentric yet savvy Ernest Hecht.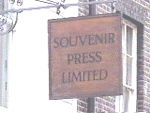 The Souvenir Press Shingle
PHOTO: MAX
When Ernest first called, Max (also a publisher) said, "It's an honor to speak with you."
To which Ernest replied, "Max Old Boy, there is no honor among publishers." And we knew he was the publisher for us.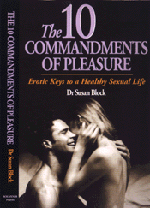 The Book
On Virgin
We flew to London on Virgin. Just writing that makes me feel a bit like a child molester. No wonder Virgin Airways has such a kinky reputation. It's the Pleasure Airline, so it seemed appropriate that it carry us off to promote our pleasure commands. Chief Playboy Richard Branson and his playful crew made us feel special and gave us free champagne, plus a little bag of treats: soothing lip balm, fragrant perfume, notepads, pens, a hot pink blindfold(!), hot pink socks and a rubber duck, all with cute sayings and Virgin logos. Flying "on Virgin" was my kind of flight—tons of movies to choose from! But big-bodied Max was a bit uncomfortable, finding the seats even tinier than usual (it couldn't be that he'd gotten bigger bodied, could it?). "I feel like I'm being kneecapped by the Red Brigades," he winced.
We contemplated joining the Mile High Club. We'd done it before in those tiny lavatories. But Max refused to get more cramped than he already was (maybe it's something about virgin's being "tighter"...). So we contented ourselves with smooching and handjobs under our Virgin-hot pink blankets. I love to play with something shaped like a jet while flying in one.




Master of Levitation: Richard Branson
Landing in Heat Row
We'd been warned to take our raincoats. This was England, after all. But Heathrow should have been called Heat Show as our long trek through this airless airport nearly melted us down into an American stew that I imagine some Brits would enjoy with a couple of pints of ale. A friendly London cabby appeared to the rescue, assuring us he would transport us directly to our flat at Bedford Square Mansions.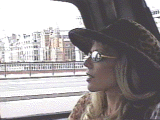 Taxiing through London . PHOTO: ONIE
He did manage to get us into the Bedford Square area, then proceeded to drive around the square 22 times, hopelessly lost. Thank God and Goddess for the cell phone. Everyone has at least one in Europe; even the homeless have cell phones. We called our Souvenir chaperone, Ruth Jacobs (described to us by publicist Cathy Schofield as "the ultimate Jewish grandmother"), and the only way we found the place was by spotting this 60ish, chicly dressed lady waving her arms in front of a Victorian era building called Bedford Square Mansions. The cabby shrugged. Later, we learned that London is such a huge tangle of unpredictable avenues, that most of the cabbies—even the so-called "proper cabs" like the fancy-looking Computer Cabs and Black Cabs—simply don't know where they're going, let alone where you're going. The problem is that you can't possibly get mad at them, even if you're horribly late, since they're all so damn polite about it.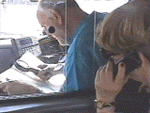 Ruth Getting Directions As Our
Cabbie Tries to Figure Out Where in
London We Are...PHOTO: ONIE
Euro Manners
Everyone is more polite in London. Even we were more polite in London. Ruth was more than polite. She was gracious. She was charming. She was wry. Speaking of rye, she provided plenty of what the British call "provisions" for us: bagels (onion, plain, pumpernickel, rye), lox, salad, the most scrumptious little cherry tomatoes, eggs, milk and lots of what the Brits call fizzy water (what the French call eau avec gaz, which translates most unpalatably to "water with gas"). She'd picked it all up at the local grocery, Sainsbury's, which should have been called Sanesbury's because that's the way it kept us . I wish we had one in LA. It's gourmet without being fussy, and quite international, featuring extremely fresh, tasty foods of all kinds and lots of different flavored fizzy waters. And no, it's not a new upstart concept. It's an English tradition, established in 1869.

Sainsbury Fields Forever
Settling In
The Bedford Square Mansions flat was spacious, a little worn but clean with a few big, comfortable pieces of 70s era furniture. Since we'd been up for two days before leaving, then didn't sleep a wink on the plane (Max being too cramped, and all those Virgin goodies being just too stimulating for me), we fell into bed, then, after a quick hump, hibernated like the snuggle-addicted mammals we are for 10 hours.
Conking out before the nightingale on Saturday night meant that Sunday morning, we were up with the lark. My first Euro-shower of the trip was quite nice. I used to hate them, but now I love those showerheads that you use by hand. They make shower-masturbation so, well, handy. The pump toilet was another story. The upside is that it meant every trip to the loo provided intensive biceps exercise. The downside was that, well, every trip to the loo provided intensive biceps exercise.
With no appointments scheduled for Sunday (except for meeting Cathy, our crisp, bright and extremely polite publicist), we decided to explore our neighborhood, a very literary section of London, where Dylan Thomas, Virginia Woolf, Lytton Strachey and other Bloomsbury writers and artists lived and propagated their message of freedom in modern times.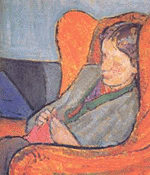 Portrait of Virginia Woolfe
by her sister Vanessa Bell
The big avenue that ran near Bedford Court Mansions, Tottenham Court Road, was hopping with Internet cafes, gourmet groceries, sleek shoe and clothing shops, a mattress shop featuring a pink heart-shaped bed (that I just had to loll around on) and tasteful but nasty sex boutiques.

Lolling on the Heart-Shaped Bed
PHOTO: MAX
The Earl of Sandwich
The sun was out, and Brits everywhere were celebrating like it was the Queen Mum's birthday. It was so lovely just strolling around the "Soho" District, ogling shops and doubledecker buses, that we didn't want to sit inside an overheated restaurant to eat. So, what's London's version of fast food, we wondered. A gloppy old meat pie to go? No. That's the old London.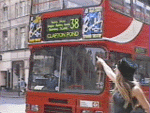 Doubledecker Buswich
PHOTO: MAX
The new London features food that's as fresh and healthy as any in Europe. And it puts the US to shame, shame, shame. Where we have McDonald's (well, actually every city in the world has McDonald's, but it's still an American company), London has a fast food chain called Prêt À Manger ("Ready to Eat" en française), that serves up very tasty, fresh sandwiches of all kinds on a variety of mostly wholegrain breads—instantly.
Of course, the British invented sandwiches. It all started, in true English sporty style, with a game. The Earl of Sandwich was such an avid billiard player that he didn't want to be bothered with sitting down and using a knife and fork when he was hungry. So he asked his cook to put the meat and vegetables that he'd prepared for his meal between two slabs of bread, and voilá, the Earl could eat without leaving the billiard table, and the portable sandwich was born. We munched on delicious prawn salad sandwiches, ogling the passersby as they walked and talked to their cell phones.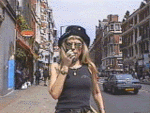 Cooler Than a Cell Phone:
Our Walkie-Talkie .. PHOTO: MAX
Continue to more of Dr. Block's Euro-Travels with Max