DR. SUSAN BLOCK'S
T R A V E L S . W I T H . M A X
EUROPE (continued)


Venus Is Smiling On Us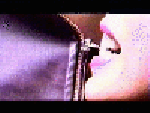 Opening Shot of Our Award-Winning Show
"Wet on Wet: The New Bisexual Female"
While we were doing London, one of our agents, Planet Pictures, was busy selling a one of our videos, "WET on WET: The New Bisexual Female," to French TV channel M6 for a national show called "Toutes les Télés" whose producers choose what they feel are the "best" TV shows in the world. "Wet on Wet" was deemed "best" in the realm of sexuality. C'est magnifique, non? And when the producers of "Toutes les Télés" found out that I was floating around Europe, they tracked us down via e-mail (good thing we had our trusty VAIO laptop) with charmingly broken English:
"Urgent. Hi. Nice to meet. I'm journalist for the French Channel M6. Our program is a world tour of the best foreigner programs. Our sales and acquisition department deals the rights of Dr. Susan Block's show. We will use 8 minutes of her show about bisexuality. Brilliant! We don't have this kind of show in France. The French audience is going to discover something very original. BUT there is always a but…we don't have any biography about Susan. Big problem is we want to present this talentuous woman to french people. So could you please e-mail me asap some press review about her? Stéphanie"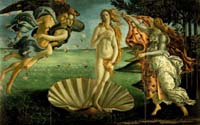 Boticelli's Venus
When we e-mailed Stéphanie to give her a bio and let her know we were just a hop, skip and a channel away, she decided she had to somehow bring me over to Paris, "talentuous woman" that I am, to be on the show live. "Venus is smiling on us," she e-mailed seductively. "My producer arrange you to come!" Of course, her producer is not my publisher. And skipping off to Paris in the midst of a week of appointments in London didn't seem quite feasible, let alone polite. But where there's a will, there's a way, and where there's a good publicist, there's an even better way. The ingenious, indefatigable Ruth pushed some interviews to early Thursday morning and others to Friday morning and afternoon. That left Thursday afternoon to fly to Paris and just make it to the live taping of "Toutes les Télés."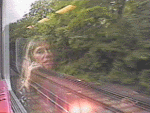 Eurospeed ... PHOTO: MAX
Office Sex and Railway Speed
Except we didn't fly. Why go through the earpopping, Max-cramping discomfort and hassle of flying when you can Eurostar from London to Paris in less than three hours? So, up at dawn Thursday morning for another photo session, then an interview for a British Channel 4 documentary on "Office Sex," directed by the terminally adorable Peter Kessler. Since here at Block Studios, we have a policy tolerating and even encouraging office sex, or studio sex, this topic was right up my alley.
Office sex is the most natural sex in the modern work-a-day (and often work-a-night) universe. Why shouldn't we work with those we love, and isn't it natural to fall in love--or lust--with people that you spend so much time working with? I told Peter and the crew three of my hottest office sex fantasies, "The Co-Worker," "The Temp Worker" and "The Boss Lady," the last of which got the sound girl so excited I thought she was going to start humping her big fat microphone.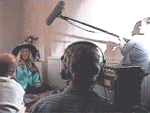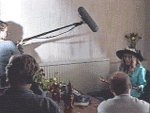 Office Sex for Channel 4 .........PHOTOS: ONIE
By 11:30 AM, we were done (back in LA, I'm usually just waking up around this time), and then it was off to Waterloo Station to catch the Eurostar. Stéphanie and her producer, Hélène, had gotten us First Class tickets. Even Ruth was impressed. This was much easier and more fun than taking a plane.
The Eurostar is a super high speed passenger train that goes under the Channel, and through the French countryside at about 300 kilometers per hour, or 186 miles per hour. In other words, when we whizzed past the cars doing 100 mph on the French highway, they looked like they were all parked.
There's room on the Eurostar for almost 800 passengers, but there were only about 100 on our train. No one at all in our first class smoking car, except me, Max and a very friendly, flamboyantly gay gent from Northern Florida, a Tennessee Williams character "on vacation from dyin'," since his cancer was in remission. Don't worry, smokers, it wasn't lung cancer, it was melanoma—from too much of that unforgivin' Southern sun. So, he was determined to party on with as much pleasure and elegance as he could, and Europe was the place to do it. We had to agree. We drank champagne and had a lovely lunch, much better than first class air travel, or maybe it was just having so much room (huge seats with nice sized tables for your meal) that made dining at 186 mph such fun.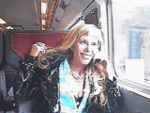 Call Me on the Eurostar ..PHOTO: MAX
In the middle of lunch, one of my therapy clients called with a minor emergency. So, there I sat with my cell phone at my ear, VAIO on the table, countryside whizzing by in a high speed blur, feeling just too EuroTech. Max grumbled about the décor; I think he was hoping for something more ornate and old-fashioned, along the lines of the Orient Express. I had to agree with him that for first class Eurostar prices, the least they could do is provide real tableware for the meal instead of economy class plastic.
But there was no arguing with the speed. Within three hours, we were in Paris!
Three Graces and No Taxi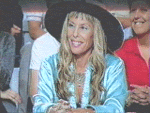 Me on French TV
Siobhan, a beautiful blonde German girl who spoke fluent French and English (and probably Slovenian and Armenian too, I don't know) whisked us to the studio.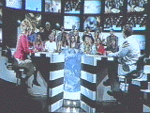 The Hi-Tech Set of "Toutes les Télés"
There we were fussed over, cared for and plied with fruit and French chocolate by our Three Graces, Siobhan, Stéphanie and Hélène. All were naturally, casually sexy as most French women seem to be. The show was big fun. What a kick watching excerpts from "Wet on Wet" translated into French! The interview was a bit more challenging, what with three different hosts peppering me with questions, each of which was translated from French to English in my right earpiece, while my own words were translated into English to French in my left earpiece.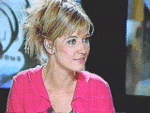 In One Ear & Out the Other .............PHOTOS: MAX
I found myself speaking super slowly, as if waiting for the translators to catch up. No matter, my Three Graces were delighted with my performance. I gave them The 10 Commandments of Pleasure and invited them to visit us in LA.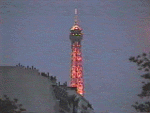 Le Tour Eifle ..PHOTO: SUZY
They put us up for the night in Hôtel Classique on 11, rue Claude Terrasse near the Eiffel Tower (or Tour Eiffel, en française) which features some of the tiniest rooms in the world. The bathroom was spotless and fully functional, but the shower stall was literally as big as Max. He had to hold his breath to take a shower.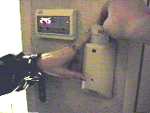 Keycard Magic . PHOTO: MAX
The Hôtel Classique did introduce us to an ingenious concept that only the French would dream up: All electricity in the room depended on placing your keycard in a little slot by the door. This way the hotel doesn't lose money on lights left on, and the visitor doesn't lose her keycard. Why don't American hotels do this? Maybe now they will. We were exhausted from our crazy day and not too hungry, having been munching out all afternoon on Eurostar fare and M6 pain au chocolat. But being in Paris, we just had to try a French restaurant. We walked a couple of blocks toward the Eiffel Tower, and found a cute little place called Le Tablier Bleu featuring Cuisine Traditionnelle on 17, boulevard Exelmans. We started off with a spectacular dish of mouthwatering escargot accompanied by a rich full-bodied Beaujolais. Then Max had a nice juicy steak tartare. My duck was rather dry and tough, so I helped Max with his steak. Everyone in Paris was so nice to us that we were starting to wonder what became of the legendary Parisian nastiness. The next morning, we wondered no more.
We woke up at 5 AM to make it to the first Eurostar to London at 6:37 AM so we could meet our British appointments. At 5:40, we were in the lobby, and I was asking the desk clerk what I thought was a simple request: a taxi to the train station. "Non," he replied and went back to watching his mini-TV. It was early. Maybe I didn't hear him right or he didn't hear me.
"Une taxi, s'il vous plaît," I repeated.
"Non," he reiterated.
"Pourquois non?"


No Taxi?.... PHOTO: MAX
"No taxi!" he snapped, furious with my apparently exorbitant request. Not having time or enough French vocabulary to argue with him, we went out to the street. Five taxis stopped when we hailed them, and when we said we needed to go to the train station, five took off like we were asking them to drive us to Sierra Leone. I still have no idea why they refused, because the sixth taxi had no problem at all taking us to the train (just 15 minutes away), and even gave us a delightful tour of the sights along the way. Ogling the Eiffel Tower, Nôtre Dame, the Seine, etc., I could almost forgive that insolent little prick of a desk clerk and all those unhelpful taxis. Paris is so beautiful, so full of history and art and amazing architecture, I suppose Parisians have reason to be a little arrogant. Still, any city needs to have hotel desk clerks willing to get foreign guests a taxi to the train.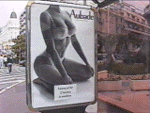 Oh, Those Saucy French Billboards!
PHOTO: SUZY
Manali High ... PHOTO: MAX
Continue to more of Dr. Block's Euro-Travels with Max