DR. SUSAN BLOCK'S
T R A V E L S . W I T H . M A X
EUROPE (continued)
The Côte d'Azur Life

We drove all night long until we wound up in Cannes at dawn. We rubbed our eyes. We knew we'd driven far, but how did we end up back in Hollywood? Giant movie posters screamed their promotions everywhere.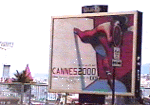 s
Cannes 2000.........PHOTO: SUZY
The streets were filled with bionic young actresses constantly smiling, even while jogging, just in case a camera happened by, and harried-looking independent producers with their ears superglued to their cell phones.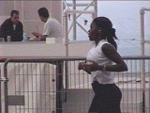 Actress Jogging At Canness.. PHOTO: SUZY
A fabulous array of gleaming white yachts lingered in the sky blue harbor. But we weren't here for the film festival. Not this year. We were here to see Max's father. That's Ingrid's ex-husband, Peter Leblovic di Lobkowicz, Prince of Prague, Duke of Melnick.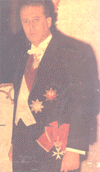 Prince Peter Lobkowicz
We had a cappuccino on La Croisette, then spent about an hour trying to figure out how to use our phone in France, and finally reached Prince Peter who…didn't want to see us. Quelle domage! True, he was recovering from surgery he'd had a few weeks before, and he did say he wasn't feeling well (though he certainly seemed to enjoy talking on the phone). But still... Max had arranged our visit with him weeks ago. And we'd come so far! Max was cool. I was steaming. Since I'd never met the Prince, I didn't take it as a personal rejection. But wasn't this rather impolite? Mais oui, we weren't in England anymore; this was France, baby. I was glad Max was taking it so nonchalantly. Peter doesn't want to be reminded of his past, he explained patiently, he's afraid Helga (his third wife) won't understand. Not a very good excuse for not seeing the son you haven't seen in 30 years or the daughter-in-law you never met after they traveled half-way around the world, not to mention drove all night, but what were we to do? Mope around Cannes, woe is us, our Father hath forsaken us? We decided we didn't have time to mope, and headed west. It took a couple hours of cruising along the spectacular coastline of the French Riviera, la Côte d'Azur, for me to get over the sting of paternal-in-law rejection so that I could get back to enjoying life.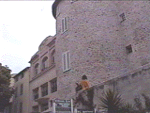 Ancient Antibes.... PHOTO: SUZY
Antibes did it. An exquisite ancient town on the blue water's edge with many sharp twisty turns, vendors, bicycles, children running, lovers embracing. Most of the way, there was less than a foot between our car and the buildings, and sometimes there was a pedestrian or bike within that scant 12 inches. All the winding narrow streets through the hills reminded us of the Hollywood Hills (remember the Villa Piacere?). We thought we were making a brilliant connection until we remembered that the Hollywood Hills were modeled after the Mediterranean. We stopped the car, and I ran out to the beach, kicked off my sandals and let the gentle, unsurfable sea wash over my toes and lick my ankles. Ahhhh…. Nothing like a French foot bath.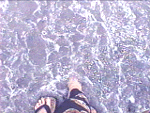 PHOTO: SUZY
We bypassed Nice, but drove through Monaco, a sovereign state of only 487 acres, run by another eccentric Prince. We drove through the capital, Monte Carlo, and ogled the erotic carvings that grace Prince Rainer's casino.






Monte Carlo Exterior Decor...................................................................................... PHOTOS: SUZY
Then we got on the autostrada (back to 160 kph—whee!) to Italy. The Italian Riviera is more rustic than the French side, less polished, less modern, more earthy, more ancient. You can sense the presence of the old Greco-Roman gods and goddesses in the trees, the sea, the architecture and the people. We finally stopped our mad motortrip at one of Max's favorite old Italian villages: Santa Margherita Ligure.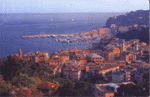 Santa Margherita Ligure
Painted Beauties
The odd but enchanting thing about Santa Margherita is the buildings. They are all fabulous fakes. Like a Hollywood set, or like a plain girl wearing makeup to give herself the glamour that nature didn't provide, almost all the buildings in Santa Margherita are painted to look like they've got more than they really have.
Apparently, during the late Renaissance, the people of Santa Margherita and some of the towns were very poor, but wanted to appear wealthy to the traders who passed through their ports. Since they couldn't afford the balconies, balustrades, statuary, brickwork and other features of expensive houses, they simply painted them on. As perspective painting was in vogue, their houses not only faked wealth quite effectively, they became works of art. Painted-on features became a tradition of Santa Margherita houses, even when the owners could afford the real thing.






Painted-On Stones, Bricks, Balconies & Door Frames in Santa Margherita
PHOTOS: MAX, ONIE, SUZY
Mussolini expanded on this tradition and created entire fake "painted-on" towns for Hitler to pass through while in Italy. And remember Saddam's fake tanks during the Gulf War? Created by an Italian manufacturer, of course.
Ironically, nowadays it would be much cheaper to build real balconies and shutters on the houses than it is to upkeep the paintjobs. But tradition has become tourist attraction, and now houses with painted-on balconies are an essential part of the landscape.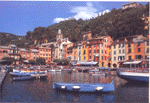 Postcard-Pretty Portofino
Some of the prettiest painted-on houses are in Portofino, the town next-door, where we parked and strolled around looking at the shops, the galleries and the yachts, one of which had a helicopter on its prow. Rumor spread around the square that the yacht with the helicopter belonged to Steven Spielberg who was vacationing after the Cannes Film Festival. But who knows? It could just as easily have belonged to Bill Gates. There are thousands of yachts docked along the Mediterranean, each one someone else's million-dollar effort to approximate Shangri-la. As the sun set, we headed back down to Santa Margherita and found ourselves the perfect place to stay: Hotel Lido Palace on Via Pescino, the main drag.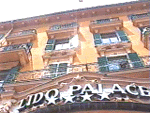 PHOTO: MAX
Finally we got a bargain. After paying what seemed like twice as much for everything in London, it was a great fiscal relief to plunk down less than $100 (which comes to millions of lira), and get ourselves a nice big suite with two rooms, one for Max and me and one for Onie, and a nice big bathroom with a bidet.





Lido Bathroom & Bidet Play.............................................................................. PHOTOS: SUZY
One room featured erotic art on the walls and a view of the piazza. The other room had a lovely little balcony (a real "Romeo & Juliet" balcony, not a painted-on one), overlooking a topless beach.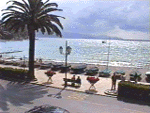 View from Our Balcony at the Lido Palace
PHOTO: SUZY
Continue to more of Dr. Block's Euro-Travels with Max