DR. SUSAN BLOCK'S
T R A V E L S . W I T H . M A X
EUROPE (continued)
Passed Out in Santa Margheritaville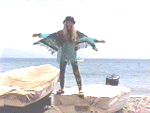 Against the Wind ......PHOTO: MAX
We washed up and headed to one of Maxís old haunts (he used to live in Santa Margherita, making magazines): Columboís, just down the street on Via Pescino, in back of a giant statue of Christopher Columbus who sailed across the sea to a New World, wreaking unconscionable havoc upon the natives, but making America safe for pizza.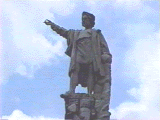 Christoforo Columbo
.PHOTO: MAX
The Columbo Bar is a little mahogony and crystal jewel box, filled from floor to ceiling with ornate carvings of pagan gods, goddesses, nymphs and satyrs by Domenico Bacigalupo.






Inside Columbo's Gelato Bar ....................................................................................PHOTOS: SUZY
Since they have the best gelato in the country that invented gelato, we decided to have dessert before dinner. Max and Onie opted for chocolate. I licked up a luscious mound of golden pistachio.


Gelato Heaven ..PHOTO: SUZY
For dinner, we went next door to Da Giovanni Ristorante. Our red wine arrived in a glass pitcher. In case you havenít noticed, Iíd been enjoying red wines throughout our trip. Unlike California reds which give me a headache, EuroReds tend to agree with me. In fact, I could see myself becoming quite the wino if I lived in Europe.


Da Giovanni's.. PHOTO: MAX
But this wine tasted funny. "Itís just the local wine," Max reassured me. "Itís a little strong." The second sip tasted a little less funny, the third was fine, the fourth sublime and by the fifth gulp, I was digging this vino. Da Giovanniís food was so-so. My vegetables were bland, my seafood pasta mushy. Max had a decent pizza bianca ("white pizza" without tomato sauce, my favorite), so I decided to help him eat it. But after one biteÖ
Suddenly, the restaurant started swaying to a rhythm I couldnít hear. Then, over the course of about two hazy, dizzy, agonizing (for Max) minutes, I blacked out. Just swooned. I donít know if youíve been counting the hours, but I hadnít slept since London two days before, had driven through three countries, then there was the little emotional trauma with Prince Pete, not to mention lack of sex (well, except that bit of quiet, feverish masturbation in the back of the Mercedes), not much food, and now this "local wine."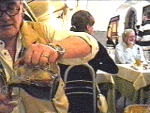 Beware that Local Wine... PHOTO: SUZY
After that first (and last) bite of pizza bianca, I felt the darkness creeping up like spiders over my eyeballs. This was it. The Apocalypse was upon us. It was as if Max, Onie and everyone in Da Giovanniís were being consumed by a great whale, or sprayed with black ink by one of those giant squid. That was just the visual part. I wasnít hearing too well either at this point.
"Susan, whatís wrong?" Max yelled faintly as if at the other end of the Chunnel.
The other problem was that I couldnít hold my head or the rest of my upper body up anymore. My whole physical structure was collapsing, like that building on the outskirts of London. It wasnít a totally unpleasant feeling, but it was powerful, forcing me to succumb, to surrender, like Iíd been slipped a Mickey. I decided that landing face first in my pasta con fruiti di mare was something to be avoided, as was getting impaled on my fork. So I summoned every ounce of my rapidly weakening will, and pushed my plates and that deadly vino to the other side of the table. Just in time. My head fell on the table. It was cool and hard, but at least not too messy.
Thatís the last thought I had before complete blackout. Wow, what a cheap date I was. I donít know how long I lay there, several minutes, I guess, before I felt Onie testing my pulse and heard Max frantically (but still faintly) asking me if he should call an ambulance. "No," I managed to utter.
"Her pulse is fine," Onie reported.
Now that Max felt a bit more reassured, he went from frantic to irritated. "Susan, Susan! Susan, youíre scaring me," he fumed.
"Iíll be upÖin a minute," I promised weakly, though the darkness hadnít yet lifted and my spine might as well have been on Pluto. "Pay the bill," I gasped, then fell back to oblivion. As I woke up, blinking in a few rays of light, I could make out an image of Max handing over the lira. With characteristic Continental nonchalance, the waiter looked but said nothing about the lady passed out on the table. I took a deep breath of fresh Mediterranean air spiced with garlic and basil, and forced myself into an upright position, from which Onie and Max picked me up and carried me back to our suite at the Lido Palace.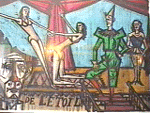 Sexy Painting at Hotel Palace Lido
PHOTO: SUZY
Topless Bather Siting
Two single beds together. How romantic. Of course, I was close to passing out again, so it didnít make much difference. Max claims we had sex (in the crack), but I have no memory beyond putting my head on the pillow. I woke up refreshed to a cloudy Monday morning, took a sensuous long shower and masturbated over the bidet (that was fun!).
Since the hair dryer behaved more like a vacuum cleaner, I went out on the little balcony and dried my hair in the wind, waving to Max and Onie as they walked around town purchasing provisions and soaking up that beachtown vibe. I felt so Sophia Loren, drying my long hair on the balcony, wearing nothing but a robe that kept flying open in the Riviera breeze, gazing out at the sea, waving to my men in the street. Soon, other men in the street were waving to me. This was getting exciting! No topless bathers on the beach though. Too chilly or too early, I guess.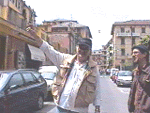 Max & Onie Wave to Me ... PHOTO: SUZY
I got dressed, and we went back to Columboís for lunch. The grilled veggies were much better at Columboís than at Da Giovanniís, as was the seafood pasta (a specialty of the region). I didnít have any wine. None of us could resist another round of creamy Columbo gelato though. I played on the big cannon on the beach in front of the restaurant; when it comes to cannons (and airplanes), I'm a size queen.


Fun Fun Fun on a Big Big Gun
PHOTO: MAX
It was getting warmer, and we hated to leave the beach, but we were due in Milano at 6 PM for dinner with Maxís brother Charles.
Just before we left, we stopped at the little beach right in front of our room at the Hotel Lido Palace, and what did we find but a couple of beautiful, nubile topless bathers. I took pictures, excited as a child, or a tourist, or a pervert, or a sex therapist. Life was good.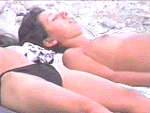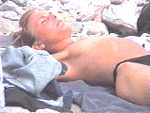 Topless Sunbathers in Front of Our Hotel....................PHOTOS: SUZY
The Bird Lady of Il Duomo
We cruised into Milano early, so we visited the cityís biggest attraction, a magnificent cathedral that took about 800 years to build and includes over 700 statues, Il Duomo.






Il Duomo ................................................................................................................PHOTOS: MAX
The edifice is breathtaking, the interior awesome, the heavenly ceiling held up by soaring mammoth columns planted upon dazzling multi-tiled floors, the flickering candles of prayer, the beautiful, sexy blonde kneeling at the confession booth, confessing her "sins" to a wildly gesticulating priest. I wonder: Is he talking with his hands so much so no one will wonder if heís masturbating? Or is he just being Italian?




Blonde Confession .................................................................................................. PHOTOS: SUZY
We strolled back out into the sunlight, then turned into what Max declared was the oldest indoor shopping mall in the world. Here was another edifice whose exquisite structure rivaled Il Duomo itself. And whatís right in the middle of it: McDonaldís. Outside, a young man pushed a pile of corn nuts in my right hand. In England, theyíre polite, in France, arrogant, and in Italy, a bit pushy. But sometimes, we need to be pushed into doing something we enjoy. Before I could throw the corn away, a pigeon landed on my hand and began gently pecking at the kernels. The man pushed a few more corn nuts in my left hand, whereupon two pigeons alighted on my arm, then on my hat where a couple more pigeons landed. Naturally, I fell for his whimsical tourist seduction, and Max bought the rest of his corn nuts, so I could continue playing "Bird Lady of Il Duomo," feeding these sociable pigeons, and enjoying their gentle, sensuous pecks on my skin. Iím not sure, but I doubt you could get New York or LA pigeons to do this. Italians are so much friendlier than the rest of us (the positive side of pushy is friendly). Even the birds are.


The Bird Lady of Il Duomo
PHOTO: MAX
Continue to more of Dr. Block's Euro-Travels with Max