DR. SUSAN BLOCK'S
T R A V E L S . W I T H . M A X
EUROPE (continued)
The Sweet Succor of Brotherly Love & Zabaione
Charlie, that is, Prince Charles Leblovic di Lobkowicz, is Max's little brother, but he seems older in many ways perhaps because he's a very conservative businessman, CEO of Christian Family (Famiglia Cristiana) magazine. Charlie declared that it was "terrible" that Peter didn't see us. But he couldn't help but deliver a few bitchy little digs at Max's artsy, funloving lifestyle. Still, we had a nice evening with him and his very sweet, sexy girlfriend Gabriella who bears a remarkable resemblance to Ingrid.



Gabriella & Prince Charles ...................... PHOTOS: MAX
First, they showed us around their brand spanking new super modern apartment, so incongruous (but common, thus normal or normale) within a building that is a few hundred years old. Unfortunately, Charlie's vivacious teenage daughter Giovanella was staying at her Mom's place so we didn't get to see her, but I did get to use her gigantic passion purple bathroom. Nice bidet. Every teenage girl should have one. It makes learning the facts of life "down there" so much more pleasant, not to mention clean.
Then they took us to their favorite local eatery, Trattoria Milanese, where we ate "Twice Cooked Rice." "Is this what they do with last night's leftovers?" Max wondered.
"Do they charge more for celebrity leftovers?" Charlie quipped.
Actually, Twice Cooked Rice was twice as good as most rice, quite savory and crunchy. For a main course, I had the specialty of Milano, Osso Bucco. Yum. Finally, I didn't want to take a bite of Max's main course (I don't even know what he had, some sort of dumplings) because mine was prepared to perfection. One of the great gastronomic pleasures of life is sucking the marrow out of an Osso Bucco bone. Ah, if only semen tasted like Osso Bucco marrow, men would receive a lot more oral sex.
This bone was nothing short of scrumptious. I decided to risk the wine, warning my brother-in-law that he might have to make way for me to fall on the table again. Charlie looked genuinely horrified. Once, he told us, when Gabriella was sick in Bangkok on the morning they were scheduled to depart, he threatened to leave her there to catch the next plane. Fortunately, I stayed conscious right through a sinful, sugar-packed, egg-foamy dessert of zabaione that seemed to soothe my touchy brother-in-law as I shared it with him. Otherwise, he might have left me right there in the Trattoria
It took us a while to find our way out of Milano. Not as bad as London, but all roads seemed to lead back into it. Finally, we escaped and made our way to the exquisite little mountain town of Lake Como.


Lovely Little Lake Como
PHOTO: SUZY
We checked into the Lake Como Central Hotel at about 3 AM. It was a bit rustic, with tiny rooms, but we were only staying for 5 hours, so it was fine. We had to get up at 8 AM to make it to Zürich for lunch with Christian von Faber-Castell whom we'd met online through our Internet art gallery.
We zoomed into Switzerland up through the world-famous Alps filled with huge lush mountains, the big breasts of the earth, some of which sport snowcapped peaks, like pasties on their nipples.










Alpine Peaks & Valleys ...........................................................................................PHOTOS: SUZY
Gingerbread houses and sparkling cerulean lakes complete the picture of Switzerland, divided into three sections, French, Italian, German. We knew we'd segued into the German area when the exit signs read "Ausfarht." Going by at 160 kph, I swore the signs said "Ass Fart." Well, some of them did lead to public restrooms…


Excuse Me? ....PHOTO: SUZY
Swiss Treat
Zürich was clean as a cuckoo clock. We only noticed one bit of graffiti, "FUCK POLICE" in English. Otherwise, it was immaculate and businesslike. After establishing our position via cell phone, we met Christian, an elegant yet easygoing gentleman-journalist who writes about art and diamonds, an e-mail acquaintance who became a friend in one afternoon.


Swiss Graffiti i..... PHOTO: SUZY
Driving his big American Jeep Cherokee, he led our lost Mercedes through a tour of Zürich, the shops, the old buildings, the crystal, blue lake, to our final resting place for the afternoon: Restaurant Kronenhalle, 8001 Zürich Ramistrasse 4 Bellevue. The walls of Kronenhalle are worth millions, decorated with original paintings by artists like Picasso, Braque and Bonnard, and the central tables boast huge flower arrangements bursting with color. Yet an unpretentious Swiss decorum reigns.
Max and Christian sat down and opened several maps of the region. I watched their big masculine hands smooth the creases of the paper, and their strong sensitive fingers trace the roads and touch the cities. Men reading maps. What a turn-on.





Big-Handed Christian Map-Reading, Talking about Swiss Sex & Democracy,
Introducing the Maitre D' and Offering Us the Key to His Castle ........ PHOTOS: SUZY
After a nice fresh salad, we ate tasty, tender "Sliced Veal Zürich Style" with "Smashed Potatos." As soon as we finished, the waitress served us seconds, a Swiss tradition. We ate, drank red wine and talked for hours about Swiss democracy, which is over 700 years old, how the Swiss hide their wealth, how being Swiss makes you part of a big (incestuous?) family, and how although every Swiss adult male owns at least one gun (it's required by law) and yearly target practice is mandatory, the Swiss are among the most peaceful people on Earth. Go figure.
Heavy with meat, potatoes, wine, and philosophy, we strolled around downtown Zürich, windowshopping at several well-stocked African art boutiques where much of the art was erotic, or at least phallic.

African Beanstalks in Zürich ... PHOTO: SUZY

Speed & Sausages
Then, it was back on the road for us. We traveled up through those breathtaking Nietzchean Alps into Germany, which meant driving the Audobon which has no speed limit whatsoever.











ThongSpeed ........................................................................................................... PHOTOS: SUZY
The Germans have a lot of rules about everything else, but they have no rules to impede the pursuit of high velocity on their highways. We decided not to bust the speedometer, but we did push it up to 180 kilometers per hour, in the rain and in the dark. Mercury himself seemed to speed us along with wingéd tires.
Though every other truck stop we'd gone to in Europe offered a variety of healthy sandwiches and salads, the German truck stop featured little else but a huge showcase of sausages of every size and color, but essentially one shape. I wasn't sure if I wanted to eat them or use them as dildos. Why not do both--the latter first, of course? I must admit they were superb sausages, in every way. No wonder all the German exit signs say "Ausfahrt."

leads to


PHOTOS: SUZY.........................................................................................
Sex! Drugs! Heinecken! Herring!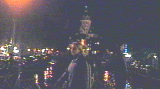 Amsterdam Canal ..... PHOTO: MAX
Early on a rainy windy Wednesday morning, we arrived in Amsterdam. The last time I was there, I was 25, and I felt about that age again, standing in line at the Western Union in the big old, damp, wet Amsterdam train station, surrounded by other 20-somethings with their filthy backpacks and glazed expressions. Except I didn't have a backpack (though my thong panties must have been pretty filthy after over 24 hours of grinding around in the backseat, broken up by nothing but a long Swiss lunch. Also, I wasn't getting money from my parents; I was getting it from my company (is that why they call it a parent company?). Well, whoever's on the other end, thank Jupiter for Western Union, because there is still the occasional establishment that does not take credit cards. But hey, now we were in Amsterdam! Sex! Drugs! Heinecken! Herring! We knew we needed to stop our relentless motoring for a few days and smell the tulips.
First stop was the suburban castle of famous Dutch artist, author and guru-to-the-perplexed Willem de Ridder, which he shares with his Great Love, the gentle beauty Clary. Willem ranks high in our "Most Wonderful People in the World" list. Max published several sex-revolutionary magazines with Willem, including Love, Hate, God, and Finger, plus The Sprinkle Report, and other seminal Annie Sprinkle works. I have known Willem for only a few years, but I feel as if I've known him a century. I think a lot of people feel that way about Willem, because he makes you feel special, comfortable, challenged but not too threatened. He's a professional storyteller, telling inspirational stories on his weekly radio shows, to harried executives, as well as to "fanclubs" of people who gather together to support each other's efforts to improve their lives by getting in touch with what Willem calls the "pure energy" of the universe.


Willem ........PHOTO: SUZY
With his red round glasses, big cigar, colorful oversized suits, dalmation-dappled spats, and hypnotic style of speaking, I see Willem as a great Philosopher-Clown. As those of you who know me know, I have always accorded the highest respect to the clowns and tricksters of the world, whether their energy is "pure" or not.




Willem & Clary, Exchanging Books, Max Showing Off the VAIO... PHOTOS: ONIE
We sat in the fragile Dutch sunlight (yes, the clouds had parted for just an hour, typical Dutch weather), basking in each other's company, sharing travelers' tales and exchanging books, Willem giving me his latest opus, Handboek Spiegelogie, all about the burgeoning fanclub phenomenon.
Continue to more of Dr. Block's Euro-Travels with Max