DR. SUSAN BLOCK'S
T R A V E L S WITH M A X
Paris Pleasure Travelogue
(continued from previous page)
After the show, the conversation bounced along from the radio station to our tourist apartment around the corner.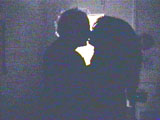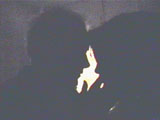 Like typical expatriates, we shared deep political talk as we drank French wine, German beer and American whiskey.



France, with both the largest Jewish and Muslim population of any country in Western Europe, was all afire with the Israeli-Palestinian conflict, a fight having just broken out between French Arabs and Jews in the middle of Orly airport.



Suddenly, Thomas announced that he was really mad at the Israelis for the atrocities they were committing against Palestinians.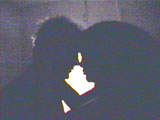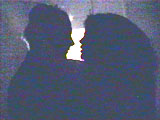 I agreed with him, of course, hating the Occupation as I always have, but found my blood boiling at the idea that he, a German--and a very blond, Aryan-looking German to boot--had the nerve to say such a thing after what the Nazis did not so very long ago to the you-know-whos.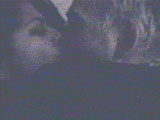 This touched off a heated discussion that could only resolve itself in equally heated sex.



Not between me and Thomas (though he did acknowledge being aroused by Jewish women, in part because of all the awful shared history of Jews and Germans), but between Max and me on the one side, and flaxen-haired Tomas and our raven-tressed Imanne on the other.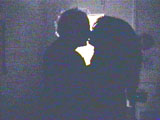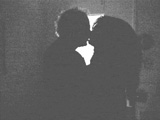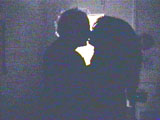 Like most sentient beings, Thomas had fallen instantly in lust with Imanne.



As my assistant, she made her requirements clear.



And our new German friend was no slouch in this department; not only did he read The 10 Commandments of Pleasure, he endorsed them ("the simple truths are the best," he asserted) and even attempt to follow them.



"Also, I just love the way his German accent sounds in French," Imanne cooed, and he was rewarded for his enthusiasm with a night of pleasure with the luscious Imanne herself.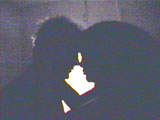 Actually, it was more of a night and a day, Sunday turning into Monday before we all knew it, so we figured we had to do something besides drink, talk, talk, talk and have sex. We taxied over to a lovely, all glossy steel and glass suburban Paris loft for a photoshoot with Daniel for Online Magazine. Online was publishing a fabulous article about my relationship with sex toys. Actually, the title of the article sounds even more impressive if you don't speak French: "La doctoresse des godes."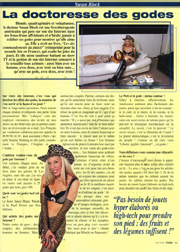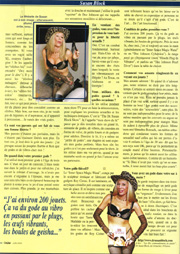 To Read the Online Interview en français,
CLICK HERE
FOR THE ENGLISH TRANSLATION, CLICK HERE
When I first read that, I thought, "Wow, they're calling me doctor of the gods." But "godes," en français, means "dildos," so actually, it means "The Dildo Doctor." Not quite so transporting as "Doctor of the Gods," but probably more accurate. Whether we're talking about cyberskin dildos by Doc Johnson, Hitachi Vibrators or beautiful Inner Space Magic Wands, I'm all for spreading the word that dildos save sex lives! Dildos are Godes! Mes Dieux! Well, they are, and they have been, for millenia.
Between rendezvous, we hobnobbed around Montmartre, the center of the Paris art expatriate scene for well over a century, now a tourist trap, but with some great, cheap shopping, including a slew of Tati stores for everything from underwear to wedding rings.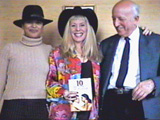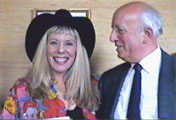 Immane, Monsieur Jacques Grancher, et moi aussi
Later, we met with the publisher himself, Monsieur Jacques Grancher, a courtly gentleman (and colleague of our distinguished British publisher Ernest Hecht of Souvenir Press) who usually publishes books of a spiritual bent. That's why you'll find Les 10 Commandements du Plaisir in all these religious and occult bookstores, like Librairie Astre on Boulevard Voltaire. In a way, it's oddly appropriate, as my ideas about pleasure are served up as "commandments," and those commandments are based on Ethical Hedonism, my antidote to traditional religion that seems to be wreaking so much havoc around the world these days...
NEXT: The Paris Erotic Museum


Continue to Paris Pleasurelogue
Page 3





JOIN I FRONT PAGE 2 I SITE INDEX I WHAT'S NEW? I. JOURNAL I THERAPY