DR. SUSAN BLOCK'S
T R A V E L S WITH M A X
Paris Pleasure Travelogue
(continued from previous page)
The next night was Paris Dernière on Paris Première TV, which everyone told us everyone else watches in France.




Pleasure on Paris Dernière with subtitles
It's producer, Thierry Ardisson, is the French equivalent of a young Ted Turner, i.e., the hottest independent TV producer in France.




The subtitles tell you that it's our wedding anniversary and that The 10 Commandments of Pleasure are inspired by the bonobos
The concept of Paris Dernière is a faked out "Taxicab Confessions," in that the "host," Frederick Taddei, tools around Paris with his camera in the middle of the night, stopping at various hotspots to interview what the show deems les gens intéressants. It all seems spontaneous, except the stops are all arranged in advance.




Max tells (and shows) the French about sex. Don't his American flag T shirt and "I love Dr. Suzy" cap make him look like a French sailorboy? And then there's the Dique--ooh la la!
Though, as I've said before, the best laid plans may not get you laid the way you planned.




Here I am attempting to speak French, thus no subtitles
Our arrangement was that Max, Immane and I would be sitting in this trashy little bar, le Tournebride, chatting heatedly about pleasure and politics with France's "Pleasure Party" candidate for President, Cindy Lee.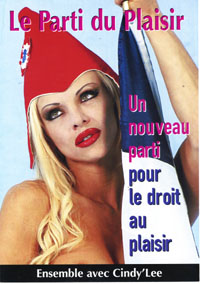 Pleasure Party Politics
However, even though Cindy Lee's day job was topless dancing at a local club, she was eager to project an image of seriousness. Thus, she was not in the mood to talk about pleasure, certainly not about sex.




Cindy hard at work on her day job
In fact, she was not in the mood to talk much at all, though, at one point, she did, sullenly, allow me to open up her top to reveal her large, pneumatic, LA-style boobs.



Cindy campaigns for pleasure

That left me, Max and Imanne to do most of the talking, in our now-practiced Frenglish with the wiseguy Taddei. Since Monsieur Taddei had no original questions (maybe shooting and interviewing spontaneously is a lot tougher than it looks), we amused ourselves (and the Paris Première Television audience) with my Doc Johnson Cyberskin Dildo and Vulva Puppet (always carry one with you for those times you need emergency amusement).




The Vulva Puppet and Dildo make it to Paris TV
So now, everyone in France knows us (as well as our dildo and Vulva Puppet. I know this, even though I'm now back in LA, because Imanne says that now when she gets stopped on the street, it's not just to tell her how gorgeous she is or ask her for a date, it's to say "Je vous ai vue au Paris Dernière!"




Would you like a dildo with your drink?
When the show was over, we were rather surprised to be presented with a bill from the bar. We handed the bill to Cyrille, the show's producer (and perhaps not uncoincidentally, the boyfriend of Cindy Lee), assuming he'd take care of it. Nothing doing. We weren't in Hollywood, obviously. We weren't even in Burbank. Cyrille sheepishly informed us that the show wasn't paying for our drinks.



I brought my own dildo. Now I have to pay for my own drinks?
When he saw our shocked and annoyed grimaces and eyerolls, he assured us that the show never paid for anyone's drinks. Not even superstars.



Bruce thinks it's a joke that he has to pay for everyone's drinks!
When Bruce Willis was on Paris Dernière, he said, the show didn't pay for his drinks, and, since there was a big crowd of people there, Bruce had to pay for everyone's drinks! Can you imagine an American show telling their guests to drink, but not paying for their drinks? The French can be cheap, that's for sure. Well, of course, they make up for it by having invented French kissing.




French Kissing Imanne, Max & my Doc Johnson Dildo on Paris Dernière
Besides, everyone says that everyone in France watches Paris Dernière, and the bartender looked kind of tough, and Cyrille was penniless, so…we paid for our drinks. We even paid for Cindy's drinks (neither strippers nor politicians pay for their own drinks).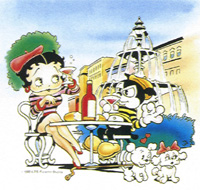 Even Betty Boop had to pay for her drinks on Paris Dernière
Such are the small indignities to be endured by an American in Paris. Well, we warned Cyrille that we would write about the astounding cheapness of the famous, fabulous Paris Dernière, and we have!
NEXT: Happy Anniversary!


Continue to Paris Pleasurelogue
Page 5





MEMBERSHIP HAS ITS
P L E A S U R E S

JOIN I FRONT PAGE 2 I SITE INDEX I WHAT'S NEW? I. JOURNAL I THERAPY