Dr. Susan Block's
TRAVELS with MAX
Libertine Clubs of
C A N N E S
in five parts
1 I 2 I 3 I 4 I 5


Dr. Suzy shows you Downtown Cannes from her favorite
penthouse apartment just around the corner from
Le Suquet and Lez Oub' .. Dr. Block's choker by Artistic Visions

Lez Oub'
Lez Oub' du Suquet
(Anciennement Les Oubliettes)
8 rue des frères Le Suquet - 06400 CANNES
Tél. : 04 93 99 69 09 ou 06.19.25.69.72
One of the best things about Lez Oub' (formerly called les Oubliettes or "The Forgotten Ones") is it's location. Towards the top of the heartwarmingly pictureseque little hill the Cannites call Le Suquet (Cannes' Restaurant Row), it's also right around the corner from one of my favorite penthouse apartments where we often stay when we're in Cannes.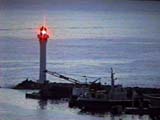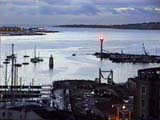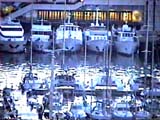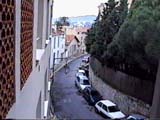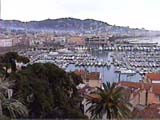 Views at dawn from our favorite Cannes penthouse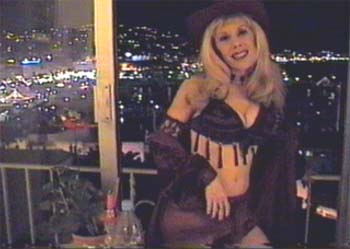 Night view
Block Properties has many beautiful apartments and villas available in Cannes, Paris and other parts of Europe. For more information, click here.
The next best thing about Lez Oub' is the dance floor: A large, sparkling space with high ceilings, it features a pole in the center which you can swing around and pretend to be a stripper, and lots of mirrors to check out yourself and whoever's behind you. There's also comfortable seating and a fairly elegant bar that's not too close and not too far from the dance floor. Upstairs are very nicely appointed rooms for sexual fun and games, including a mini-dungeon complete with a bondage bed with stirrups and a bondage cross on the wall. A lovely place to play, we thought. But the night we were there, all the sex rooms were totally empty!
.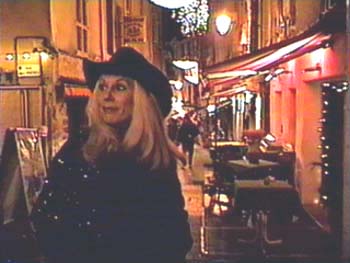 Le Suquet: "Texan in Cannes" is the touching story of an American Cowgirl
who tries to get into the Cannes scene in the Age of Bush...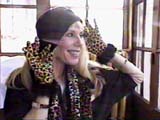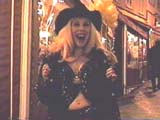 and winds up with the Libertines...
for more scenes from "Texan in Cannes," click here
We only went the one night, but we have heard from other libertines that Lez Oub' is always like that. Great disco, and other accoutrements, but nobody seems to have sex there, at least not on couples nights. There's a lot of action on Thursday and Sunday nights, when single men can go, we were told. But on couples nights (Friday and Saturday), people dance and drink, talk and flirt, but the beds upstairs are empty. Which means they are extremely clean (always look on the bright side)! No soiled sheets here. In any case, we couldn't figure out why there was no sex happening in this beautiful sex club. Various explanations floated around us about everything from layout to voodoo, but none seemed quite right to us. So, we'll probably check out Lez Oub' at least one more time to see if it's true that the sex rooms are always empty.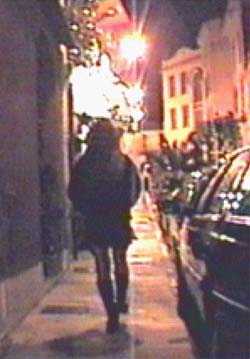 rue louis de perisol ..... Painting by XAM
In the meantime, here's my advice:
Don't go to Lez Oub' expecting to meet people or see hot sex action. You need to bring the action with you. That is, the best way to go to Lez Oub' is with people you'd like to swing with, and you'll find a very comfortable place with great facilities for all your erotic desires. Make sure you eat before you go. This is the one club of the Three O's of Cannes that provides no cuisine except very salty peanuts.
So, a marvelous evening of pleasure for a couple of couples interested in romancing each other in style might be to start with dinner at one of our favorite restaurants in Cannes, l'Oulivié (another O!) on 3 Rue du Suquet. L'Oulivié is run with loving care and pride by a friendly and sensuous blonde Scandinavian woman named Joey, who used to run a transvestite club, but now puts all her energy into great food, fine art and sexy women (she's engaged to be married to her girlfriend). We've had several wonderful meals at l'Oulivié, including succulent lobster, lamb, chicken and perfectly prepared vegetables, plus delicious hugs and French kisses from our lovely pal Joey.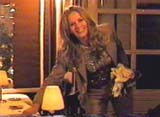 Joey at l'Oulivié
Just down the street a few paces is another Scandinavian-run business that you and your friends might enjoy browsing, between your l'Oulivié dinner and Lez Oub' antics: Atelje Johan at 12, Rue St. Antoine, featuring gorgeous paintings and prints of erotic well-endowed angels of all sizes and states of arousal. Looking at Johan Pellams' joyous and loving depictions of Eros in male and female forms is great foreplay to a libertine night. We liked the images so much, we used them for our Eros Day 2003 webpages.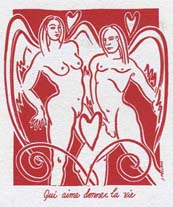 Print by Johan Pellams of Atelje Johan, Cannes, France
You can order a set of 12 Eros Day Angel Cards by Cannes' Marvelous Erotic
Angel Maker Johan Pellams for $24.95 plus $5 shipping. Available in
America only from Dr. Susan Block's Private Collection. Call Sabrina at
213.749.1330. For complete list of works, please add $3.
If you want another drink before you proceed to more orgiastic adventures, a great bar around the corner from Lez Oub' and our penthouse, also inhabiting that magical area of Cannes that they call Le Suquet, is Bleuet's on 3, rue du Pré. Owned by Monsieur Sauveur, and operated by two sociable, buxom blondes, Christine and Odette, Bleuet's is the kind of bar that makes women feel comfortable drinking as much as they want. That must be why the men like it so much! Here's where you can fortify both ladies and gentlemen in your party before you head off to play on the bondage cross around the corner at Lez Oub'.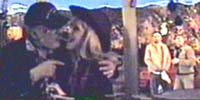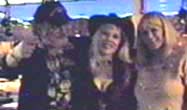 Dr. Suzy with Max, Christine & Odette at Bleuette's Bar
And as long as we're talking bars...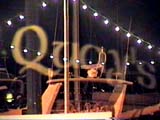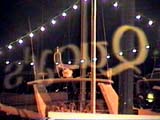 Quay's Irish Pub in Cannes
Another nice bar in this neighborhood (a little closer to the harbor) for English-speakers is Quay's, a very affable Irish Pub on 17 Quay St. Pierre, where you can find various local English papers like The Riviera Times, and meet up with fellow travelers, fellow Festival Movers & Shakers, or maybe even an adventurous couple that will accompany you up the hill to Lez Oub'.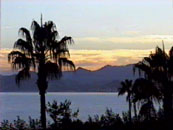 Is this Tahiti? Actually, it's the breathtaking views from our other favorite Cannes rental apartment, this one across the street from the beach and close to Quay's.
RENT THIS APARTMENT

CLICK ON DR.SUZY'S BUNS
TO CONTINUE TO
LIBERTINE CLUBS of CANNES,
Part III: L'OASIS'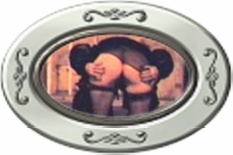 Libertine Clubs of
C A N N E S
in five parts
1 I 2 I 3 I 4 I 5



WAR TIME SPECIAL
See all the hot stuff you won't see on TV!
Join us Backstage!

JOIN I FRONT PAGE I WHAT'S NEW? I JOURNAL I RADIOSUZY1 I.THERAPY I Speakeasy Gallery I Travel I Bonobos I Blockbooks I Sexuality Resource Library I Sex Toys I Bar & Grill I Romantics Lounge I Videos I Erotic Theater