DR. BLOCK'S
T R A V E L S . W I T H . M A X

Wherein the Doctor & Her Butler Find Refuge in Five Different American Towns and Eight Voluptuous Hotels
......................
The Sorrento
Seattle, Washington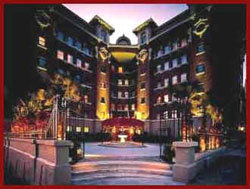 Our next trip was up to the fine, green and wet city of Seattle, Washington. We stayed at a charming, very cultivated, but not at all pretentious little hotel called the Sorrento. This trip, I wasn't sick, so Max and I kept busy, checking out great Northwestern culture, talking about freedom of speech with Peter Arnett and Jack Anderson at a talk radio convention, cruising the Puget Sound, gawking at the awesome magesty of Mount Rainer, and making great Northwestern love in our sumptuous Sorrento bed.
We'd heard that The Sorrento was nice, but we had no idea what a special, magical place it would be. Inspired by the Italian Renaissance architecture of Sorrento, Italy, the Sorrento Hotel opened in 1909, and was completely refurbished about 10 years ago. It's exquisite, and yet as warm and friendly and comfortable as a hotel can be. Very personalized service and distinctive genuine antique furnishings in all the guestrooms and suites; none of that ersatz antique stuff at the Sorrento.
Max and I especially enjoyed the nice soft all-cotton sheets, windows that actually opened, two-line phones, fresh flowers, classical music, great panoramic views and the significant fact that most of the lights in the rooms are on dimmers, a nice romantic touch that is unusual for a hotel.
Like The Bellevue in Philly, Seattle's Sorrento feels more like a home or a great private villa than a hotel. And Eileen Mintz, the Sorrento's vivacious loquacious PR lady, is certainly the signora of the villa, not to mention Seattle's own "Miss Bagel" and the winner of the Annette Funicello lookalike contest, among other interesting credits. We had a delicious brunch with her at the dark and woody Hunt Club which is right in the Sorrento, where Eileen told us the inspirational love story of her 31-year marriage which began when she was 19 and so chronically ill that her own parents thought she would never get married. One night, she went to a party and met a man who fell instantly in love with her. He wooed her and pursued her and then begged her to marry him even though his parents disapproved of him marrying such a sickly girl; then he patiently, lovingly nursed her back to health. Now over a quarter of a century later, they're as happy together as two newlyweds. He's retired from Boeing and she's happily employed at the Sorrento. "I take care of the money now," she told us, "But he still takes care of me. He carries all my bags all the time. I have no upper arm strength because I never have to carry a bag!" I nodded appreciatively since, of course, Max carries all my bags all the time, and I don't know how I'd ever get from point A to point B without him. And I applauded this intimate, unsensational, but absolutely exceptional true love story as it unfolded against the fittingly romantic setting of the Sorrento Hotel.
So anyway, if you're up in Seattle, now you know where to stay. Like the old song sings, "Come back to Sorrento." I know Max and I will.
continue to more of Dr. Block's Travels with Max