The Dr. Susan Block Institute
for the erotic arts & sciences
presents
The Book Burner Prize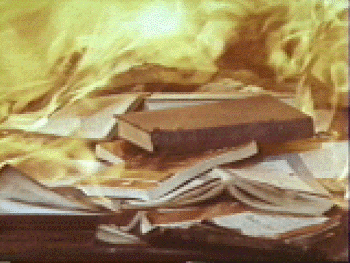 Burning Books ........................... Fahrenheit 451
FOR CENSORSHIP
IN AMERICA
Winner: Adelphia CEO & Chief Censor John J. Rigas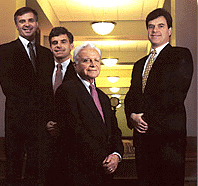 John J. Rigas & Sons
Adelphia Family Censors
Press Release

Adelphia CEO John J. Rigas Wins Inaugural "Book Burner Prize" As First Amendment Enemy

CONTACT: Dr. Susan Block at 213.239.0300 or e-mail drsuzyb@blockbooks.com


LOS ANGELES, CA - Dr. Susan Block, sex educator, best-selling author, cable TV host and star of HBO's #1 Nielsen-rated Radio Sex TV, has awarded John J. Rigas - Chairman, CEO & Founder of Adelphia Communications - the dubious honor of her institute's first Book Burner Prize as an enemy of the First Amendment.
Adelphia Cable TV (the sixth-largest cable company in the United States) is in the midst of a massive nationwide campaign to repress sexually oriented materials, often with total disregard for agreements with the cities in which they operate. Adelphia, owned and controlled by the 76-year-old right-wing Rigas, has eliminated adult entertainment channels like Spice and Playboy from its cable line-ups in Los Angeles and other cities.
Now, Rigas and Adelphia have gone even further. Adelphia is censoring or refusing to air some cable access shows, contrary to Supreme Court rulings that prohibit such actions. Cable companies can bar only obscene and commercial material from public access channels they are required by law to provide.
According to Peter Eliasberg, a staff attorney at the American Civil Liberties Union of Southern California who reviewed Block's tapes, "What Adelphia is doing is illegal. Just because something has sexual content doesn't mean it's obscene."
The shows that are currently targeted include Talking Blue, Colin's Sleazy Friends, Enslaved Souls, and The Dr. Susan Block Show, plus dozens of others on Adelphia stations across the country. Currently, Adelphia has decided to only air Dr. Block's show if the visuals are blacked out.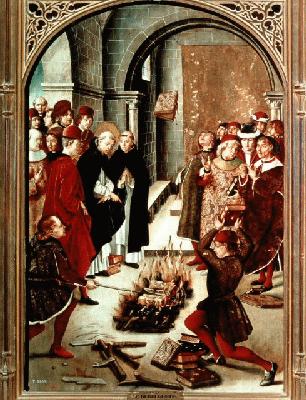 St Dominic and the Albigenses, Pedro Berruguete
Web Gallery of Art
"This is unconstitutional and in flagrant violation of Supreme Court rulings that prohibit cable operators from censoring public access programming," Dr. Block bluntly declares. "Maybe Mr. Rigas has forgotten that he doesn't own public access channels, that they are owned by the people, but we are ready to remind him. Unlike most public access producers who are intimidated by Adelphia's chilling actions, we are fighting back."
"The Adelphia situation is outrageous," agrees Fred Sherman, producer of Colin's Sleazy Friends which features such celebrity guests as Janeane Garofalo, Blink 182 and David Arquette, and is also being censored illegally by Adelphia. "Adelphia lawyers in upstate Pennsylvania are determining the community standards for West Hollywood and other cities in Southern California. Adelphia is refusing to air past episodes of our show, episodes that have already run numerous times on Adelphia systems. These same shows continue to air on other major cable systems like AT&T and Time-Warner throughout LA and without complaint... The fact that Adelphia has censored sex-oriented shows while continuing to produce, promote and profit from violent wrestling pay-per-view events marketed to children and teens confirms that the Rigas family and Adelphia have some serious issues about sexuality, but are happy to profit from violence."
"This is a personal, morality-based attack on our First Amendment right of Free Speech as well as our personal civil rights," continues Dr. Block. "Producers of sexuality-related public access programs are being 'sexually profiled' by Adelphia, branded as criminals simply because our programs deal directly with sex. The casualty is the First Amendment."
To combat such attacks against Free Speech, the Dr. Susan Block Institute for the Erotic Arts & Sciences has begun its Book Burner Prize to raise awareness about those who threaten our basic liberties. The Book Burner Prize will be given to those who are dedicated to the destruction of our nation's basic foundation, the Freedom of Speech. The award will recognize such threats to Free Speech, whether they be against magazines, film, music, television, art, the Internet or, of course, books.

1982 Book-Burning, Minnesota / Humanities-Interactive
As Dr. Block boldly puts it:
"From the Crusading Catholic Church of the Dark Ages to the Nazi horror to the religious bounty on Salman Rushdie's head, the Freedom of Speech is usually the first sacrifice in the war against people's liberties.
"Among the first victims in such a war are those who explore sex and sexuality. This is because power-hungry leaders understand one thing: if people don't feel they have a right to pleasure and the pursuit of happiness, they can be controlled and become obedient slaves.
"The winds of suppression come from all directions, from the Right and the Left. But whether it's right-wing reactionary religious fundamentalist rhetoric or left-wing politically correct psychobabble, it all adds up to hypocrisy and oppression, a step backwards in America's cultural development when we have so much potential to move forward. A step back into the darkness. History knows: Censorship begets ignorance. Ignorance begets hatred, violence, disease and destruction."

To add a touch of hypocrisy, while Rigas and Adelphia reject Dr. Block's public access shows, they do carry HBO, which broadcasts Dr. Block's two Radio Sex TV specials as well as Real Sex, several episodes of which feature none other than Dr. Susan Block. As Dr. Block notes, "The fact that Adelphia continues to carry the sex programming of HBO, Showtime and Cinemax while rejecting the same on public access proves that Adelphia's position is hardly one of moral rectitude." Anyone with access to the Internet can also view all of Block's Saturday night show, completely uncensored.
To support Free Speech, visit drsusanblock.com to learn more details. There, you can also sign our petition requesting that Adelphia reverse its policies not only covering Susan Block and other adult-oriented producers, but reinstating adult oriented channels like Spice and Playboy.
Perhaps the most effective way to stop the actions of Mr. Rigas and Adelphia is to let your dollars do the talking. If you own any Adelphia Stock, you can sell it. If you are an Adelphia customer, you can switch to satellite service. By boycotting Adelphia, you will send a stronger message than any letter could by directly hurting Mr. Rigas in the wallet. As Dr. Block summed it up, "This old-fashioned moralist from small-town Pennsylvania is trying to dictate programming to open-minded Angelenos and is flouting the rules of public access. We are not going to let him get away with it in our community."
If you would like to express your disapproval of Adelphia's attempts at censorship, please call John J. Rigas, Chairman, CEO & Founder of Adelphia, and Robert Whitthauer, Adelphia Acting Counsel, at 814.274.9830. If you would like to voice your opinion at the Los Angeles level, please call Bill Rosendahl, Adelphia Regional VP for Southern California. His telephone number is 310.315.4442. You can also call your local cable regulator and the FCC.
Wake Up and Smell the Censorship !


Woman Burning with Her Censored Books ....... Fahrenheit 451
Contact Dr. Susan Block at 213.749.1330 to arrange interviews with legal experts and others involved in the case or e-mail drsuzyb@blockbooks.com
Please feel free to forward this press release.

The Book Burner Prize is not associated in any way with our advertisers who support freedom of speech.

Click Here for Adelphia Accounting Scandal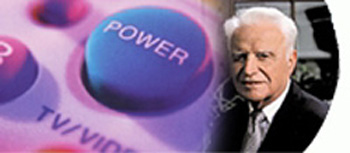 Rigas Boys Caught Masturbating Their Figures!

RELATED READING ON ADELPHIA FAMILY CENSORS
Click here to read Sallie Hofmeister's front page story in the Los Angeles Times, "A Mogul Broadcasts His Morals" on John Rigas, quoting Dr. Susan Block, as well as Peter Eliasberg of the ACLU & Christie Hefner of Playboy, on his illegal censorship of The Dr. Susan Block Show and others
Click here to read Los Angeles Times columnist Robert Scheer's Sunday Times column regarding Adelphia's "prudish" censorship of Dr. Block, "one of the nation's leading sexologists...and a very bright and funny woman to boot:"
Click here to read Michael Gougis' piece on Dr. Block's censorship battles with Adelphia in LA New Times (with fun photos by Wild Don Lewis)
Click here to read Dr. Block's letter to John J. Rigas, Adelphia CEO
Click here to read Don Paschal's "Fuck Adelphia" piece in The Globe
Click here to SIGN THE PETITION to Save The Dr. Susan Block Show on Adelphia
Berkeley Will Not Be Censored: Read Frank Moore's Open Letter published in the Berkeley Daily Planet in defense of The Dr. Susan Block Show and the right to show nudity and eroticism on BTV.

JOIN I FRONT PAGE 2 I SITE INDEX I WHAT'S NEW? I JOURNAL I.THERAPY