GRAHAM CRACKERS
America's Anti-Sex Snack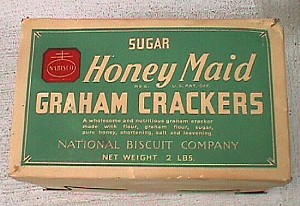 Antique Graham Cracker Box: An Anti-Aphrodisiac?

by Dr. Susan Block

* Watch Dr. Suzy on MTV! *
Dr. Suzy talks about Graham Crackers & Sex on MTV's "The Big Urban Myth" (between "The Real World" and "The Osbournes")

Whether we put them in s'mores or pie crust or just eat them out of the box, we all know and love those crispy sweet snacks we call Graham Crackers. But did you know that the Graham Cracker was invented as the first American Anti-Sex Snack?
That's right, America has its sex stars like Marilyn, Madonna andMargaret Sanger, and it's anti-sex stars like Anthony Comstock, Andrea Dworkin and Ayatollah Asscraft. One of America's first anti-sex stars was an early nineteenth century preacher by the name of Sylvester Graham who stood at the crossroads of three major movements that developed in the early 1800s: Christian Evangelism, Victorian Prudery and American Entrepreneurialism.
In his campaign to sell America crackers and the "bland" life, the Reverend Graham preached that sex was not just the root of all evil. It was the root of all disease. In other words, if you had tuberculosis, epilepsy, acne or bad posture, it was your own damn fault because you were having too much sex!
Graham maintained that too much sex of any kind would cause indigestion, headaches, feebleness, bad circulation, pulmonary consumption, spinal diseases, teenage acne, bad posture, insanity, and early death of offspring, among other horrors. Probably hairy palms and blindness, as well.
Graham thought men should remain virgins until age 30. Ladies could start a lot earlier, of course (he was Victorian), but neither should make love more than once a month, and that's only if they were married, not at all if they were sickly. He didn't think anyone should masturbate-ever.
To control lust, Graham prescribed his special bland vegetarian diet, the centerpiece of which was "Graham Bread," made from whole wheat flour. In 1829, the Reverend Graham created another variation on the same idea, which he called Graham Crackers.
And so we arrive at America's favorite snack food. Though it started as nobody's favorite. Nothing like our Honey-Maid, sugary-sweet, refined flour Grahams, the old Graham Crackers were tasteless, coarse, flatbread wafers which probably tasted like compressed sawdust. Nevertheless, Graham developed quite a following of folks who forcefed themselves Graham Bread and Graham Crackers, slept on hard mattresses (Graham despised feather beds) and foreswore sex of any kind (or at least, tried to) in their valiant effort to be healthy and pure.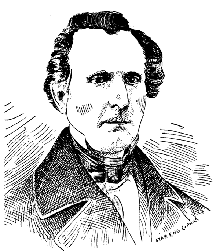 Reverend Sylvester Graham (1796-1851), inventor of the Graham Cracker

Did it work? Well, the diet wasn't bad. After all, people of the early 19th century were living on lard and meat pies with a side of bacon and a pint of ale. Graham might have gone down in history as a dietary hero, if only he'd stuck to bran fiber… but he was a preacher, after all, so he turned his dietary insights into a righteous crusade for moral fiber as well.
Up with crackers meant down with sex, especially the "the secret vice" of Victorian times, also known by such tasty terms as "self abuse" and "self-pollution." Graham was by no means the first to decry the debilitating effects of masturbation. Judeo-Christian tradition had long considered it utterly, irredeemably evil.
Masturbation was recreation instead of procreation, meaning it was a barrier to the all-important reproduction of the tribe and the expansion of the Church. Thus it should have a fittingly horrible punishment. Of course, the Bible itself is curiously mum on the subject; even so-called "Onanism" isn't really about masturbation; it's about coitus interruptus. But fundamentalist Judeo-Christian custom thunders against "self abuse," maintaining that it sends you straight to the fires of hell for all eternity. A sobering, if not entirely libido-dampening thought for a true believer.
Graham's approach was different. In his pseudo-scientific, capitalist-evangelist effort to sell crackers through prudery, Graham didn't address heaven or hell, but life right here on earth, asserting that:

1) masturbation caused all kinds of terrible illnesses, deformities, feeble offspring and early death.

2) the desire to masturbate, as well as to indulge in all other forms of sex, could be repressed with the proper, meatless, spiceless, sugarfree diet.
Both assertions are, in a word, crackers. A bland diet doesn't lower the libido. In fact, the healthier the diet, the hornier you'll probably be, since healthy men are more likely to get erections than sickly men, and healthy women are more likely to get aroused than women who can't move around too well.
Moreover, Graham Crackers--whether the modern sugary kind or Graham's original bland recipe--don't have the slightest effect on the sex drive-except to the extent that they create that notorious anti-aphrodisiac syndrome: "crackers in bed."
As for sex being bad for your health, well, sometimes it is. But mostly, it isn't. Anything you eat, any game you play, any kind of sex you have (except, perhaps, masturbation) can hurt you or even kill you. But, when you add it all up over the history of humanity, the sum of it is: Sex Heals a Billion Times More Than It Kills.
Scientific studies, and our own experience, show us time and again: Touch heals. Orgasms cure all kinds of aches and pains. Love Makes the World Go Round. Sexercise keeps you healthy. So Reverend Graham, thanks for your crackers, but keep out of our bedrooms!
How did Graham get away with making such wild claims about masturbation being the cause of everything bad in life from death to pimples? Simple: Graham knew his audience. No one could disprove his claims because no one dared to admit that he (or she), a healthy person, did, in fact, masturbate. It really wasn't until the 1940s, when Alfred Kinsey came along with his ingenious techniques for getting people to tell the truth about their sex lives, that Graham's crackerbrained theories about sex were completely debunked.
Interestingly, by 1840, when he was only 46, Graham's public career was finished, and he was already starting his own personal descent into senility and ill-health. At the age of just 55, one of his neighbors said, Graham was "infirm, seated in a wheelbarrow, and clothed in a long dressing gown of bedticking, wheeled through the streets to the post office by a man-servant." He died at the relatively young age of 56. By his own analysis, he must have led a life of chronic masturbation.

Doesn't Sylvestor Graham remind you of another American entrepreneur who tried to sell Christian piety along with his product? That's right: Former Adelphia Censor-in-Thief John J. Rigas, now an indicted felon and my sidekick Piggie John. Johnny, want a cracker?



"RiGA$ in CUFF$" . ..ADELPHIA ARRESTED .



JOIN I FRONT PAGE I JOURNAL I RADIOSUZY1 I.THERAPY