Same-Sex Marriage:
Just Say No to Prohibition!
By Dr. Susan Block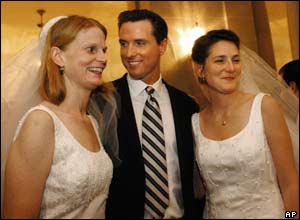 San Francisco Mayor Gavin Newsom with Newlyweds
Cissie Bonini and Lora Pertle

Like many Americans, I grew up learning a "queer" was a criminal, a pervert or, probably, both. Not that I was taught this directly. I just picked it up from the embarrassment of my elders, the cruelty of my peers and the writing on the restroom walls.
I also learned, like the President, that marriage was a "union between a man and a woman." Like Adam and Eve. There was no Adam and Steve. I didn't see this as a problem. After all, I liked boys. I was so clueless, I didn't know my favorite cousin Brandon and his buddy Jake weren't just "roommates." What I didn't know didn't hurt me…at first.
In high school, I learned the truth about Brandon and Jake. By then, I could relate to all kinds of love, and considered their relationship "cool." But I couldn't fathom them being married like my parents were married, or like I expected to get married. Nor could I imagine why they'd want to be.
Years later, Jake contracted Lou Gehrig's disease. Soon, he could barely move, only capable of communicating with Brandon. Jake's caretakers understood. But in emergencies, paramedics refused Brandon the right to see Jake. Only "immediate family" allowed. That's parents, children, siblings and spouses. No friends. No lovers. No roommates-for-life. When a nurse wouldn't let Brandon see Jake because their 22-year-old relationship lacked a marriage certificate, I realized why everyone needs the right to marry.
Of course, there are happier, "gayer" reasons not to prohibit same-sex marriage, like the radiant newlyweds of San Francisco's "Winter of Love." That historic moment, when a courageous mayor gave the right to marry to people who love people of the same sex, ignited acts of romantic civil disobedience reminiscent of Rosa Parks and the Greensboro sit-ins. The comparison isn't perfect. You can't hide your skin color, while you can closet your sexual orientation. Yet there are parallels. Slaves couldn't marry. After emancipation, most states outlawed interracial marriage. Racists called for Constitutional Amendments prohibiting black-white marriage with the same sanctimony the anti-same-sex-marriage set utilizes today.
Both invoke the "sanctity" of marriage. "Gays can't bear children together," same-sex detractors intone. "God commanded, 'Be fruitful and multiply!'" But that was Genesis, when the desert was vast, and the population small. By Ecclesiastes, God wasn't ordering rampant reproduction anymore. By now, the Earth is overpopulated. Couples who marry not to reproduce, but to stabilize their lives and contribute to their communities, should be applauded, not ostracized.
What constitutes marital sanctity anyway? Anti-same-sex marriage fundamentalists are free to believe what they like about it. What they shouldn't be free to do is force those beliefs on everyone. America separates Church and State. Individual churches needn't perform same-sex marriages. Individual states needn't recognize them. But our federal government must not discriminate. Our Constitution, always amended to extend human rights, shouldn't take them away. Remember, America's one attempt at Constitutional Prohibition (anti-alcohol) failed miserably.
The President calls marriage civilization's "most fundamental institution." But notions of the proper spouse keep changing. In times past, marriage meant holy union between a man and his chattel. Or one husband and multiple wives. Brothers wed sisters in ancient royal families. In Victorian times, 13-year-old brides married 45-year-old grooms.
So why not same-sex marriage? The sexes aren't really "opposite." Men aren't from Mars. Women aren't from Venus. We're all from Earth. We all need sex. We all need love. We all need the right to marry.
Even hermaphrodites do.
Why not just let gays have civil unions? Because, as anti-segregationists have long known, "separate but equal" is never really equal.
Do gay weddings threaten straight ones? Perhaps we'll have fewer opposite-sex marriages wherein one spouse is living a lie. My friend Nikki was devastated to learn her husband Mark was having unsafe sex with men. Mark always preferred men, but he wanted to be "normal," so he'd married Nikki. If Mark had the same-sex marriage option, this unhappy hetero union might have been avoided.
As for me, I eventually married (a man). Celebrating our 12th anniversary, I think marriage strengthens our love, though who knows? Marriage isn't for everybody. For many, it's a passion-killer, or torture worse than any homophobe could conjure as the hellfire awaiting the queer. Some left-leaning critics deplore same-sex marriage as "assimilation, not liberation." Maybe so, but everybody should have the right to enjoy, or endure it.
With all the same-sex couples getting hitched nowadays, we can expect plenty of same-sex divorces. That, too, should be their right.
© March 31, 2004, Dr. Susan Block
For reprint rights, please contact rox@blockbooks.com

Dr. Susan Block is a sex educator, cultural commentator, host of The Dr. Susan Block Show and author of The 10 Commandments of Pleasure. Visit her website at http://www.drsusanblock.com
Send all hate mail, love letters, commentary, questions and confessions to her at liberties@blockbooks.com.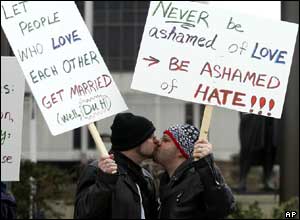 Just Say Yes to Love!

Letters in Response to
Same-Sex Marriage:
Just Say No to Prohibition!

Dear Susan, Congratulations. You have been chosen as an alternate for the 2004 Great American Think-Off. Deciding on the four finalists was difficult. There were so many good essays to choose from. Your essay in favor of the "con" side was especially good. Thus you have been selected as a Think-Off alternate. .Thanks again for participating. Cordially, Lina Belar, Executive Director, Great American Think-Off, New York Mills, Minn.
From: Nybostondetroitb@aol.com
To: liberties@blockbooks.com
Sent: Friday, May 21, 2004 9:00 AM
Susan your article Just Say No was wonderful
From: "R Miller" <seasalt@robsoncom.net>
To: <liberties@blockbooks.com>
Sent: Monday, May 03, 2004 6:05 PM
Subject: Just Say "No" to Prohibition
Dr. Susan Block: Your article in Counterpunch greatly appreciated. Thanks, Bob Miller Phx
From: "CLASON, GORDON P (SWBT)" <gc1285@sbc.com>
To: <liberties@blockbooks.com>
Sent: Monday, April 19, 2004 5:55 AM
Subject: same-sex marriage
I just read your article on same-sex marriage published on April 2 in Counter Punch. Bravo! It's about time someone stood up and said so. I have a great deal of difficulty understanding how conservatives can believe that a same-sex marriage between "John Doe" and "Fred Schmo" can have any effect on them, or in fact is any of their god-damned business. I am married to a black woman. 100 years ago my marriage would have been illegal here in Missouri, and in some places it is still frowned on. My attitude is that I have a right to do what I need to to insure my happiness, and that means that I have to be with Sarah -- her skin color is irrelevant. Furthermore, this thing is a personal and private commitment between me and her, and nobody else has any right to forbid, question, or concern themselves with it. I don't see why government has to get involved at all.
From: MICHAEL NISSEN
To: liberties@blockbooks.com
Sent: Thursday, April 08, 2004 10:25 PM
Subject: Just Say No to Prohibition
" I have sworn upon the alter of God eternal hostility against every form of tyranny over the mind of man." Thomas Jefferson What more needs to be said?
From: ketty nguyen
To: liberties@blockbooks.com
Sent: Thursday, April 08, 2004 7:49 PM
Subject: Same Sex Marriage..
Dear Dr. Susan, Thanks for your wonderful article about same sex marriage. I agree with you that they , too, needed the right to married as any normal person can. I don't see why it would threaten any one if they do get married. Marriage is not designed just to produce children. I think people truly don't understand the meaning of love and marriage at all. They are humans beings like we are, so why are we up about them being together? what's the difference? they love like all of us? So is that a sin? why would that be a sin if they fell in love with the same sex instead of the opposite sex? If that is who and what they are, then let them be who and what they are. I think this country is the most discriminating and prejudice country in the whole wide world! Talk about equaility and all that..is really is all BS! Christian country huh? yea right.
Anyway, your essay is always an enlightning one. I appreciate it very much. Have a great night then. Sincerely, Ketty Nguyen
From: "Joe Ciarrocco" <JCiarrocca@CUDDLEDOWN.com>
To: <liberties@blockbooks.com>
Sent: Saturday, April 03, 2004 10:44 AM
Subject: Counterpunch
Hello Susan, Thank you for your article in Counterpunch...same sex marriages...our wonderful leader has told us it is not natural for people of the same sex to express love...it is only natural to bomb the shit out of other countries...he must be correct...or he wouldn't be our leader... Joe, Maine
From: GuiRochat@aol.com
To: liberties@blockbooks.com
Sent: Friday, April 02, 2004 8:06 PM
Subject: BRAVO FOR YOUR ARTICLE ON SAME SEX MARRIAGES.
In fact in Counterpunch appeared a very stupid article by Cockburn (himself suspect as he wrote some very doubtful articles on gays years ago in the Village Voice) that same-sex marriages were not a step forward, using the same worn-out old timer marxist arguments that marriage is a conservative institution etc etc. But why should gays not have the freedom to indulge in old-fashioned institutions? Like my old friend the black equal rights lawyer Florynce Kennedy said: "What ?! you want black nobility too ?!", i.e. why should gays be holier than thou ? Cockburn is a bigot but I could not reach him unfortunately to nicely tell him so. Thanks again and all best ! GR
From: "Ron Jacobs" <rjacobs@uvm.edu>
To: <liberties@blockbooks.com>
Sent: Friday, April 02, 2004 11:39 AM
Subject: nice piece
Hi Susan I am of the left-leaning persuasion who asks why marriage and not liberation, but at the same time acknowledge that every one should have the right to marry someone they love, especially if that's how they can share their lives more fully-financially and otherwise. Ron Jacobs
From: Dooglefish@aol.com
To: liberties@blockbooks.com
Sent: Friday, April 02, 2004 11:12 PM
Subject: Your column
Dr. Block, I want you. I want you badly. I apologize for that. Were I more talented, I would want you expertly. Keep up the good work. -Doogles