BlockFilms presents
ADELPHIAGATE
Censorship and Scandal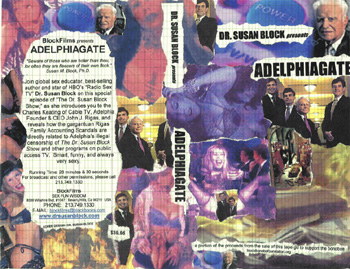 click to enlarge
"Beware of those who are holier than thou,
for often they are fleecers of their own flock."
Susan M. Block, Ph.D.
Join global sex educator, best-selling author and star of HBO's "Radio Sex TV" Dr. Susan Block on this special episode of "The Dr. Susan Block Show," as she introduces you to the Charles Keating of Cable TV, Adelphia Founder & CEO John J. Rigas, and reveals how the gargantuan Rigas Family Accounting Scandals are directly related to Adelphia's illegal censorship of The Dr. Susan Block Show and other programs on public access TV. Smart, funny, and always very sexy.
"ADELPHIAGATE: Censorship & Scandal" airs on ADELPHIA CABLE TV in West Los Angeles and the San Fernando Valley, as well as other public access cable TV stations throughout Los Angeles on Saturday night, July 13 at 11:30 PM.
Running Time: 28 minutes & 30 seconds
For broadcast and other permissions, please call 213.749.1330 or email blockfilms@blockbooks.com


To order the ADELPHIAGATE video for $39.95, call 213.749.1330
a portion of the proceeds from the sales of this tape go to support the bonobos
blockbonobofoundation.org

CLICK HERE FOR A TRANSCRIPT of ADELPHIAGATE

Click Here to Watch the Adelphiagate Video Stream at Frank Moore's Intimate Theater
Click Here to Read a Heartfelt Letter from an Angry Adelphia Subscriber (and fan of The Dr. Susan Block Show)

ADELPHIAGATE
The TV Show
a special edition of
The Dr. Susan Block Show
Executive Producer
Susan M. Block, Ph.D.
Master Engineer & Editor
Theron Marks
Producer & Art Curator
Kim Mendoza
Camera One
Robert Sterling
Technical Assistance
Russell Johnson
Opening Music:
Otis
Monologue Music:
"Passion Play"
Gino d'Auri
Honorary Executive Producer:
Maximillian R. Lobowicz
Special Thanks To:
Sheila Nevins of HBO
Doc Johnson
JS & FL
Steve & Tiya Block
Al Goldstein
Frank Moore
Hollywood Love Rugs
Produced at
BlockStudios
The Dr. Susan Block Institute
Los Angeles, California
Copyright drsusanblock 2002
Below is a secret censorship sheet inadvertently given to Dr. Susan Block by Adelphia staff in the Valley. Note the reasons for refusing to broadcast shows #3 and #4.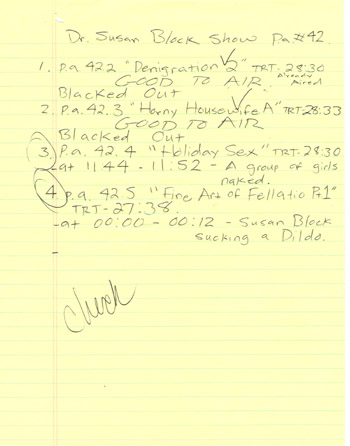 click to enlarge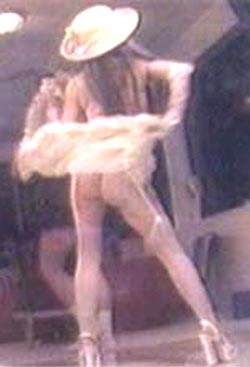 Kiss THIS, John J. Rigas !
Other Adelphia Links on drsusanblock.com
Click Here for Adelphia Accounting Scandal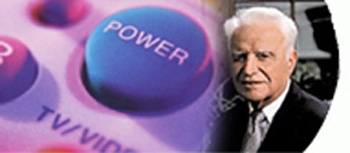 Rigas Boys Caught Masturbating Their Figures!
The Book Burner Prize
For Censorship in America:
Winner: Adelphia CEO &
Chief Censor John J. Rigas
Wake Up and Smell the Censorship !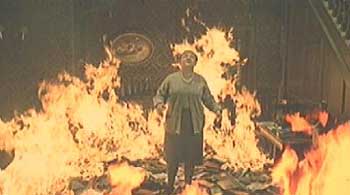 Woman Burning with Her Censored Books ....... Fahrenheit 451

An Open Letter to John J. Rigas
From Dr. Susan Block


ADELPHIA FAMILY CENSORS
ATTENTION:
HOLLYWOOD



Wake Up & Smell the Censorship!

Stocks Gone Limp?
Need Help With Your Figures?
(Personal, Not Accounting)
E X P E R I E N C E
TELEPHONE SEX THERAPY
We're Here for You 24 Hours a Day
Call 310.454.5353