R . A . I . D

Watch the screen above to see Dr. Suzy and Max talk about the LAPD Raid with Chris Blatchford on Fox 11 News. Afterwards, see some of the interview that they couldn't run on Fox, including Blatchford's bird's eye view as a crime reporter for 16 years. For more information, call 213.749.1330.
VIDEO ARCHIVES

Second LAPD Raid
on Dr. Susan Block's Studios & Galleries Starts with Big Guns, Ends with Nothing
(But Another Huge Bill for the Taxpayer)
2.27.00 : Saturday night, February 26th, at about 9-9:30 PM (PT), an unprecedented LAPD raid took place against the broadcast studios and art galleries of HBO star, best-selling author, public access icon, Internet broadcaster and sex educator Dr. Susan Block. Heavily armed elite LAPD officers claiming to be a SWAT team, wearing bulletproof vests and carrying high-powered rifles, forcibly entered the building, without warrants, about 45 minutes before the scheduled live broadcast of "The Dr. Susan Block Show" on www.radiosuzy1.com. Helicopter gunships with nightvision technology buzzed overhead. Eyewitnesses said that SWAT Team members with what looked like M16 rifles surrounded the building and cordoned off the area to pedestrians. The operation was coordinated by Metro Vice Squad and Central Divisions of the LAPD, including Watch Commander Valez, Sergeant Sanchez, Central Vice Unit Sergeant Kilgore, Detective Katherine Robi, and Officers Morales, Moreno and Malik.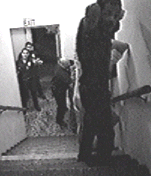 Film clips from security cameras show LAPD with guns on Max Lobkowicz, executive producer of the show, Kim Mendoza, art curator, and several other staff members. When Dr. Block stepped out of her dressing room she was held at gunpoint by LAPD uniformed officers. She was detained and questioned, separate from her staff, for about twenty minutes, while the producers, camera people and some of the guests were frisked. Then, the staff and guests were permitted back upstairs (some 50 guests crossed police lines to get in), and the show was allowed to go on. But most of the officers stayed, watching, searching and intimidating guests and staff, for some two and a half hours.
What was this all about? LAPD officials don't really know. Here was their story when they arrived. "Four armed Hispanic men who had robbed and kidnapped someone were seen forcing their way into the building by a passerby." The SWAT team was there to search for the gunmen.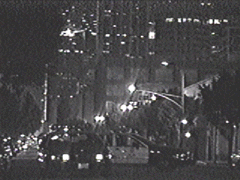 They determined that there were no gunmen or hostages in the building within a few minutes. Yet they spent two and a half hours inside Dr. Block's studios and galleries, although official police records state they were here for 10 minutes. Do we have a Ramparts in every neighborhood?
They interrogated Dr. Block, her staff and guests about the nature of the show, which half of the officers said they watched. LAPD officers blocked off access to critical Internet broadcast servers and other equipment. Vice specialists searched through film archives. Other officers looked through the studio refrigerator, searched the bathrooms, combed through the books in the library, monitored Chief Engineer Theron Marks' mixing of the live show, and checked out the erotic art in the galleries. Finally, they confiscated a copy of Dr. Block's HBO show "Radio Sex TV" (executive produced by HBO Senior Vice President in charge of Documentary and Late Night Programming Sheila Nevins, and produced by Dave Bell, who, coincidentally, also created the reality TV series "LAPD").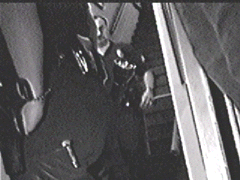 What caused this bizarre but fully armed police raid on a downtown LA art gallery and broadcast studio? Was it the smell of sex? The erotic art? The controversial, scantily clad cable host? Her producer/husband's radical past? The Jonathan Taylor Spielberg connection? ? The interracial nature of the staff? The building's proximity to the new all-powerful Staples Center?
This is the second, and far more physically threatening LAPD assault upon "The Dr. Susan Block Show." The first, which took place in January, 1998, also occurred under mysterious circumstances and resulted in no charges being pressed.
Under the direction of Mayor Dick Riordan and Chief Bernard C. Parks, this kind of anti-culture, anti-art, anti-sex police action becomes a major stumbling block for redevelopment and economic growth of downtown Los Angeles, not to mention an assault on our basic freedoms as individuals.
We urge the Mayor's Office, the Chief's Office, the LA City Council and its members to investigate this government invasion and attack upon the dignity and freedom of all Angelenos. This city is not just made up of major film companies like Disney, but of emerging studios with diverse visions. We ask our subscribers, viewers, listeners, clients, friends and fans to call the mayor's office at 213.847.2489. We ask our subscribers to send this message on to friends, media contacts, art galleries, political representatives and other appropriate parties.
For demonstration information, call the offices of BlockFilms at 213.749.1330. Ask for Max Lobkowicz or Kim Mendoza. Dr. Susan Block's Journal will carry the full story with photos in about a week. In the meantime, we encourage all artists, journalists and others to help us put a stop to this kind of police intimidation.
The Dr. Susan Block Institute
for the erotic arts & sciences
Los Angeles 2.28.00

RELATED ARTICLES
......................
AVN
THE LA TIMES
NEW TIMES
THE SEX INITIATIVE
THE GLOBE
EROTIC GUIDE
CORA EMENS NEWFLASH (Click on the Pyramid in the left-hand corner)
ADULT INDUSTRY NEWS
BRUTALLY HONEST with David Matthews (talk show)
See "Erotic Art of the Apocalypse"
the controversial turn of the 'mil exhibit
that thousands have been touched by,
including the LAPD.
Regular Speakeasy Gallery hours are
Thursday – Saturday, 4 – 9 PM. Call 213.749.1330
Art Curator: Kim Mendoza
Home Invasion: The Story of Dr. Block's First LAPD Raid
Read the Press Release on the First LAPD Raid
Read about performance artist Frank Moore's first experience on The Dr. Susan Block Show at the Villa Piacere when we were raided by the LAPD!
........................
An Open Letter to Los Angeles Mayor Richard Riordan
February 29, 2000
Dear Mayor Riordan,
Please allow us to introduce ourselves before we get to the point of this letter. We are Dr. Susan M. Block and Maximillian R. Lobkowicz. Dr. Block is an internationally renowned sex educator, best-selling author, host of "The Dr. Susan Block Show" in LA and "Radio Sex TV" on HBO. Mr. Lobkowicz is the executive producer of "The Dr. Susan Block Show," as well as the former publisher of your community paper, The Brentwood Bla Bla, along with Eli Broad and his financial group. We currently publish Dr. Susan Block's Journal online at www.drsusanblock.com.
We are writing because we are extremely troubled by a Los Angeles Police Department raid that took place at our broadcast studios and art galleries this past Saturday night, February 26. As the press release that follows explains, heavily armed LAPD officers came to our studio/gallery door, informed us that they were SWAT team members (though we later were told they were not), forcibly entered our facility, telling us that they were chasing after four armed robber/kidnappers, then held us, our partners and staff at gunpoint.
Within minutes, they realized there were no gunmen in our studios or art galleries, but they stayed for two and a half hours. They brought the operations of our Internet/TV studio to a halt an hour before a live broadcast. They rummaged through our stuff-our tapes, our computers, the books in our library, the art on our walls--and intimidated the guests at our show, all without our permission and without a warrant. They threatened, they laughed, they pointed guns. As artists, educators and Angelenos, we find this disgraceful and totally unacceptable.
We feel that you, as our mayor and our neighbor, bear responsibility for allowing this invasion that is unparalleled in LA history. Saturday night, February 26, 2000, police officers claiming to be SWAT team members forced their way into an art gallery and broadcast studio in the heart of our beloved city.
We cannot create a great city of diversity, culture, technology and commerce when we have a police force that is shooting, lying, breaking laws, violating civil rights and threatening all areas of the community. Perhaps they got rid of search warrants. Even if they have, we suggest that you take personal responsibility for your police force, as we will.
We are not the enemies of the police. Actually, we have many friends and family relations, as well as fans of the show, in the LAPD. We feel that the system that led the police to force their way into our studio is as dangerous to police officers as it is to us. The corruption of this system is evident in the headlines we're reading every day now. We see it in LAPD Chief Bernard Park's own admission that fraudulent officers took advantage of lax supervision to carry out criminal acts. Former LAPD Chief Willie Williams warned you of this corruption. Now it is rampant and impossible to ignore. For us, it has literally forced its way into our workplace.
We believe that just as some officers engage in "racial profiling," that in our case, we were "sexually profiled," assumed to be criminals because we are sex educators. This is an unjust, intolerable practice. It is outlaw police work that will only further drag down the city of LA. It costs us millions in taxpayer dollars. It creates fear of police officers and violence in the streets. These policies must be reversed. The police must be brought under control. We will not have our civil rights trampled under the guise of protecting people. We need meaningful police reform.
Chief Parks has admitted, "we (the LAPD) as an organization provided the opportunity" for police corruption to thrive. But when will he sit down with his officers and tell them to stop?
We would like to meet with you personally to discuss this further. You may choose not to meet with us. Then we will work to make sure that this history is recorded. Please call us or have one of your staff call us at 213.749.1330. If not, we will be at your door protesting censorship and a police force that is dangerously out of control.
Sincerely and with best wishes,
Susan M. Block, Ph.D. and Maximillian R. Lobkowicz
THE DR. SUSAN BLOCK SHOW
THE SPEAKEASY GALLERY
cc: Los Angeles Police Department Chief Bernard C. Parks



Mayor Dick Apologizes
to Dr. Suzy!


Patriot Act Unpatriotic


FAREWELL TO MY CHIEF

JOIN I FRONT PAGE 2 I SITE INDEX I JOURNAL I.THERAPY