THE PRESS CLUB
Welcome to the Pleasure Dome

Is that Mae West on her panties, or is she just happy to see you?

Dr. Suzy Kicks Up Her Heels in the
Premiere Issue of
M O N D O
The premiere issue of MONDO features a six-page feature on the Dr. Susan Block Institute called Welcome to the Pleasure Dome by Tony Horkins with photos by John Chapple. Following are excerpts from the piece :
"The Susan Block Institute is Warhol's Factory of the erotic world. The diversity of the output, Susan's Svengali-like demeanor, her ever-present entourage and that vague sense of an alternative culture growing here all collude to confirm it."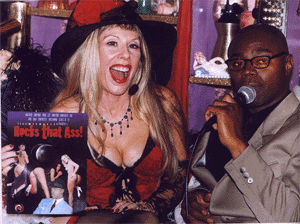 Dr. Suzy interviews Sean Michaels
"Author, sex therapist, erotic gallery owner, columnist, internet radio broadcaster and, most controversially, public access TV presenter,
Dr. Susan Block is quite simply, a phonemenon...
America's foremost speaker on all matters sexual.... She is articulate, informed and opinionated... What's more, she's possibly the only TV sex and relationship advisor who looks like she actually has any sex--and good sex at that."
"Like Warhol, she doesn't walk alone, relying heavily on her husband, butler, colleague and inspiration, Max.
A veteran of independent and sometimes pornographic publishing, he has been prosecuted 22 times and served 18 months in jail for his output, and now chauffeurs his wife on her chosen journey."
"There is a whole lot of (free) loving going on here, with Susan as ringmaster...
It all looks fabulous for the cameras, including the disposable ones..."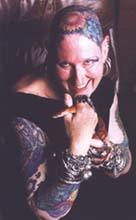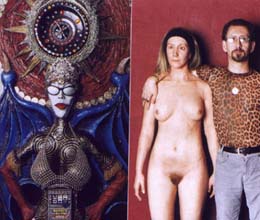 Tattooed Roberta, "Queen of the Deal" by Skee Goodhart,
Kevin Springer posed with his "Three-Dimensional Lifelife Female"

"Vanessa Blue and Kitten, black actresses featured in Sean Michael's Rock that Ass collection...have nothing but praise for the good doctor. 'She's the start of a sexual revolution for Americans,' they insist--and they may be right."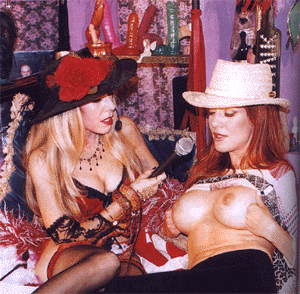 Dr. Suzy interviews Elizabeth X
"She steps down from the stage to meet her public...Three sniggering teenage boys, clearly no strangers to the Oxy line of products, push each other forward to say hello. One tells Susan he's been watching her show since he was six and says, rather implausibly, 'It's helped. I kind of...Well, I dabble in sex a little.' Another reveals that his mother's been taping the show for him for years. 'You know,' he says shyly, 'she kind wants me to grow up fast.' For a moment Susan seems almost shocked. But only for a moment, for this is exactly what makes it all worthwhile. An almost lone voice against America's vast moral majority, she's burst through the prejudice, and broken and entered another American home. And all thanks to a couple of cameras and the public access network."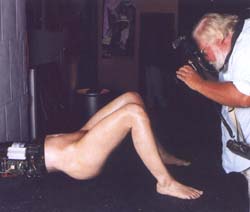 Tom Zimmerman photographs Kevin Springer's
"Motorized Grinding Female" a the Speakeasy Gallery's
Opening for "Democratic Sex" curated by Kim Mendoza
"It has been a learning experience for all those involved. Susan has learned that most people are worried about whether they're sexually normal. And for their part, the American public has learned that maybe they actually are."
There's a lot more to it. So pick up a copy of MONDO

.....................
"He may have pulled his pants down,
but the polls didn't come down with them"
Dr. Susan Block, quoted in the Boston Globe, on Bill Clinton's political staying power, and why Al Gore shouldn't try to "distance himself" from one of most popular presidents of modern times.
Click for more of Dr. Suzy's thoughts on Democratic Sex in the Boston Globe
.....................
ART AUCTION
FRIGHTENINGLY HOT SEX : HAPPY HALLOWEEN!
.....................
.....................
.....................