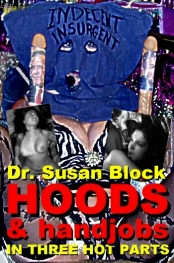 HOODS & handjobs
Anti-War Insurgency & Orgasmic Sex
When it comes to sex and politics, nobody mixes it up better than Dr. Susan Block. Dr. Suzy's HOODS & handjobs combines anti-war insurgency with orgasmic sex, whacky fun and timeless wisdom, featuring Kim Airs, Heather Barron, Luccia, Shayna Knight, Dr. Phil, Orgasmical and Avy Lee Roth (David Lee Roth's porn star daughter), along with the inimitable Dr. Suzy. If you like hot couples, horny pregnant housewives, explosive orgasms, extra-large all-natural bare boobs in all colors and shapes, sexy spankings (of the monkey and the buns), great down-to-earth sex advice and information, outrageous Commedia Erotica action and mind-blowing analysis of "America in Da Hood"--like never before seen on any screen--you'll love Dr. Suzy's HOODS & handjobs. Approximate running time: 90 min. Watch anytime 48 hours.

WATCH IT NOW !
48 HOUR ACCESS FOR ONLY $7.95!
GET THE DOWNLOAD
GET THE VIDEO . GET THE DVD.
TALK PRIVATELY ABOUT YOUR SEXUALITY: 213.749.1330


Scenes from HOODS & handjobs

Dr. Suzy's HOODS & handjobs is a 3 part feature. Watch it in order or go straight to the part that piques your interest.
Part I kicks off with Dr. Suzy's mind-blowing monologue on America in da Hood, then switches gears from nonconsensual torture to mutual pleasure with the naturally voluptuous Heather Barron celebrating Masturbation Month by jilling off and spanking Dr. Suzy. Part I climaxes with David Lee Roth's Porn Star Daughter Avy singing "Girl, You Really Got Me" naked. (30 min)
In Part II, Sex Toy Queen Kim Airs joins Heather and Dr. Suzy for some hot, heart-warming and sex-educational masturbation calls from Rosa ("played" by luscious Luccia in our erotic "reenactment") and Mike whom Kim, Heather & Dr. Suzy vividly coach through an explosive jack-off session, winding up with Dr. Suzy giving Heather's big bare bottom a sound spanking. (30 min)
Part III features a sexy young couple, Maria and Alex (played by blazing hot Shayna Knight and Dr. Phil in our erotic reenactment), whom Dr. Suzy helps to find sexual harmony. They celebrate with hot sex and multiple orgasms. Then Cynthia spanks Dr. Suzy, and everybody spanks Kim! (30 min)
Feel free to watch it in any order, starting with whatever interests you most
WATCH IT NOW !
48 HOUR ACCESS FOR ONLY $7.95!

SOME RESPONSE
Hi Dr. Susan,
Thank you soooo much for having me
unannounced on your Show. I had a Great Time!!!!!! You are so brilliant and sexy. You guys do an awesome Job and I don't even have Words. You really were a Milestone for Shayna Knight, Thank you sooo much!
Keep the Good Work up!!!
ShaynaKnight

"Thank God there's still the world of sexpert Dr. Susan Block, who has the courage to continuously affirm her deeply-held faith in fishnet stockings and other family values...Dr. Block is one of the nation's leading sexologists, and a very bright and funny woman to boot."
Robert Scheer, The Los Angeles Times
"Boldly original...Dr. Susan Block isn't just pushing the envelope, she is the envelope."
Sharon Peters, Libido Magazine

Return to Erotic Theater Menu

Go BackStage