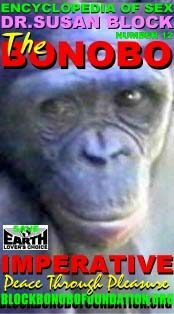 THE BONOBO IMPERATIVE
Saving the Make Love Not War Chimpanzees
Join global sex educator and HBO star Dr. Susan Block and Bushmeat Project Director Tony Rose as they explore the amazing world of the "Make Love, Not War" Great Ape, the remarkably peaceful, exceedingly sexual, utterly adorable and extremely endangered bonobo chimpanzee. Watch our "kissin' cousins" swing from the trees as well as with each other, and discover how their exceptionally high level of sexual activity leads to extraordinarily low levels of violence in their communities. Cool stuff on gorillas and orangutans too. Proceeds go to help save the bonobos in the Congo. Approximate running time: 2 hours. Watch anytime 48 hours.
WATCH IT NOW - 48 HOUR ACCESS!
GET THE VIDEO . GET THE DVD.
GET THE DOWNLOAD
TALK PRIVATELY ABOUT BONOBOS:
213.749.1330

"Dr. Susan Block is the Erin Brockovich of the Bonobo."
Deirdre Guthrie, Salon Magazine


Return to Erotic Theater Menu

Go BackStage