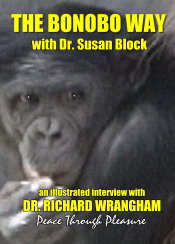 THE BONOBO WAY
Peace through Pleasure
With Dr. Susan Block
An Illustrated Interview with Dr. Richard Wrangham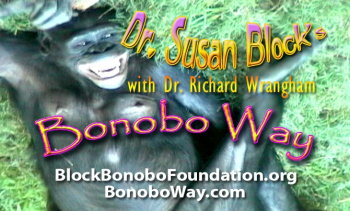 keywords: bonobo, bonobo way, chimpanzee, great ape, monkey, primate, dr. susan block, dr. richard wrangham, peace, ape sex,
Follow The Bonobo Way of Peace through Pleasure as you discover the amazing world of the "Make Love, Not War" Great Apes, the extraordinarily peaceful and extremely sexual Bonobo Chimpanzees, with Global Sex Educator, HBO Personality and Bonobo Way Advocate Dr. Susan Block as your host, and special guest, McArthur Foundation Fellow and Harvard University Professor of Anthropology Dr. Richard Wrangham. Watch the amazing bonobos swing through the trees as well as with each other, making love face-to-face, sharing oral sex, bisexuality, foot play, masturbation, threesomes, orgies in the trees and even playing with "sex toys" at the zoo.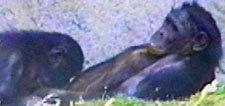 Watch Bonobos Go Downtown!
Watch real bonobos interact with desire, jealousy, empathy, passion and compassion.
Discover how their exceptionally high level of sexual activity leads to extraordinarily low levels of violence in their communities in the wild and in captivity.
Find out how human swingers often act like bonobos, and how close we are to our kissin' cousins in many other ways.
Liberate Your Inner Bonobo!
Follow the Bonobo Way
Don't Act Like a Baboon!
Proceeds go to further bonobo education and help save Bonobos in Congo from imminent extinction.
Approximate running time: 1 hour in two parts.

"Dr. Susan Block is the Erin Brockovich of the Bonobo."
Deirdre Guthrie, Salon Magazine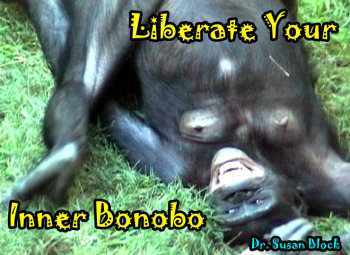 Return to Erotic Theater Menu

Go BackStage