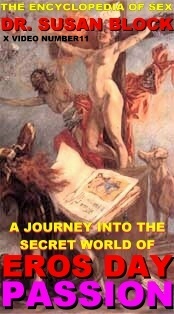 EROS DAY
A Different Kind of Passion
"Eros Day" is a new holiday honoring Eros, the Greco-Roman God of Sex, as well as EROS 488, the recently discovered, penis-shaped planetoid that comes closest to Earth around January 22, which is when we celebrate Eros Day. Eros Day celebrates love, lust and human sexuality in its fullest, most unabashed, most frankly erotic sense. Featuring Teri Weigel and Murril Magglio and the great sex revolutionary Lasse Braun, along with Dr. Suzy and the Bonobo Gang, this show is hot, hot, hot (in the classical sense), including exceptionally wild and athletic acts of fellatio, voracious cunnilingus, intense whipping, cross bondage, explicit intercourse, ancient mythology, modern astronomy and much much more.....Approximate running time: 1 hour. Watch anytime 48 hours.
WATCH IT NOW - 48 HOUR ACCESS!

GET THE VIDEO . GET THE DVD.

GET THE "EROS DAY VIDEO PACKAGE"

GET THE "EROS DAY DVD PACKAGE"
GET THE DOWNLOAD

TALK PRIVATELY ABOUT YOUR SEXUALITY: 213.749.1330

"The Dr. Susan Block Institute is Warhol's Factory of the erotic world. The diversity of the output, Susan's Svengali-like demeanor, her ever-present entourage and that vague sense of an alternative culture growing here all collude to confirm it. Vanessa Blue and Kitten, black actresses, have nothing but praise for the good doctor. 'She's the start of a sexual revolution for Americans,' they insist--and they may be right."
Tony Horkins, Mondo Magazine



Scenes from Eros Day

Return to Erotic Theater Menu

Go BackStage