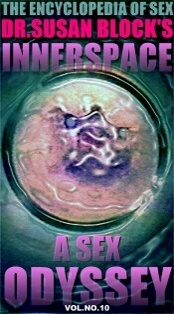 INNER SPACE: A Sex Odyssey
Dildo Cam Explorations of the Inner Female
Fasten your seat belts and hold on tight as Dr. Suzy takes you on a journey into Inner Space, an amazing vaginal voyage, a cinema-dildonic sex odyssey, a pilgrimage to the place we all call home. Experience an illuminating lesson in female sex education, an anatomical adventure, a breathtaking ride through the tunnel of love. Includes amazing "inside" footage from the dildo cam. Approximate running time: 1 hour. Watch anytime 48 hours.
WATCH IT NOW - 48 HOUR ACCESS!
GET THE VIDEO . GET THE DVD.
GET THE DOWNLOAD
TALK PRIVATELY ABOUT YOUR SEXUALITY: 213.749.1330

"Thank you, Dr. Suzy, for showing me that sex education can be sexy television."
Sheila Nevins, Executive Vice President, Original Programming, HBO


Return to Erotic Theater Menu

Go BackStage