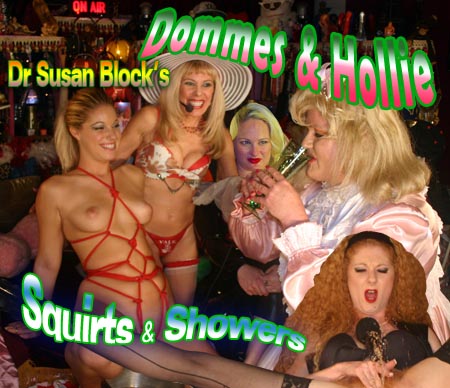 Dommes & Hollie
Are You Dreaming of
A WET XXXmas?
Decks The Halls With DOMMES & HOLLIE
Fa La La La Spank, Suck, Screw, Shower, Squirt! Fantastic Female Ejaculation! It's Holy Water!
Dr. Susan Block's
Star-Studded Festival of
Hot Holiday Squirts & Showers
IT'S HOLY WATER!
STARRING
Your Faith-Based Squirting Pleasure Preacher, The Irreverend…
Dr. Susan Block
World's Wildest Female Ejaculatrix Who SQUIRTS To High Heaven & Baptizes The Faithful
Annie Body
Sensational Double-Dong Girl-Girl Action!
Blonde Bombshell Dominatrix &
Latex-Corseted Bondage Queen
Mistress Genevieve
Exciting Erotic Pyromania Fire Play!
Gorgeous Golden Fetish Angel
Hollie Wood
a.k.a. Hollie Stevens
Beautiful Japanese Shibari Red Rope Bondage!
See Hollie up close! Gallons of Golden Showers!
The Amazing Amusing Golden Shower-Guzzling
Sissy Maid

Avid Boot-Licking,
High-Heel Sucking & Foot Worship!
Hilarious Heartwarming Sissy Ballet!
With Very Special Cameos by
The Living Legendary Queen of Fetish Herself
Bettie Page

&
Retro Fetish Model
Dita Von Teese

Fetish Modeling!
Featuring Erotic Digital Art by U.S. Presidential Candidate
Frank Moore
DOMMES & HOLLIE is WET & WETTER!

Progressive Politics & Ethical Hedonist Philosophy!


Dr. Susan Block's
Dommes & Hollie

TALK PRIVATELY ABOUT ANY FETISH: 213.670.0066

Return to Erotic Theater Menu

Go BackStage



BLOCK ENTERTAINMENT STUDIOS
Los Angeles
213-670-0066