Dr. Susan Block's
Dr. Laura Diaries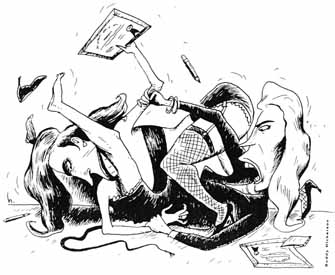 CAT FIGHT: Dr. Suzy vs Dr. Laura
Drawing by Buddy Hickerson (originally printed in New Times)

The Many Faces, Nipples,
Vulvas & Fingers of Dr. Laura
May 27, 2007
Wherein the "Kid" of "My Kid's Mom"
Appears to Have Grown Up Into a Sociopath
April 9, 2001
Wherein "Dr. Laura," the TV show,
Dies an Ignominious Death,
Crippled by the Block Curse, Shot down by the People, Ignored by the Viewers and
Abandoned by the Almighty Advertisers
October 26, 2001
Wherein I Take a Moment to Gloat
Over the Block Curse's (Almost Embarrasingly) Obvious S U C C E S S In Bringing Dr. Laura Down,
But Pass on Joining in the Chorus of Protesters
Demanding Paramount Censor Her
October 10, 2000
Wherein Laura Goes Lite for TV,
Everyone Gets On The Bash Dr. Laura Bandwagon,
& I Get Back Into You
November 3, 1998
Wherein the Block Curse Triumphs, On the Web and in the Polls, Against Two of its Adversaries:
Dr. Laura and Ken Starr
October 28, 1998
Wherein I Get the Privilege of Gazing Upon Dr. Laura's Missing Nipples, Bush and Tanlines
ie., Wherein I Get to See DR. LAURA NAKED!!!!!
October 25, 1998
Wherein I Muse Thoughtfully About
Dr. Laura's Porn-Queen Predicament
October 23, 1998
Wherein Dr. Laura COMES OUT
As the "Pseudo-Professional Porn Queen"
That She'd Accused Me of Being, And Becomes An American Symbol of Sexual Hypocrisy
September 16, 1998
Wherein the Claim to Prophesy Gives Way to Psalm 38
September 16, 1998
Wherein Dr. Laura Spouts Flagrant Two-Faced Twaddle, as I Holler at the TV Set,
Then Give Her a Bible Lesson in the Similarities Between King David and President Bill
August 27, 1998
Wherein the Block Curse is Joined
by the Vanity Fair Curse, and Dr. Laura is Exposed as Not Just the Queen of Mean, But the Biggest, Tackiest Hypocrite of the Modern Age
May 8, 1998
Wherein Dr. Toni Fails to Dent the Dr. Laura Machine,
But Others Pick Up the Fight…
March 20, 1997
Wherein the Block Curse Pits Dr. Laura and Dr. Toni,
the Sadistic Basher and the Elegant Liar,
Against Each Other, and the Fun Continues...
March 15, 1997
Wherein Dr. Laura Collapses into a Puddle of Self-Pity,
Cut Down by the Sword of Her Own Hubris
and the Strong, Quirky Power of the Block Curse
November 1, 1996
Wherein Dr. Laura is Exposed to be a Hypocrite,
a Scourge Upon the Earth and a Lousy Daughter

October 17, 1996
Wherein I Surpass Cardinal Mahoney and The LA Times, And Dr. Laura Gets Whacked--Again!
--by Our Boy Steve
September 15, 1996
Wherein I Unleash the Block Curse Upon Dr. Laura,
And the Havoc-Wreaking Begins
September 6, 1996:
Wherein I Advise Dr. Laura to Get Her Panties Out of Their Knot, Act like a Mensch and Apologize
September 5, 1996:
Wherein Dr. Laura is "Stupefied" and Attacks Me (Me!) in Tacky Drive-By Bashing
August 29, 1996:
Wherein Stevie Wets His Birkies, and Max Recovers from Not Being a Recovering Drug Addict
August 28, 1996:
Wherein I "Masturbate on Cue," and
Dr. Laura "Bashes and Belittles Women"



NEED TO TALK?
EXPERIENCE TELEPHONE SEX THERAPY
CALL 310.474.5353