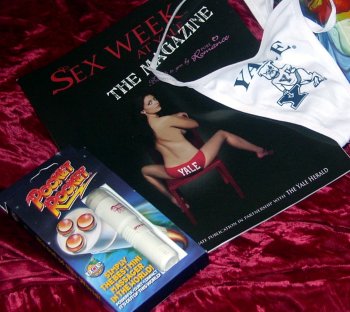 When marimba rhythms start to play
Dance with me, make me SWAY
Like a lazy ocean hugs the shore
Hold me close, SWAY me more
Norman Gimbel & Pablo Beltrán Ruiz

Love was in the air, pressure in the atmosphere. Pure romance sparred with intense Ivy League competition. The desire to share swayed with the drive to achieve. It was mid-February in an even year; time for another stimulating, scintillating Sex Week at Yale, also known as SWAY, a six-day festival of adventures in higher sex education in an institution known for its practically Puritan values and ultra-elite, academically-loaded, high-stress lifestyle.
As those of you who know me know, I was there at the beginning, when a plucky Yale sophomore named Eric Rubenstein '04, invited me to return to my old alma mater for the very first Sex Week, intermittently called "Kosher Sex Week," since it was co-sponsored by Yale Hillel, along with Peer Health Coordinators, the Women's Center, and the Yale Co-Op, around Valentine's Day 2002. The high point of this fledgling SWAY was sharing a stage with former Screw Magazine Publisher Al Goldstein as he declared himself a Fool for Love before a smattering of skeptical but sex-starved, mostly male undergrads with a desire to learn something about themselves and their incessant, often inconvenient yearnings that the otherwise all-inclusive Yale curriculum just did not include.
Eric got back to the college grind in 2003. But in 2004, Sex Week at Yale SWAYed back into action, with a bigger, more varied schedule of panels, lectures and parties. I spoke at a Master's Tea at my old residential college of Saybrook, participated in a panel with Wicked Pictures porn star Devinn Lane and "Girls Gone Wild" mogul Joe Francis, went to a Pimps 'n Ho's party co-hosted by First Daughter Barbara Bush '04 (yes, George and Laura's daughter and Jenna's twin sis), joined in a Porn 'n Chicken soirée at Sig Ep, saw what looked like a ghost in front of Skull and Bones and helped down a couple of cups at Mory's.
Eric graduated in 2004, passing the torch of SWAY to Dain Lewis ('07), a history major with the passion and drive to take the Week to the next level. Dain packed SWAY '06 with almost all new speakers, sponsors, an all-Yalie lingerie fashion show and a glossy new magazine. I was delighted to accept his invitation to do a lecture on "The 10 Commandments of Pleasure: Sex in Relationships" mid-Week.
My *rehearsal* was Valentine's Day at UCLA where I gave a talk to a small group of eager Bruins, organized by sweet Briana Gates. Since I couldn't get into all the commandments in one hour, and I didn't want to choose just a few to discuss, I let the students (and fate) pull cards at random, each card featuring a commandment. Briana's boyfriend picked "Thou Shalt Give Her Things" and immediately gave Briana a package of candy hearts, showing that Southern Californians are fast learners. So what if he got the candy from one of the tables at the event Briana had organized? It's the thought, and timing, of the gift that counts, and this young Bruin had the right thought and perfect timing.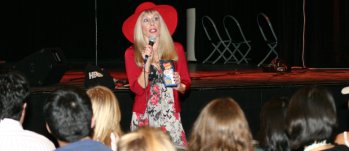 Dispensing Pocket Rockets and Wisdom @ UCLA . Photos: Scott Weems

For that, I awarded them a Doc Johnson Pocket Rocket: the Sexual Answer to the Patriot Missile, and much, much safer. Not much bigger than a lipstick; it can literally fit in your pocket, purse or glove compartment, but it gets the job done better and quicker than most battery-operated vibrators five times its size. The Pocket Rocket is my answer to multiple questions. No Exploding Ordnance, Just Explosive Orgasms. I do believe that if America had just sent a few billion dollars worth of these babies over to Iraq instead of the other kind of rockets, the whole region would have gone more our way.
Speaking of flying, that's what I had to do next. I stowed the 50 Pocket Rockets earmarked for Yale into my cargo luggage (taking them in carry-on would be just asking for the security folks to funk with me), and caught the AirTran red-eye. Last year, I'd flown Jet Blue to New York for the American big-screen premiere of Squirt Salon, and was pleasantly surprised at the high level of service I got for bargain prices. AirTran is more serious about being "no-frills." Not a frill, not a ruffle, not a trimming of any kind in sight. AirTran is truly the Greyhound Bus of the Skies.
Jet Blue didn't show movies, but had a gazillion satellite TV channels you could watch at your leisure. AirTran had XM radio, and that was out of order. Unlike Jet Blue's roomy leather seats, AirTran's seats were rough and narrow. I was stuck between a large man eating a burrito (with extra salsa), and a large woman reading a picture book about Jesus. I finished my magazine and tried to sleep, but was awakened by the Jesus woman stage-whispering into my ear, "You're touching me…Please don't touch me."
"Huh?"
"I'm sorry, I know you didn't mean to, and there's not much arm room here, but your arm touched mine, and I am NOT a touchy-feely person."
"You're what?" Was I dreaming?
"I MUST ASK YOU TO TRY NOT TO TOUCH ME," she enunciated, now looming over me in all her largeness, her Jesus picture book clutched in one non-touchy-feely hand like she was ready to spank me with it, if my arm accidentally brushed against hers again. I hunched toward Mr. Burrito-breath on my other side and prayed for a quick landing.
My prayers answered, I hooked up with Max in New York, and we met my old buddy Helene who drove us through the snow-flanked highways of Connecticut. First stop was a liquor distribution outlet that reminded me that Connecticut is still run by the kind of people whom Sopranos actors go to for character study. After proving our cred, we got our cases of Agavero Tequila Liqueur and Absente Absinthe and hightailed it to New Haven.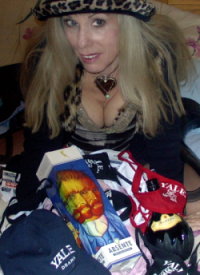 Absente Absinthe, Agavero Tequila Liqueur and
me (jetlagged) at Yale .. PHOTO: MAX

As soon as I turned on my phone, calls started ringing in from friends in a panic. An old friend in Boston burbled that she's now having an affair which she *credits* me with inspiring. She's deliriously happy and grateful now, feeling sexier and more vital than she has in years, but if and when the affair goes sour, will I get the blame just as now I reap the honors? Another frantic call from an even older friend in La Jolla who had attended one of my shows, and who now desperately wanted me to change her name on my bloggamy (hobnobs with multi-billionaires, one of whom went to Yale, and I'd better not mention his name – or I'll get more panicked phone calls). Another call came in from yet another friend in Palm Beach who wanted me to fly down and hang out with him at the Palm Beach Four Seasons, since I was "already Back East." Yeah, right. It was all we could do to get ourselves checked into our suite at the Hotel Duncan.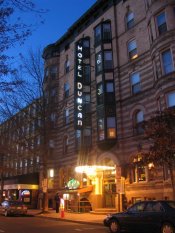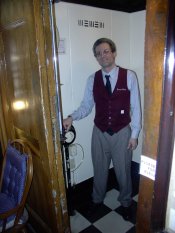 Duncan Hotel and the Duncan Elevator Man .. PHOTO: MAX

Built over 100 years ago, the Duncan is older than most Yale buildings, "New Haven's Oldest Established Hotel," and the only one with a real live elevator operator. Nothing fancy here, just nice big old airy rooms and suites overlooking the most fun street in New Haven, Chapel Street.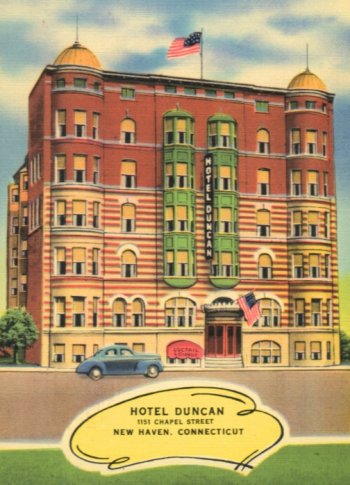 continue to next page
S W A Y . W I T H . M E
SeX Week at Yale '06
by Susan Block, Ph.D. '77
IN 5PAGES
1 I 2 I 3 I 4 I 5
Post a Comment on the
SWAY Bloggamy