Relax your Defenses and Wake up your Senses...
Including your Sense of History
Dr. Susan Block presents
WEIMAR LOVE
Hot Sex in Pre-Nazi Berlin
A BLOCKFILMS RELEASE
GET THE DVD... .GET THE DOWNLOAD .. . WATCH NOW IN STREAMING VIDEO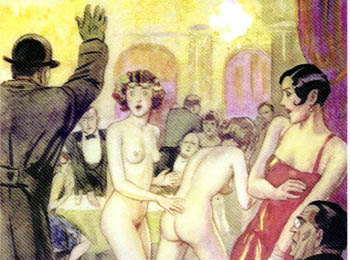 Follow global sex educator and HBO star Dr. Susan Block, four of the world's hottest porn stars, one brilliant wacky professor and the colorful, functionally debauched Bonobo Gang into a very special, vintage-sexual, highly stimulating, deeply relevant time and place in erotic human history...
WEIMAR BERLIN
Notorious yet mysterious Jazz Age capital of decadent pleasures and sensuous exploration, Weimar Berlin was the sexual soul of Western Civilization between the two World Wars.
What a city! What an era! What a show! Dr. Suzy & the Bonobo Gang bring it all home for you with...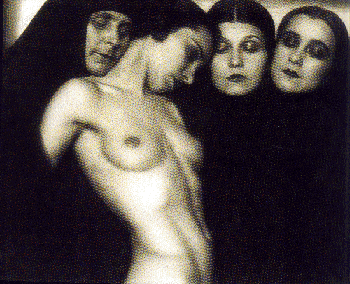 WEIMAR LOVE
Hot Sex in Pre-Nazi Berlin
A Madcap Historic Hardcore Adventure
starring
Dr. Susan Block
Prof. Mel Gordon..Monique DeMoan
Teri Weigel.. Mika Tan .Murrill Maglio
and featuring
Lasse Braun, Axel Braun, Hamilton Steele, Kim Mendoza, Theron Marks, Duchess Du Sade, Mario Saucedo, Gary Klavens & More!
GET THE DVD NOW ...GET THE DOWNLOAD ...WATCH NOW IN STREAMING VIDEO
"'Weimar Love' is as entertaining as it is educational ... We hear about the sex, the sex tourism, the well-organized prostitution, we see the art, and even hear music from the period...But with Dr Suzy, this isn't going to be a dull presentation of history (though) At the very end, she does a great job of pointing out parallels between the rise of the Nazi party and recent events in the USA...( but with) the porn stars, the props, .the aphrodisiacs, the action, the orgasms... All of this shown in close-ups as well, so the most eager viewer is happy...We are watching a reenactment of sorts ~
Weimar comes alive and we feel such a part of it, we may cum too ... Ah, if only all history was taught like this!"
Gracie Passette, Sex-Kitten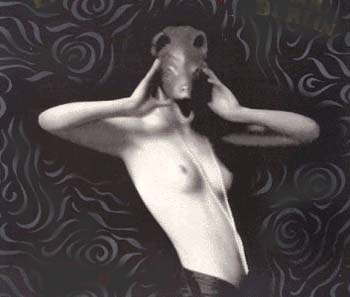 From the Original Cover of Mel Gordon's "Voluptuous Panic:
The Erotic World of Weimar Berlin" (Feral House)

"Join WEIMAR LOVE for an incredible, instructive journey with the unbelievable Dr. Block into a forgotten decade of lust in Germany
OUTSTANDING!"
Tom Berger, German Adult News

WATCH IT NOW IN STREAMING VIDEO

GET THE DOWNLOAD

.ORDER the DVD ONLINE NOW .
ORDER BY PHONE
Los Angeles: (213) 749.1330
London: (44) 20.710.19430 Paris: (33) 1.727.70134 Sydney: (61) 28.080.2716 Tel Aviv: (972) 2.649.97.72

"WEIMAR LOVE is fantastic…brilliant...The opening sequence is like a Quentin Tarantino film."
JC Brutto, Rumpus Magazine

ENJOY Hauntingly Beautiful Weimar-Era Erotica from Prof. Mel Gordon's Voluptuous Panic: The Erotic World of Weimar Berlin
WITNESS the Amazing Female Masturbation Machine (which we would now call a "Fucking Machine") developed at the Dr. Magnus Hirschfeld Institute in Hardcore Penetrative Action by 5 modern Weimar Gals!
LEARN the Erotic Story of Weimar Berlin, what an extraordinary Adult Disneyland it was before the Nazis marched in and destroyed it all, and it's profound relevance to modern times.
GET THE RECIPE for "SPERM TRIPLER," a 12th century Persian formula tested and approved by Dr. Magnus Hirschfeld's team.
WATCH all the Porn Stars respond to Prof. Mel's potent Hirschfeldian aphrodisiacs with a Weimarian orgy of multi-orgasmic fun and games.
EXPERIENCE the Heights of Weimarian Ecstasy with Teri, Monique, Mika Tan, Murrill, Kim, Lasse, Prof. Mel & Dr. Suzy.
BECOME INSPIRED to Defend Human Rights and Civil Liberties Against Jack-Booted Fascisms of All Kinds Wherever They May Encroach!
"WEIMAR LOVE combines fascinating historical
information with hot adult stars and enthusiastic amateurs...Dr. Block keeps it all interesting and in the appropriate spirit of decadence....The openness and non-porn feel of the sex makes it both educational and arousing... It's like a room filled with four-star chefs doing their best work."
Jeff Booth, Yes Portal
WEIMAR LOVE
Hot Sex in Pre-Nazi Berlin
GET THE DVD... .GET THE DOWNLOAD .. . WATCH NOW IN STREAMING VIDEO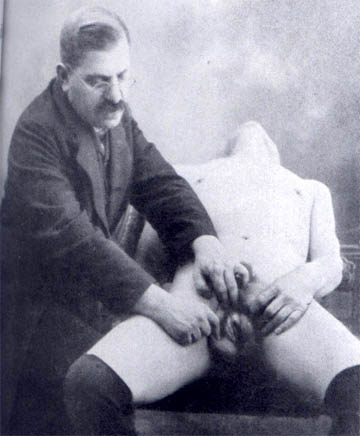 Dr. Magnus Hirschfeld examines a hermaphrodite

Who Was Dr. Magnus Hirschfeld?
Magnus Hirschfeld, "the Einstein of Sex," presided over an extraordinary center of multi-disciplinary knowledge, compassion and research, a fantastic erotic museum and a haven for sexual minorities and women. The Hirschfeld Institute was also one of the first places that the Nazis destroyed, shortly after the notorious burning of the Reichstag, attributed to a terrorist's bomb. In their moral crusade against sex, "decadence," homeland terrorists, ommunists, gays and Jews, Hitler Youth burned all the books in the Hirschfeld Institute (except a few they kept for themselves, and thus for history), as well as the voluminous files, priceless art and sex toys. Next, they were closing the cabarets, shooting the dissidents and packing the "undesirables" off to concentration camps. Set against this backdrop, WEIMAR LOVE tells a cautionary tale: Don't let 9/11 become another Reichstag. Let freedom reign. Like the city itself, WEIMAR LOVE is filled with sex, fun, wisdom and ecstatic revelation, lovingly recreating the magic of the Dr. Magnus Hirschfeld Institute at the Dr. Susan Block Institute

"In case you've been living in a cave and, therefore, have never enjoyed the Dr. Susan Block show, a bit of introduction might be in order. Block's shows are a saucy melange of education and titillation...I had the pleasure to enjoy two episodes of this excellent show, and it's safe to say that neither one is quite like anything I'd ever seen before....Dr. Susan Block's Weimar Love is a randy history lesson coupled with more erotic hijinks than you can shake a knockwurst at...Block's enthusiasm for her topic is beyond infectious, and it's almost impossible to watch the show without enjoying her celebratory attitude... With just the right mix of over-the-top entertainment and serious alt-culture history,
Weimar Love is a clever look at the dirty side of history -- as lovable as it is edifying."
Thomas S. Roche, Eros-Zine

"Beautiful, adorable Susannina, I just watched your WEIMAR LOVE, and I really enjoyed it a lot! Very well done, great vintage pieces, concept, music, editing and you... your gayety and smile and voice... you know how much I love your style... This comes straight from my heart and also from my director's brain, knowing the technical and creative aspects of such a complex piece of ART... Your eternal friend and admirer..." Lasse Braun, Director of such award-winning films as "Sensations" and "French Blue" and Father of Euro-Erotica

WEIMAR LOVE
Hot Sex in Pre-Nazi Berlin
A Madcap Historic Hardcore Adventure
Led by the inimitable Dr. Susan Block, featuring a colorful, multi-talented cast of Commedia Erotica characters, experts, artists, perverts and porn stars, fueled by Agavero Tequila Liqueur, Tzepao Sanpien Chinese Aphrodisiacs, art, beauty and sheer lust.

"The female masturbation machine has to be seen to be believed... Very saucy…admirable...arousing…hot sex…...And you can always pretend you're watching it for educational reasons."
Emily Dubberly, Scarlet Magazine

WEIMAR LOVE was performed before a live studio audience at Dr. Suzy's Speakeasy on December 23, 2000, shortly after the U.S. Supreme Court declared George Bush, Junior to be President of the United States, and nine months before the infamous September 11 attacks. This shocking assault on large important icons of American power may bring to mind the mysterious Burning of the Reichstag in 1933, by a fire said to have been set by a Jewish Communist Terrorist, though later historians believe the Nazis themselves probably set it. The Burning of the Reichstag, a large important edifice of German power, provided a dramatic excuse for German Chancellor Adolph Hitler and the Nazi Party to seize full control of the German government and suspend German civil liberties, quickly destroying the erotic culture of Weimar Berlin. German invasions of foreign lands, the devastations of World War II and the horror of the concentration camps followed. Though, of course, they are different stories in various ways, 9/11 seems to have created a similar opportunity for American fundamentalists to take our society into another Dark Age, where Perma-War, Big Lies, massive bombings, murder, torture, detentions and disappearances are becoming more and more commonplace, where government officials warn citizens to "watch what you say," where the "chilling effect" of such policies may have an impact on the arts, the media, education, general culture and our erotic world for years to come. It is our hope here at BlockFilms that our documentary of a very special, very sexual night at Dr. Suzy's Speakeasy, WEIMAR LOVE, not only stimulates our viewers to more fully enjoy pleasure, erotica, art, hot sex and history, but to resist the oppression of personal freedom, wherever it may arise.

WEIMAR LOVE, the latest in the Dr. Susan Block Encyclopedia of Sex & Fetishes series, is 58 minutes long, consisting of two 29-minute shows.
GET THE DVD... .GET THE DOWNLOAD .. . WATCH NOW IN STREAMING VIDEO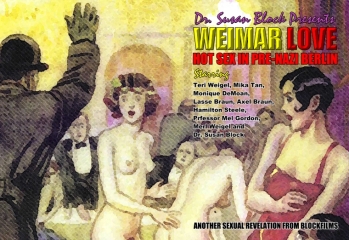 EXECUTIVE PRODUCER & DIRECTOR: SUSAN BLOCK * PRODUCERS: DAVID L. ROSS, KIM MENDOZA * PRODUCER-AT-LARGE: MAX LOBKOWICZ * MASTER ENGINEER: THERON MARKS * DIRECTOR OF VIDEOGRAPHY: XAM * FIRST CAMERA: SCOTT ARNOLD * POST-PRODUCTION: DAVID L. ROSS, THERON MARKS, MARGO SORELL, BIG D * SPECIAL THANKS TO SHEILA NEVINS of HBO, DOC JOHNSON, CONDOMANIA, AGAVERO, NUDE BEER, FRANK MOORE

Extra Special Thanks to Feral House Press, Publishers of Mel Gordon's
VOLUPTUOUS PANIC: THE EROTIC WORLD OF WEIMAR BERLIN
Watch for the NEW Edition Coming Soon!
BLOCKFILMS produces uniquely stimulating, award-winning, highly rated sexual documentaries, live broadcasts, including The Dr. Susan Block Show, erotic educational videos and programming for television, telephone and Internet stations around the world.
Another Sexual Revelation from
BlockFilms
SEX FUN WISDOM