NEW YORK City Squirts
Precipitous Adventures @ the CineKink NYC Film Festival, the Den of Iniquity, MoSex & Mo
by Dr. Susan Block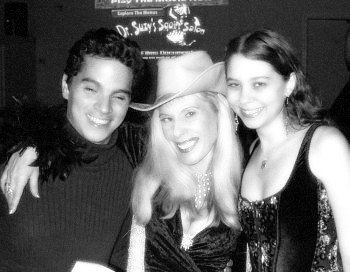 Dr. Suzy's Squirt Salon @ CineKink Film Festival
All Photos by XAM (unless otherwise indicated)

We had just given birth to a soaking wet, screaming new movie, unambiguously titled "Dr. Suzy's Squirt Salon: Secrets of Female Ejaculation," when it was accepted into the CineKink NYC Film Festival. Our first film festival! We were excited as a guy about to be baptized in his gal's fresh holy water. Our little Squirt was going on the Big Screen.
Not that we'd ever heard of the CineKink NYC Film Festival, but we soon discovered that it was one of just a handful of film festivals in the world that accept sexually explicit fare. Morever, it was a fine excuse to visit New York, where we hadn't been since before 9/11 (except through JFK on the way to Cannes, Paris and New Haven). So, we were off.
Being Blue Values folks without a lot of excess Green, we flew Blue, Jet Blue. And let's just say, in these Apocalyptic Days when every organization calls itself a faith-based something-or-other, we have faith in Jet Blue. Though the flights were packed, everything went great, from the ultra-smooth take-offs and landings to the spiffy leather seats to the superb food (which we brought ourselves).
An Honest John
New York was sunny, rainy and alive with its usual ultra-urban sense of itself. We took a taxi to the West Nineties to meet our host, Dr. Hugh Loebner, a friend of our friend Xaviera Hollander, whose biopic was also premiering at CineKink (more on that later). Hugh is a brilliant mad scientist with a twirlable moustache, whose living room is filled with computers competing for his Loebner Grand Prize of $100,000 which goes to the first computer program that meets the "Turing test" for artificial intelligence (none have yet won the Grand Prize, though many have won the annual award of $2000). His work as a cyber-philanthropist has been featured in the New York Times, Newsday, Atlantic Monthly, Salon and many others. With all those smart machines humming around us, we kept wondering when one of them would jump up and join us for a threesome, but they stayed put. Perhaps this is one reason that none have yet won the Grand Prize.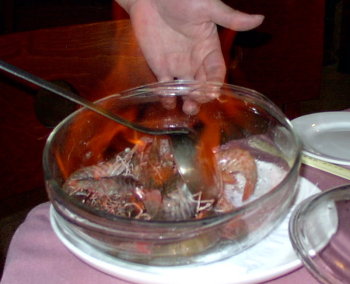 Drunken Shrimp @ the Oriental Gardens on Elizabeth St.
Hugh's day job is running Crown Industries which manufactures stanchions, those standing brass poles that hold up the velvet ropes at exclusive events, as well as other types of brass pipes and fittings. Sounds a bit dull (unless you're having one of those events and need to keep out the wannabees), but by night, Hugh is a proud john, meaning he not only patronizes sex workers, he isn't ashamed to admit it and fight actively for the decriminalization of prostitution. Toward this gallant effort, he has written a Magna Carta for Sex Work, won the Aspasia and Coyote awards, appeared on Oprah, HBO, O'Reilly, Geraldo, 20/20, and was written up in Johns Hopkins Magazine (he is a Johns Hopkins alumnus)..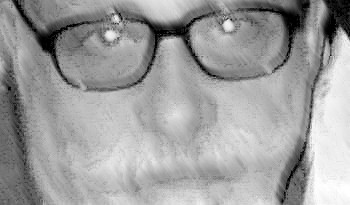 Dr. Hugh Loebner
Hugh is also something of a *fresh flesh gourmand.* He took us to Oriental Gardens on Elizabeth Street, where almost all the food is alive just before you eat it. Drunken dancing shrimp and writhing prancing eel treated us to an impressive dinner theater show before they became the dinner. It did seem sadistic - as if our waiters were the Abu Ghraib interrogators of Sea World - but the strong plum wine helped to calm fears of barbarism, and the food, once dead, was delicious. At least it wasn't still alive (and moving) while we were eating, like that shrieking lobster sashimi we had at the Hotel Nikko's Benkay Restaurant in San Francisco.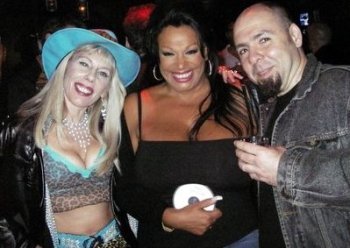 With Vanessa del Rio and a guy who used to work at HBO @ Remote Lounge
Photo: Hugh Loebner
Then down we went into the bowels of the Bowery, to the Remote Lounge, where we had a drink with some of the CineKink folks, a friendly good-hearted black leather/black t-shirt bunch. Lisa Vandervere, the director and virtual embodiment of CineKink, had just gotten hitched and already roped her new attorney hubby into helping her take care of her baby, the festival. Everybody was in good spirits and ready to go to the movies!
O & X
Opening night at the Anthology Film Archives Theater: No red carpet, not even a big crowd, and virtually no media (maybe that's what happens when you squeeze a film festival in between a wedding and a honeymoon), but a truly wonderful film. "Writer of O," directed by Pola Rapaport, tells the fascinating tale of the making of the book "Story of O," an elegantly composed, lyrical S/M fantasy by the pseudonymous Pauline Réage that became an international bestseller and literary scandal. Forty years later, at the age of 86, Dominique Aury, a reserved editor for a prestigious French publisher who lived with her parents until they died, revealed that she was the author. The plot thickens as the movie shows that Aury's secret lover, the one for whom she had written "Story of O" as a love-gift, was the celebrated "grey eminence" of the French publishing world, lion of the literary wing of the French Resistance, Jean Paulhan. Underwritten in part by the French government, this is a film that could easily be shown on PBS, and it should be, but it won't be any time soon, because of the kinky nude interludes. These are all quite tastefully done, of course. But the modern American media's allergy to sex, when presented with dignity and complexity, is well-known.

Xaviera Hollander, "The Happy Hooker," now runs a hip B&B in Amsterdam
The second Opening Night film was Robert Dunlap's "The Happy Hooker: Xaviera Hollander," I can't be too objective about it because I'm in it, as are Dr. Betty Dodson, Dr. Annie Sprinkle, Candida Royalle, Veronica Vera and others influenced by Xaviera's sex revolutionary life and writings. The film dramatically tells the story of one of the sexiest, most fascinating and resourceful women of our times. My favorite part - besides the blow-job scene in the pool - is the haunting footage of an angelic little flaxen-haired Xaviera spending the very first years of her life in an Indonesian concentration camp during World War II.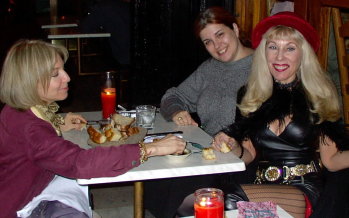 With Helene and Tara Indiana @ Il Bagatto on 192 East Second Street.
Our dear friend (from post-Yale New Haven days) Helene and our new friend Tara Indiana joined us for the Xaviera film. Helene is a stylish Jewish mother of two with a beautiful old house in Great Neck she refurbished herself and offices in Manhattan. Tara is one of New York's top dommes (whom we connected with through one of our favorite show guests and therapists Mistress Genevieve), owner of the notorious Den of Iniquity with dungeons in New York, Los Angeles and Phoenix. Amazingly, no cat fights broke out amongst all of us headstrong bitches, and we had a scrumptious meal at Il Bagatto Trattoria on 192 East Second Street. But then for restaurant-deprived Angelenos who haven't been to France in two years, pretty much all New York food is scrumptious.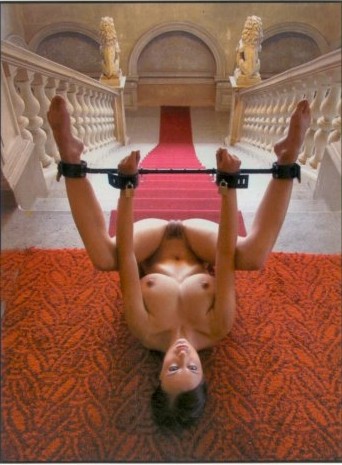 Tara Radovich Photo: Steve Diet Goedde for The Stockroom, a CineKink sponsor
Somewhere between the movies and mangia-mangia, Canaan Brumley called from the Hamptons where he was hobnobbing with Liza Minelli, Alec Baldwin and Stephen Spielberg's florist, while his film "Ears Open, Eyeballs Click" was being screened at the Hamptons International Film Festival. EOEC, Canaan's first feature documentary out of film school, is a rivetting, intimate, deeply intense, almost utterly nonjudgmental look at the rigors of boot camp with the U.S. Marine Corps that picked up First Prize at the Marseilles Film Festival and the San Diego Filmmaker Award. Moving across the board from an organization devoted to the Art of War to one focused on the Art of Love, Canaan's next film, the working title of which is "Speakeasy," is about us.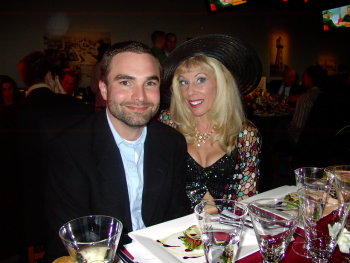 With award-winning filmmaker Canaan Brumley, watching George Clooney speak at the Los Angeles Film Festival Awards Dinner.
Canaan spent the first year of his life in a nudist camp in Colorado, then the next decade and a half in Texas, so it's no wonder he sees at least two sides to every story. We'd just started filming "Speakeasy" at the Speakeasy in LA, and we loved the idea of going out to see him in the Hamptons while we were in NYC. But as usual, "The Ideal is the Enemy of the Real," especially when you've got limited time and transportation, and the rain is falling so hard, it's like Annie Body is sitting on a cloud, ejaculating onto the Earth.
CONTINUE READING
NEW YORK City Squirts
Squirt Salon Screening, MoSex & Mo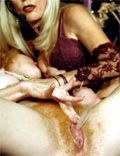 Dr. Susan Block's
Wet Fashions for Slippery Times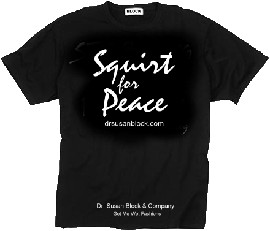 SUPPORT OUR TROOPS ~ BRING THEM HOME NOW