Dr. Susan Block's
NEW YORK City Squirts
Precipitous Adventures @ the CineKink Film Festival
(continued from page one)
MoSex & Mo
The New York Museum of Sex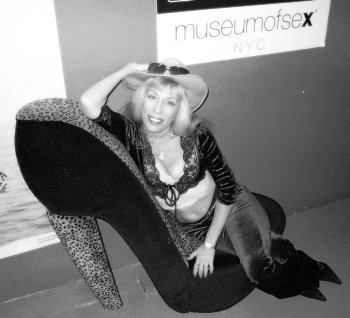 Enter the New York Museum of Sex
There were a bunch of other CineKink films to see the next day, but we were in New York; we didn't want to spend all our time watching movies. So we went to the New York Museum of Sex (MoSex). And what did we see? Movies! Actually, we saw a lot more than movies. But there's no doubt that one of the more compelling current exhibits at MoSex is "Stags, Smokers & Blue Movies: The Origins of American Pornographic Film." In this corner, celluloid artifacts of human sexual activity - some almost one hundred years old, others from the Golden Age of Big-Screen Porn - are beamed upon the walls and even the box-shaped tables of the classically minimalist MoSex gallery.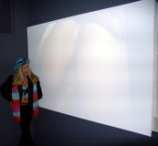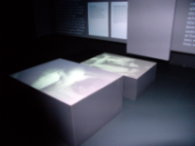 Blue States for Blue Movies! Stags on the Walls & Tables @ MoSex
The first thing you notice about the performers in these Stags - so-called because the groups that generally watched them were made up of horny (antlered?) males – is that they are just like us, only hairier. From the point of view of slick, shaved, 21st century porn, the young Ron Jeremy looks like he could be the furry missing link between us and the other apes. Only a museum like MoSex can make you realize the revolutionary (or is it evolutionary?) implications of the bikini wax.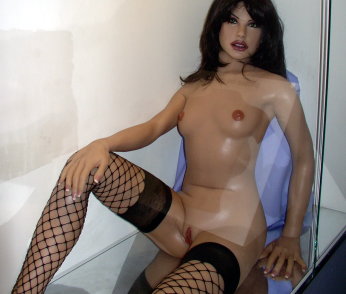 Real Doll ...... ....... Abyss Creation LLC)
Clearly, MoSex is not your mother's Erotic Museum. In fact, it's not an erotic museum at all. Unlike the sensuous Musée de L'Erotism en Paris, or the glamorous Hollywood Erotic Museum, or the whorish Amsterdam Erotic Museum(s), MoSex is not particularly erotic, nor is it especially concerned with art. It is, as its title warns, a Museum of Sex, no more, no less. More of a Smithsonian than a MET or a MOCA, it concerns itself with the history, sociology and technology of human sexuality, rather than the aesthetic or erotic aspects. Of course, there is much about MoSex that is aesthetically pleasing as well as erotically stimulating, but then, there are things in the Smithsonian that might turn you on too.
So, if you find history sexy (as I do), you'll love MoSex. . But if you enjoy colorful sensuous eye-candy art (as I also do), you might be better off at one of the aforementioned Erotic Museums, or the Speakeasy Gallery. MoSex is a rather sober, academic place, one that you could easily see linked with an ivy-league university. And yet there are subversive surprises everywhere, if you take the time to look and listen…

Anti-Onanism Device, Rainal Freres, Paris; ca. 1890
Erotic Museums are filled with images. MoSex is filled with stories. These are the stories of the pioneers, the artists, the entrepreneurs, the porn stars, the models, the hookers, the johns, the gays, the lesbians, the husbands, the wives, the anti-sex crusaders, the educators and miseducators, the ingenious inventors and users of sexual technology – from Victorian devices of sexual repression to modern gadgets for erotic enhancement – the stories of "regular" people like you and me. As both Dr. Alfred Kinsey and his Weimar predecessor Dr. Magnus Hirschfeld approached the topic of sexual psychology through questionnaires which they tried to get from as broad a spectrum of people as possible, MoSex applies the diversification approach to sexual history.
What about the story behind the Museum of Sex itself? Like all stories, it is many-faceted, but the central history is that of a 30-something entrepreneur with a scholar's passion. Daniel Gluck, founder, chief benefactor and executive director, sold his software company in 1996 and used part of his money to create his dream (or should we say fantasy?): The New York Museum of Sex.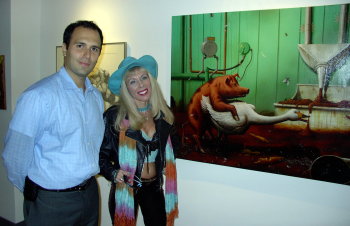 With New York Museum of Sex Director Daniel Gluck by "The Trough" by Alex Rockman, a gift from Peter Norton
Daniel gave us a quickie tour of the place located on 27th Street off Fifth Avenue in what is said to be a former brothel. First floor is the museum store and the current exhibit "Men Without Suits: Objectifying the Male Body," set against a timeline tracing male nude imagery from classical Greece to 21st century America. Next was the Stag Film exhibit, then the Permanent Collection on the third floor, which houses some of the most intriguing paraphernalia, old and new, ever to enhance sexual expression, as well as to prevent and repress it.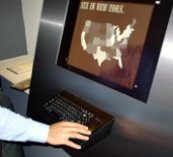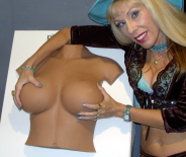 "Mapping Sex in America" and Copping A Feel of A Real Doll (Abyss Creation LLC)
Stories emerge from each artifact, especially an exhibit that runs concurrently online and in the museum called "Mapping Sex in America," which gathers stories from visitors about their sexual experiences, marking them with dots on a map. Click on a dot, and you might read about a woman's first-time intercourse experience in a cornfield, or a man's first blowjob in the backseat of a car.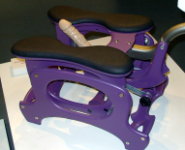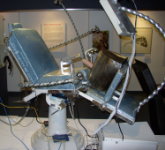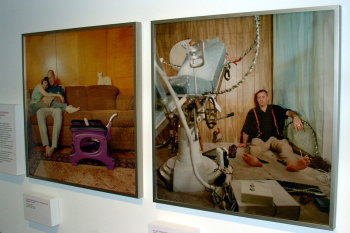 Dan & Jan Siechert's "MonkeyRocker" and Alan & Daphna Stein's "Thrillhammer" and photos of the artists below.
We could have stayed there reading and telling stories all day, wandering around between the fascinating photographs, the incredible fucking machines (most of which are eerily reminescent of Dr. Hirschfeld's original Female Masturbation Machine), the vicious Victorian corsets and the hot hairy Stags. But we'll have to do that some other time, because we had to go.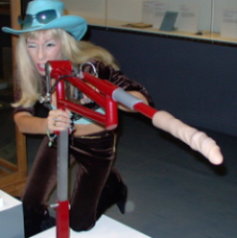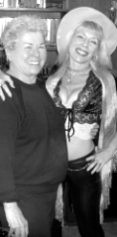 L: Turn Swords into Ploughshares, Guns into Dildos. This Sex Machine looks like a gun and it's called The Tango by Dwayne Baccus. R: Hanging with Dr. Betty Dodson @ Home on Madison Avenue
Our next stop was around the corner to the lovely spotless home of a woman who is an important part of latter 20th century American sexual history (I'm sure she'll show up at MoSex eventually in some artifact or other): the Godmother of Masturbation, Dr. Betty Dodson. We sipped cold sake and communed with Saint Betty, her live-in lover Eric who just happens to be five decades her junior, and her girlfriend from upstate who was going out on a date with a retired general who hates Bush and the Iraq War (there are more and more of them these days), and needed my *professional* help with her décolletage. I was, of course, only too happy to oblige.
From MoSex to The MET
To round out our New York museum experience, we met up with Helene and hubby Larry Winderbaum at the Metropolitan Museum of Art for the Van Gogh Drawing exhibit. Of course, when Helene had suggested "Van Gogh," I hadn't heard her say "drawings." So I was expecting to see what turns me on about the tragic Dutchman: his passionate strokes of gorgeous, lascivious color, rich as French pastry, sensuous as the Côte D'Azur.. When I saw the exhibit was mostly drawings, I felt let down. I imagine this is how some people feel when they go to MoSex. They're looking for wild erotic color, and they get serious black and white studies.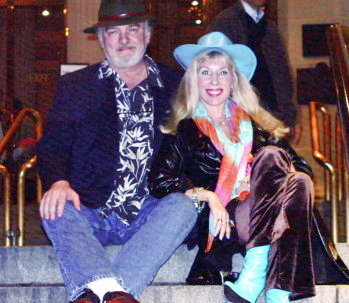 On the Steps of the Met (New York Metropolitan Museum of Art) Photo: Helene
And yet, because it opened a door into the history of some of my favorite Van Gogh paintings, I wound up enjoying the drawing exhibit even more than if I'd just seen another show of his paintings. Much as the Van Gogh drawings reveal the stories behind the paintings, the MoSex exhibits reveal the stories behind aspects of human sexual life.
Of course, only someone who loves Van Gogh would like an exhibit of his drawings. And only someone who loves sex would like the Museum of Sex. But doesn't everyone love sex, even those people who love to restrict it, push it into a dark closet and punish people who do it in the light?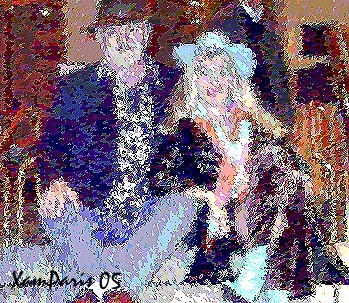 While sitting on the steps of the MET, we turn into an Impressionist painting
Speaking of punishment, after more fantastic food, this time New Yorktacular Mexican cuisine at IXTA Cocina Mexicana & Tequila Bar on 48 East 29th Street (ask for our buddy Subhash when you go), we wandered over to a party at one of Manhattan's finest private Houses of (Consensual) Punishment, our new friend Tara's Den of Iniquity. We'd just missed seeing Tara there, but we were greeted by a bevy of gorgeous, totally decked out dommes and playful subs and fetish performers in a luxuriously appointed fantasy environment. With several different kinds of dungeons, asylums, interrogation rooms and plenty of torture devices, any member of the Bush administration would be quite happy here.
One member of our party who shall remain nameless to protect a shred of his dignity, found himself happily shanghaied in the medical room by two of the loveliest Dommes in the Den, the commanding Mistress Cassandra and the exquisitely talented Giselle.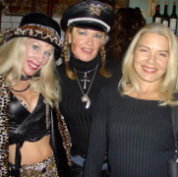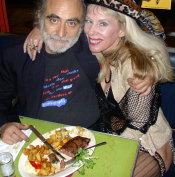 With Porsche Lynn, Candida Royalle & Michele Capozzi @ Oliva on 101 E. Houston
Back at CineKink, we hooked up with the grand domme who tops the Den of Iniquity in Phoenix, the forever young Porsche Lynn, at the screening of Michele Capozzi's "Pornology New York," in which she stars, along with Neville Chambers, founder of the "Fuck Factory," and Lenny Waller, longtime frontman of the meat-packing district's currently defunct Hellfire Club. Michele, another old friend who now calls himself a "pornologist," has created an engaging work of cinema, a wild yet poignant paean to underground New York, circa 1970-1985, which handily scooped up the CineKink "Audience Choice" award, partly because 30% of the packed audience for "Pornology New York"'s screening was in the movie, and partly because it really is a fine film.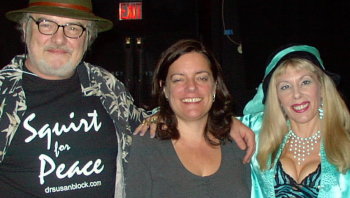 With CineKink Queen Lisa Vandervere ... Photo: Helene
And then there was our Little Squirt, which really wasn't so little, weighing in at 150 minutes, soaking wet. Actually, the film is made up of five 30-minute TV shows, all of which comprise one amazing Squirt Salon at the Speakeasy. The CineKink folks chose to show just the first half-hour (otherwise, it would have to have changed its name to the CineSquirt Film Festival), which meant we couldn't get an award, but also left the the audience wanting more (and ordering the DVD).
This was the U.S. Premiere, the world premiere having been the week before at the Barcelona Erotic Film Festival. We couldn't attend both, and though we have a soft spot for Spain politically these days, we chose New York for expeditious reasons. So now here we were, our Little Squirt was going on the Big Screen. I must admit I was a bit apprehensive about sitting in a regular movie theater and seeing my 8-foot high squirting pussy, surrounded by a bunch of hyper-critical New Yorkers, not to mention conservative cousins and old friends.

Squirt Encore @ the CineKink After-Party @ Arena Studios
"Squirt" was, after all, produced for viewing on the small screen - TV, the Internet, DVD, the phone - all very private venues where the viewer watches alone or with a lover. This was an old-fashioned hardcore collective cinematic experience. Suddenly, the idea of sitting in that darkened theater surrounded by cynical cinephiles watching me shoot like a busted fire hydrant filled me with performance anxiety. Well, at least the *performance* was already on celluloid. I figured I would just sit through the opening, then slip away discreetly for 25 minutes, then dash in for the Q&A.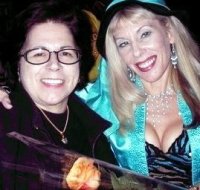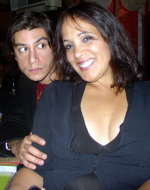 With Spiritual Healer Diane Block, receiving roses for having survived watching her cousin squirt on the Big Screen (Photo: Hugh Loebner) and Jack & Ana
Well, the best-laid plans may not get you laid the way you planned. Somehow I wound up in the center of the aisle, surrounded by representatives of squirt-interested humanity of all ages (over 18), races and genders, and there was no way I could get up without making a scene. So I suffered through the first thirty seconds, and as I felt the audience laugh and gasp and flow with the movie, I found myself laughing and gasping and flowing along with them, practically forgetting that it was me up there doing some real flowing. Well, it's all for a good cause: peace, love, harmony, education and understanding. Yes indeed. Squirt for Peace!

Kissed by a Couple of CineKink Angels (Victor & Heather)