Dr. Susan Block's
SERMON
on the
TOWERS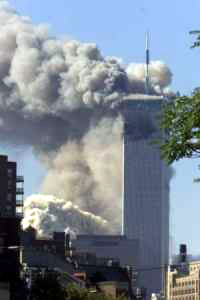 The shock, the sorrow and the gargantuan damage of the attacks of 9.11.01 have touched us all. Fear is in the air like the ubiquitous ash of the collapsed towers.
We feel the fragility of human life. We are reminded that security is vital. But even the highest security is not foolproof. Technology is not the culprit here. In a few explosive hours, we learned that astoundingly effective weapons of mass destruction can be fashioned from the most low-tech tools: a shaving kit, a piece of string, a small knife, a box cutter.
Human nature is the culprit here. This is the part of our nature that loves destruction, the rockets red glare, the blaze of glory. The part of our nature that has faith in a vengeful, anti-pleasure, anti-female God who uses His followers to smite the sinners. The part of our nature that is jealous to the point of insanity. The part of our nature that believes in a fairy tale paradise after the Apocalypse where all the erotic delights that were denied on Earth are granted in perpetuity. This is the deeply selfish part of our nature that longs for instant immortality, for fiery fame, for a starring role in a TV movie watched repeatedly by billions. This is the part of our nature that believes that might is right, and that when we are wronged, terribly wronged, then the worst revenge is justified. This is the terrorist within us all. And we must fight the terrorists within as well as those without.
If we as a nation are to continue our self-assigned role as Global Beacon of Hope, we must not give in to the terrorist part of our nature. We must do what we can to heal ourselves and our neighbors from the trauma that reverberates like aftershocks from a quake. We must mobilize our forces and those of our allies to catch the criminals who helped perpetrate these attacks and, after proving their guilt, we must punish them severely. This does not include carpet-bombing (let alone nuclear-bombing, as some have suggested) innocent people who happen to live in a country whose government may "harbor" some of these criminals. If we do that--as we as a nation have done all too often in the recent past--we will be no better than the criminals. We will be stepping up their Holy War.
Above all, we must not let these humiliating attacks destroy our freedom. That is a big part of what the terrorists want to take down with them: our precious, famous freedoms represented by our uniquely American Bill of Rights.
It starts in our airports where we all too willingly submit to superfluous restrictions (how can stopping curbside check-ins stem attacks like Tuesday's?). It extends to our streets and public spaces where many of us--especially those of certain "races"--are treated like suspects, frivolously detained or arrested. And it overflows into our homes where more and more of our freedoms are violated by public servants and secret police.
Speaking of secret police, certainly our CIA could have been more vigilant in its preventative search for terrorists. It's hard to believe they could have completely missed a conspiracy so large, so intricate and so demented. But then who knows? Since the nature of all secret police forces from the KGB to the CIA is that they lie about everything they do, not to mention everything they know, we may never learn how much our own spies knew of the plans for these attacks.
Our media, owned by a handful of conglomerates, is not likely to question these things. Thus, it is imperative that we, as Americans, question our media. Questions abound.
What really happened to Flight 93? What is the nature of the relationship between our CIA and ex-CIA operative Osama bin Laden?
Our airlines might have done a thing or two to prevent this tragedy (like pay their security workers a bit more than minimum wage). But nothing in life is risk-free, least of all flying. We must humbly recognize that these miraculous flying machines that glide above the clouds with such amazing grace are extremely vulnerable to the whims of nature, inept mechanics, as well as the stupidity and insanity of humanity. Perhaps our notions of air travel should go back to being a special, death-defying adventure where we get to know our fellow passengers, rather than the ho-hum jaunt from point A to point B that it's become.
Perhaps we'll never know if those folks on Flight 93 were victims or heroes, but we know the real heroes are on the ground, firefighters and rescue workers digging through dangerous rubble in the off chance they could help a fellow human being. Unsung heroes are those of us who remain sane in the midst of madness and don't call for Holy Wars to ease our seering pain.
And yes, there are treacherous Holy Warriors amongst us, and not all of them wear turbans. When the Reverend Jerry Falwell declared, just three days after the attack, that "God gave us what we deserve...I really believe that the pagans, and the abortionists, and the feminists, and the gays and the lesbians who are actively trying to make that an alternative lifestyle, the ACLU, People for the American Way -- all of them who have tried to secularize America -- I point the finger in their face and say, 'You helped this happen,' " he attempted to virtually drive a plane through the heart of the nation. Good thing the man can't fly.

And what about our President? A President is just another fragile human, like the Twin Towers are just another couple of buildings. But both are symbols, something to look up to. That's why we are crushed when the World Trade Center collapses (even if we weren't crazy about its architectural design), and that's why we look to our President for leadership in times of national trauma (even if we didn't actually elect him).
So, just imagine if our President, instead of calling for war (against whom?), called for peace. Just imagine if he exhorted us to follow the Bonobo Way instead of acting like baboons. Just imagine if he reminded us that the best revenge is living well. Just imagine if he told us that we mustn't be afraid, that we mustn't let sheer terror guide our hearts or our missiles.
Some of us would feel frustrated. But America would prove itself to be a greater Beacon of Hope than ever.
God and Goddess bless America, land of the free, home of the brave, mixed bag of diverse cultures. May we also be a nation of tolerance and forbearance, a beacon of hope to the world.
9.15.01


Sex, Terror, Jerry bin
Foulwill & Raving Castrati


Patriot Act Unpatriotic


Letters from Pakistan
Photos from (Old) Afghanistan


Ayatollah Asscraft's
Cover-Up of Minnie Lou