Prison Porn Superstar Lynndie England dominates an Iraqi prisoner in a scene from "Bush's POW Porn", a multi-billiion dollar production .. Executive Producer: GW BUSH Assistant to the Producer: Dick Cheney , Line Producer: Don Rumsfeld ,,Director: George Tenet. PHOTO: TBA
A REVIEW BY
Dr. Susan Block


I was wondering when I would get a glimpse into the erotic nature of George W. Bush. Now, with the release of The Photos of the sexual torture that lurks within the bowels of Bush's cells, I'd say I've got my glimpse.
Now excuse me while I barf along with the rest of civilized and uncivilized humanity.
They say a picture is worth a thousand words. Each of The Photos is worth a thousand new terrorists, fully loaded, strapped up and ready to blow up as many ugly Americans as possible. Or chop off their heads.
But I digress.
I want to take a long, hard look at Bush's sexuality. Because The Photos are Bush's porn. Oh, he says they "disgust" him. Of course, they do. Listen, I'm a sex therapist. Many of my clients will say something disgusts them at first, only to confess a few sessions later that it really turns them on.
Sshortly after the censorship dam burst and The Photos were released publicly, Bush issued his first attempt at apologizing: "I share a deep disgust that those prisoners were treated the way they were treated." He coughed up the words like a chicken bone, or that pretzel he swallowed and almost choked on. And he looked like a shifty-eyed boy caught by his mama, his schoolteacher and the whole neighborhood with his political pants down, way down around his ankles, exposing his severe shortcomings for all the world to revile.
Notice that he started to say how "those prisoners" were "treated." But then, he couldn't say it. After all, it might have given him an erection. Which would not help his reelection.
George II was so disgusted that, a few hours after he made these pious pronouncements, he went to a private party at the home of Defense Secretary Donald Rumsfeld, Line Producer of Bush's POW Porn. I assume that Rummy and Mrs. Rummy provided barf bags for everyone.
Giving Bush's War That Extra Spice
Amazing how many synonyms for "disgust" have dripped and dribbled like infected spittle from the rapidly dissembling mouths of various pro-war pundits and politicians, as they too are compelled to submit their reviews of Bush's POW Porn, which they helped to produce, promote and distribute. They are APPALLED. Shocked. Dismayed. Disturbed. Sickened. Nauseated. Rummy is "stunned." Condi is "outraged." Yes, this is a "deep disgust," as the President so compassionately suggested, that the whole Team Bush Torture Production and Distribution Wing "shares."
And yes, it's all very disgusting and dismaying to see hooded, naked men being forced to "assume the position" in a perverse pornographic Passion Play. But is it any less disgusting and dismaying to see them bombed to bloody smithereens? Is it less disgusting to see their heads blown off, their bodies riddled with bullet holes, their arms shattered, their legs amputated, their skin burnt to a crisp? Is it any less disgusting to see their families murdered, their children pulverized, their libraries torched, their museums looted, their hospitals ruined, their homes razed, their oil stolen, their land RAPED by invaders? Everything about the Rape of Iraq—that is, the brutal, unprovoked invasion and occupation of this sovereign, ancient land--has been "disgusting." The Photos just give the ongoing horror of Bush's War a little extra "spice."
But, oh that spice. It packs such potent psychic punch. It titillates as it appalls. It's not the kind of thing that hurts your eyes like a cluster bomb victim with no arms or legs and burns all over her body, or a guy on the road whose head has been run over like a ripe melon by a U.S. tank. Bush's POW Porn is disturbing, but you can look at it. In fact, you kind of want to stare at it. Why do you think they show The Photos over and over everywhere, even on Fox?
I still stand by my statement to Charlie Radin of the Boston Globe that "death is worse than rape." Considerably worse. But I have to admit that sometimes sex makes a bigger impression than death. After all, death is so final, so depressing, so yesterday. Sex is always intriguing, even if it's "disgusting."
Of course, the more explicit parts of The Photos are still censored. This is not Bush's doing; just the U.S. Media, always protecting American eyes from Arab assholes and genitalia.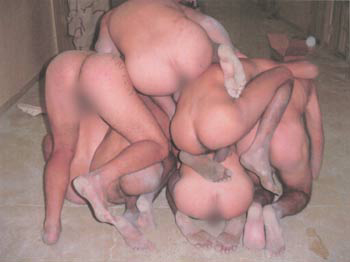 "Blurred Butts" Censored by U.S. Media, Always Protecting American Citizens from Arab Assholes
But The Photos are more than genital. They have meaning. They have mystery. In fact, they're fraught with more mysterious meanings than a Freudian dream with Reichian overtones and shades of "Strange Fruit." They show torture, of course, clearly forbidden by the basic tenets of the Geneva Convention, not to mention human decency. But they show more than that. They show sexual torture. Nakedness, leashes, penises, butts, masturbation, latex gloves, panties, grins of ecstasy, grimaces of agony. They show a dark drama, a Theater of Cruelty that Antonin Artaud only dreamt about, complete with masks and props and imaginative staging, heavy on the symbolism, daring to cross psychological and religious boundaries, daring to sodomize the Saddamites, and smile for the camera. It is the stuff of our sadomasochistic, exhibitionist-voyeuristic, hetero/homosexual, racist-colonialist nightmares.
It's also a farce, a frat house prank, a practical joke, a lynching party except (some of) the victims get to live, a hazing into hell, an initiation into the penal code—ha, ha, ha! As Rush Limbaugh chortled, The Photos show patriotic American soldiers engaged in making "good old American pornography." True, but there is one critical difference between Bush's POW Porn and the films of most American porn companies like, say, Extreme Associates, currently under indictment for obscenity by Bush's top lawyer Ayatollah Asscraft. That difference is that in Extreme Associates' porn, the actors are paid to perform; in Bush's POW porn, the actors are forced to perform. Ha, ha, ha! Joke's on you, Mohammed! The raghead becomes a hoodhead. What a comedy!
And what a tragedy. Pathos, terror, broken men, dead ones too, depraved soldiers, maniacal interrogators, a profoundly sick system, America's hope dipping below the lowest of the low. And more pictures and video are yet to come, which Bush and his collaborators may or may not let us see. The Director's Cut.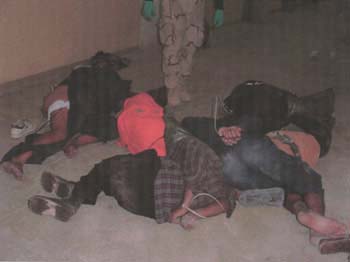 "Humanity"
A scene from "Bush's POW Porn," a muliti-billion dollar U.S. Government Production
Financed by U.S. Taxpayers
What we have already seen boggles, bullies and fascinates even the most sophisticated, jaded 21st century mind. Painfully bound prisoners writhe at the feet of the latex-gloved conqueror. Naked men wear black hoods that cover their heads like bags, disorienting their senses and masking their humanity. It's a War-on-Terror twist on the old saying, "Just put a bag over her (or his) head," and you can do anything to her (or him).
It's hard to imagine anything more offensive to Muslims than to see fellow Muslims being forced by laughing Christians to get naked and do sexual things to each other. Not that these images don't offend Christians too, resembling, as they do, some Hieronymous Boschian lower depths of Satanica. Jews might find the images horrifically reminiscent of naked Jewish men and women being put through their paces by Nazi concentration camp guards. Hindus and Buddhists are also disgusted. So are Pagans and Ethical Hedonists. For us, the nudity isn't the problem; it's the fact that these guys are being forced by their captors to do things we prefer to associate with love and pleasure that is so, well, disgusting. It's especially disturbing (and ironic) that many of The Photos have been released during the month of May, declared "Masturbation Month" by Dr. Betty Dodson and other assorted sex-positive feminists. Bush's Goddess-Damned War won't even let us jill off in peace!
Pyramid Schemes
Several of The Photos show the grinning guards forcing the naked men to make pyramids. Pyramids? In Exodus (the second of the Five Books of Moses, sacred to Jews, Christians and Muslims), we read of the Egyptian taskmasters who forced their Hebrew slaves to build the Great Pyramids, beating and humiliating them, making them suffer and die for the enormous triangular tombs. Then, so the Exodus story goes, it was the turn of the taskmasters and their Pharaoh to suffer disgusting tortures and die horrible deaths, cursed by their own greed and grandiosity.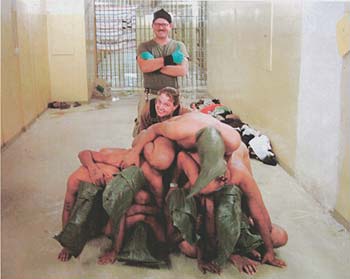 Chuck of Arabia and Smiley Sabrina visit the Pyramids of Ancient Mesopotamia in this joyous scene from "Bush's POW Porn"
The pyramids in The Photos are the bare bodies and hooded heads of the prisoners themselves. The American guards grin, like camp counselors, proudly presenting their charges to the camera. Children in every culture make pyramids; it's a common, innocent game. Turning the men into children may be part of the "regression" the CIA manuals talk about when they euphemistically describe this "torture lite" or "stress and duress." The idea is "to induce psychological regression in the subject by bringing a superior outside force to bear on his will to resist." In other words, turn the man into a child and have him "adopted" by one or two extremely violent, sexually abusive "parents."
The parents (guards) prepare the child (prisoner) for class (interrogation). If you don't do well in class (tell the interrogators what they want to hear), you are punished. Making the naked human pyramids, being forced to rub your no-longer-private parts against your fellow hapless prisoners bare flesh, is one form of humiliation-style punishment that is, it seems, specifically designed to shatter the dignity and sanity of the Muslim man.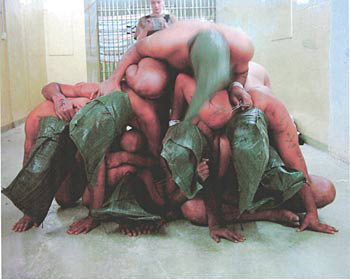 Pyramid Schemes, Sadistic Dreams
Of course, this is not to say there aren't gay Muslims. Homosexuality exists in every culture. But for most moderately religious Muslims of any sexual orientation, the forced public commission of such acts is more or less equivalent to a psychological electric shock. This is one reason that pre-interrogation "softening up" techniques like these do seem to "work." They make the victims lose their minds, and consequently, their defenses. Does it get them to talk? Probably. Would it get them to tell the factual truth? Probably not. More likely, it would get them to fantasize.
Perhaps fantasies were all the interrogators could hope for when they were desperately searching for phantom Weapons of Mass Destruction to satisfy the agenda of the Grand Auteur of this avant garde cinema verité multi-billion dollar porn production--Mr. GW Bush--along with his production studios, otherwise known as the U.S. military, U.S. intelligence and the U.S. incarceration industry.
But before we tear into Bush and co., let's take a look at a few more of The Photos…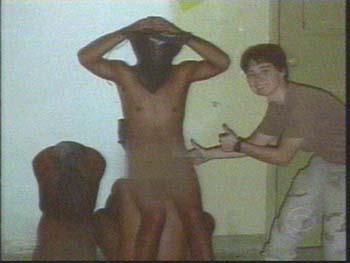 Lynndie gives a thumbs up to Torture, American-Style. Photo censored by U.S. Media
Presenting: POW Porn Superstar Lynndie England!
Several Photos feature a pixyish young woman, Private Lynndie England of West Virginia. Private Lynndie has a lot of presence. If The Photos weren't so, well, appalling, the girl could use them as a stepping stone to stardom, or at least 15 minutes of fame and a book deal right after the court martial. In one shot, little Lynndie looks almost sweet, like a college cheerleader, as she smiles brightly, pointing to the exposed genitals of the man beside her sitting on the back of another naked hooded man. She gives the thumbs-up—to whom? To the folks back home? To the prisoners themselves for later viewing and further humiliation (plus the threat of showing their folks back home). To other hapless prisoners that might see The Photos and quiver that they could be next? To her bosses at Military Intelligence? To her bigger bosses at the Pentagon? Or maybe it's to the really Big Boss back home, the Chief Cheerleader, the Man with a Mission that Private Lynndie, in her small, pixyish way, is helping to accomplish. "Thumbs-up to torture, Mr. Prez! Private Lynndie, an all-American gal after your bullying heart, is on the job. Mission Accomplished!"
continue to page 2 of Bush's POW Porn
BUSH'S POW PORN
by Dr. Susan Block
IN 4 PAGES
1 I 2 I 3 I 4