Sex, Terror,
Jerry bin Foulwill & Raving Castrati
by Dr. Susan Block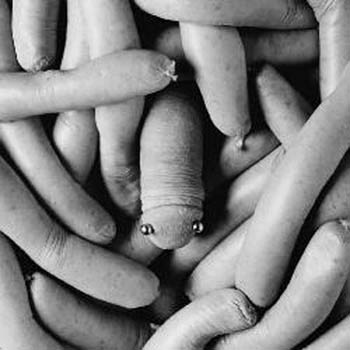 Let's be Frank .......................... PHOTO: ANDREW DUNBAR
It's been three weeks since America was attacked, and though most of the ashes have gone to dust, for the most part, the terror has not. If anything, it has increased and multiplied into a complex network of fears, phobias, anxieties, questions. Who did this to us? When will they strike again? Where will they strike again? How will they strike again? What kind of people would do this? Who's behind it? Who knows about it? Who's paying for it? Who's willing to die for it? What aren't we being told about them? And why oh why, do they hate us so?

And what about us? What do we do now? How do we protect ourselves, defend ourselves, avenge ourselves, heal ourselves? Just how much of our freedom will we exchange for the illusion that we are keeping the terror at bay? How many more people will we imprison? How many rights will we give up? And how the hell do we fight back? How do we fight the terror? These are the questions we see in the media, mainstream and underground, not to mention the anxious eyes and bitten lips of everyone we know.
But there's another question that always nags at my horny heart whenever something important happens, and the current disaster is no exception: What does SEX have to do with it? Oh, scoff if you will, but sex has a lot to do with it, and I'm not talking about sex scandals à la Gary Condit (Gary who?); I'm talking about sex as the essence of life, the supreme motivator, the greatest good and the evil impulse, the dirtiest alleyway and the holiest temple, the Bonobo Way versus acting like a Baboon.

What does sex have to do with America attacked? What does sex have to do with a young man in the prime of his life who believes that his wife--if he can afford one, or four--should be shut up in a tent, uneducated, unseen? Who thinks that if he expends his righteously raging libido in a terrible violent, homicidal-suicidal act in the name of a macho male God, that he will be rewarded in heaven with a harem of beautiful virgins, there to serve his every desire in an erotic eternal paradise?
What does sex have to do with America attacked? What does sex have to do with having our two tallest phallic works of architecture--our biggest dicks (the biggest in the world?)--Dick One and Dick Two--blown up before our early morning eyes on international TV, over and over again, wounding us where it really hurts, using our own planes like the castrator's boxcutter to slice into our soaring symbols of virile trade, forcing a ghastly, fiery sort of ejaculation, a gush of smoke, body parts and pain, a volcanic eruption of awful beauty (beauty has no morals), a castration, a degradation, a humiliation beyond death. Though the deaths of the 6000 are painful enough, this international, multi-billion-fold humiliation is a bitter salt on our wounds, the humbling of America, the lone superpower, Master of the World, the Man.

We are all men in America, all strong compared to the poor of the world, and we have all had our big dicks cut off. Suddenly. Without warning (well, we didn't feel warned). And it hurts. Real bad. And we cry, oh how we cry. And we pray, oh how we pray. And we're scared, oh so scared. And we talk stupid when we're scared. We're a bunch of raving castrati. Our leaders talk about crusades, wanting someone "dead or alive" and ridding the world of evil. Our politicians beat the drums of war, against whom, we're not quite sure yet, but war is on the horizon. And this is a "different war," yes, a war being fought by civilians taking planes, going to work, chaufeuring the kids to school, buying stocks, having sex, braving the terror. A different kind of war where the casualties are civilians, and not just any civilians, but American civilians.
At least, we haven't bombed anybody…as of this writing (10.1.01). In these weeks after the public, painful slashing of our manhood, America has not gone off half-cocked; indeed, we have shown admirable restraint…so far. Of course, using medieval slurs and cowboy taunts to express our efforts to combat world terrorism doesn't help us Wounded Warriors get the international support we so desperately need right now.

On the other hand, we've also got some ravers on the other side, people trying to cauterize the wound by saying America deserves this. Nobody deserves this. Then there are the too-hip lefties romanticizing the Taliban, a bunch of small-time fascist, woman-hating thugs. Having spent a month in Afghanistan, I can personally say that I have long admired the Afghan people, and anyway, they're just people. But I put the Taliban ideology on the same level of the food chain as Jerry Falwell who I'm now calling Jerry bin Foulwill, since he's clearly shown us whose side he's on by saying that the attacks on America were the will of God. Hey, with Gods like this, who needs Satan?

Like the outlandishly violent baboon, Jerry's, the Taliban's and the warmonger's response to attack is to attack back--even if you attack the wrong people--which creates the need for another attack and so on. For years, America's had this double-oceanic cushion that seemed to keep us mainland civilians out of harm's way, so we could attack without being attacked back. But those oceans are worthless now. The enemies are among us. If we attack, we'll be attacked back from within.

Perhaps this "different kind of war" needs to be fought in a different way. Not according to the more typical military paradigm of the baboon, but according to The Bonobo Way. Unlike baboons, common chimpanzees and humans, bonobo chimps (who are 98% genetically similar to humans) don't make war, and they've never been seen killing each other in the wild or captivity (so far; we've only just recently discovered them). They do fight, but they seem to resolve most disputes by exchanging sex. Sexual pleasure reduces violent tension, mollifying the less powerful as well as paying obeisance to the more powerful. The Bonobo Way is to spread the wealth, sexually and otherwise.

Of course, sex is always a great healer, a comfort, affirmation of life in the midst of death, a much-needed release of tension, and a great way to share the wealth of pleasure. In the midst of wartime or other disasters, people tend to crave sex more than ever, partly because fear is a great aphrodisiac (see Fear & Sex for more on that subject), and partly because there's a primal instinct within us to procreate when we feel our world might end, and that instinct remains even when we're on birth control. As the bonobos might say if we could speak each other's languages, when all seems hopeless, sex gives us hope, helping us to make a positive human connection, however fleeting, superficial or "sinful" some say it is.

Of course, we can't send a battalion of beautiful, sexually compliant virgins over to mollify all these desperately poor, horny and angry young terrorists so they won't even think about killing themselves to get some heavenly action (or could we?). But we can send good stuff, food, medicine and other forms of aid to the people, especially now that our warmongering has created a refugee crisis on all the Afghan borders. We can replace our occupying forces with bags of grain and winter boots. Personally, I'd like to send over a few boxes of vibrators (batteries included) for those poor, shut-up Taliban women, or just drop bags of lingerie along with the food drops, but I guess I should be more respectful of their taboos, just as I want them to be respectful of my trade centers, not to mention shopping centers.

We Americans can be raging castrati, or we can show ourselves to be world leaders in greatness, generosity, courage and wisdom. We can let all the caring countries of the world, as well as all the jeering countries of the world, know that yes, we're hurt (who wouldn't be?). And yes, we need your support. And yes, we acknowledge that America is not the boss of the world. No one is, not God, not Allah, not McDonald's, not Mammon, not even Eros. It's a small, small world with a lot, a lot of people, and we all have to try to get along. In a world where the underdogs practice military aikido, skillfully using one's opponent's strength and size against him, the biggest kids on the block have to try the hardest to get along.

We can do this, at least we can try this, and I continue to hold a candle in hope that we will. Though my terror of the next attack--ours or theirs (what difference does it make when attack follows attack?)--remains.
10/1/01


Patriot Act Unpatriotic


Letters from Pakistan
Photos from (Old) Afghanistan