AYATOLLAH ASSCRAFT'S
Cover Up of Minnie Lou
by Dr. Susan Block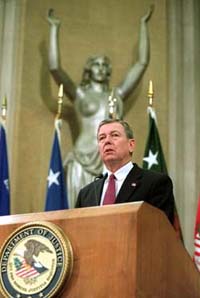 Minnie Lou's last moments of freedom
before being covered up by Ayatollah Asscraft
Seems ol' crabby, crafty Ayatollah Asscraft is testing our ability to withstand his craftiness, and proving himself to be every bit the Ass 'n' Ayatollah we were afraid he'd be. Over the past few months, especially since 9.11, he has been doing this in some serious life- and liberty-threatening ways that have been covered (quite minimally, due to our miniscule budget for political reporting here at the Dr. Susan Block Institute) in these pages.
But Asscraft's latest destruction of liberty and justice involves suppression of liberty for the Spirit of Justice. That is, he has ordered to be covered up a rather large, lovely statue named the "Spirit of Justice" that has towered behind American Attorneys General for some 70 years. With a set of $8000 drapes (prudery isn't cheap), he has turned the Spirit of Justice into the Spirit of Censorship.
See, the "Spirit of Justice" is naked. Well, topless. Actually, half-topless. One breast (looking to be a rather nice, round, C -cup complete with perky nipple) is revealed, the other concealed by a Grecian-style tunic, giving our Spirit of Justice gal just a bit more coverage than her male counterpart, the "Majesty of Justice," who has nothing but a loincloth sheathing his majestic manhood. These huge aluminum statues were constructed during the 1930's under FDR, and were strongly influenced by the Art Deco movement of the times, as well as, perhaps, the taste of certain Democrats. According to Beverly Lumpkin of ABC News, the lady statue has been fondly referred to for years as "Minnie Lou."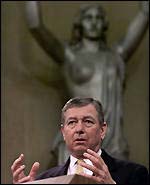 Ayatollah Asscraft tries to grasp power
(or a nice piece of ass)
as the Spirit of Justice towers above him
Minnie Lou is not exactly a sexpot. I imagine that the Art Deco sculptor who created her had more than pure prurience on his or her mind. More of an Athena (Warrior Goddess of Wisdom), than an Aphrodite (Sexy Goddess of Sex), she exudes power and dignity. Minnie's partial nudity is part of her power, her purity, her naturalness, her truth and thus, her spirit of justice.
Now, thanks to the American Ayatollah, Minnie and her counterpart (Mickey?) have both been covered up, shrouded like ghosts, depriving the common people of our right to even glimpse these glorious feminine and masculine symbols of American Justice rising up out of the deep Depression in all their shiny aluminum splendor.
What kind of prudish, priggish, self-conscious ass would do such a thing?
Even former Attorney General Edwin Meese didn't cover up the perennially half-topless Minnie Lou. Of course, her gloriously bare boob did seem to mock the presentation of Meese's report on his commission on pornography. Minnie Lou has been in the Great Hall for over 70 years to remind us that the Spirit of Justice is naked, at least partially.

"If the Taliban can cover up
their women, then by
God Almighty,
we can cover up our
half-topless female statues!!"

Asscraft has already shown himself to be awfully Ayatollah-like in his draconian Patriot Act, which strips civil liberties from American citizens, and in his Torture-Lite approach to the "detainees" at Guantànamo Bay. Now he appears to be adopting the mullahs' mode of dealing with the complexities posed by the human female body: Cover it up, get it out of sight, and get on with the manly business of oppression, power-grabbing and punishment.
I can just imagine him thundering to his staff (pun intended): "If the Taliban can cover up their women, then by God Almighty, we can cover up our half-topless female statues!!"
After all, Ayatollah Asscraft is just one man, and he can't run around this great gigantic country of ours covering up the millions of bare bosoms of nudists, topless dancers and sculptures throughout the US (though that's coming...). But, by Jesus, he can cover up the flagrantly bare bosom of the lady statue that towers over him during his all-important speeches to pesky journalists and left-leaning photographers who like nothing better than to snap a nice shot of Minnie Titty rising above the dour Asscraft visage.
But $8000 for drapes? Whew, that's an expensive burka.
I guess we should be grateful he didn't blow Minnie up like the Taliban did the Bamian Buddhas.
But it makes you wonder: Does Asscraft's cover-up of the Spirit of Justice signify his tendency to "cover up" other things? Though the Spirit of Justice is more Athena than Aphrodite, she is a beautiful, powerful woman. Covering her and her consort up in this already Dark Age projects gloom and oppression. Is that the message Asscraft wants to send? Or is it that he just can't help himself?
Obviously, he's got a problem with nudity. Now, I would never want to force a person to stand in front of a naked statue if it really made him or her uncomfortable. But Asscraft knew all about the Spirit of Justice when he accepted the job of Attorney General. He shouldn't have taken the job if he didn't like the trappings.
But of course, one of the reasons Asscraft probably wanted the job (other than the fact that he'd just lost the Missouri Senator's race to a dead man) was because of his driving lust to cover up Minnie and generally restrain all liberties, except the freedom to pray.
Extreme prudery in any religion is fertile soil for fanaticsm, just a hair's breath away from terrorism. The most successful and despicable alleged terrorist of our time, Mohammed Atta, is a case-in-point for prudery gone amok. Here was a man who wouldn't even shake a woman's hand (though there are rumors of him hiring hookers), wouldn't even look at a woman. A roommate's girlfriend taunted Atta by hanging a reproduction of a Degas nude above the toilet in their shared apartment. Atta tried to ignore it for a couple of months, then tersely asked his roommate, not the girlfriend, to remove it.
Many mysteries of 9.11 remain to be solved, and surely there are a multitude of personal, political and economic reasons why this atrocity occurred. But one small but powerful cause seems to have been the deep anti-sex, anti-female feelings of this man, his abhorence for women, for nudity, for Eros, for life. It is ironic that the attack would put another sexual repressive of a different religion into the spotlight, enabling him to grasp greater powers than ever.
But, since irony is dead (long live irony), it just seems sadly predictable. Thanatos leads to Thanatos. Atta leads to Asscraft. Until more of us are fed up enough to respond to Thanatos with Eros. We can do it, even now, in the depths of our terror. Just as there's a little bit of yin in every yang, there's always a little bit of Eros in Thanatos times.
I call upon some brave and crazy soul, some truly patriotic citizen to run into our Hall of Justice, tear down those $8000 drapes (gently, don't damage them) and set the Spirit of Justice and her beloved Majesty free!
And if that's considered a terrorist act, so be it.
1.29.02
Please send all comments and offers to liberties@blockbooks.com
Thanks to Pastor Tammy and Debbie Espen of The Lifestyles Organization for alerting me to the cover up of Minnie Lou.

Read this essay by Dr. Susan Block in Counterpunch, "America's Best Political Newsletter" edited by
Alexander Cockburn and Jeffrey St. Clair