ART BOMBS
American Libertines for Peace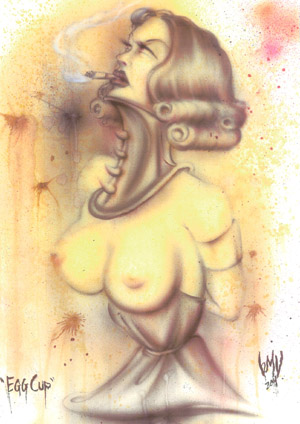 BrianViveros, "Egg Cup" from the Art Bombs exhibit

by Dr. Susan Block
Just returned Stateside after a spell in enemy territory. Iraq? Non, France. The timing was chilling. As Bush dropped Smart Bombs on Baghdad, we brought "Art Bombs" to Cannes.
Smart Bombs, as everyone with a TV knows, are those all-American explosives with the uncanny ability to pulverize their targets between the crosshairs from umpteen miles away, like an experienced porn star shooting his money shot right where the director wants it (though a few stray drops always seem to dribble on things).
"Art Bombs: American Libertines for Peace"is the name of an erotic art exhibit of photographs, paintings, drawings and digital artworks by American artists that counteract and comment on Smart Bombs and the eroticization of explosive, massively endowed, corporate-sponsored violence. "Art Bombs" explode with Eros as opposed to Thanatos love not war; featuring dildos and vibrators instead of cruise missiles and tomahawks, feminine juices and lube rather than Middle Eastern oil, consensual BDSM games as distinguished from colonial-style domination; people in bed with their lovers instead of journalists "embedded" with the military, the Bonobo Way as opposed to acting like a bunch of baboons, the truth of sex instead of the lies of war, sensuous Bush-eating as opposed to vicious, unilateral Bush-whacking.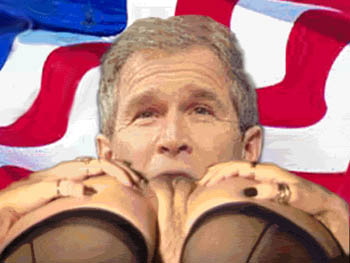 "Georgie: War Is Not The Answer. Pussy Is"
From The Hungry Republican series by Dr. Susan Block
Also part of the "Art Bombs" exhibit

This exhibit, now on display at El Teatro Club and Restaurant on 38, Rue George Clemenceau in Cannes, France, is our modest but earnest effort to offset the America of smart bombs, dumb diplomacy, Pyrrhic victory, and ugly, apocalyptic scenes of death and demolition that the Bushies have presented to the world. Hey, it couldn't do worse than ex-Undersecretary of State for Public Diplomacy Charlotte Beers' ignominious attempts to improve America's image beyond its borders.
"Art Bombs" exploded in our heads in the midst of all the media-boosted foreplay for "Shock & Awe," built up by defense experts and pundits as the Greatest War Show on Earth, Opening Night to Bush's Bukkake Bombing Crusade, a super-duper international infomercial for American Weaponry. If you took the right drugs, it was pretty orgasmic to watch from a safe TV screen, especially as it was accompanied by a soundtrack of gasps and moans from the fatuous newscasters, embedded and otherwise.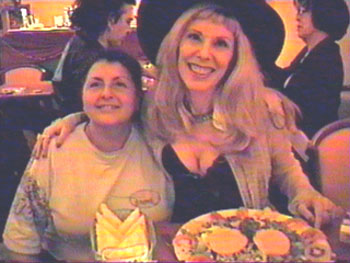 Victoria's pate de fois gras at El Teatro is Da Bomb... Video Photo: XAM

All that explosive precision on top of the considerable advance warning (1000 times more advance promotional build-up than the Oscars or any mini-series) meant few Baghdad civilians were reported killed that first frazzling Friday night. It also meant that no one was shocked or awed, just really rattled and enraged. What immediately followed was rather strange, at least to most TV-watchers. Instead of the instant, smiley-faced, flower-tossing welcome that we were told to expect, surrenders turned into booby traps, and soon we were the ones being shocked and awed--that the Hajis were fighting back. Of course, they were no match for our ridiculously superior weaponry (let's run that Bukkake Bombing infomercial again, Wolf). And so smart bombs make way for dumb slaughtering, maiming, starving and displacement of Iraqi civilians and conscripts, grisly deaths of Anglo-American troops, and even a few rather suspicious killings of unembedded journalists.
The night before the Pre-Come Bombs (you know, that dribble that came before Shock & Awe, in our attempt to "decapitate" Saddam & sons), my art curator, Kim Mendoza, and I packed up the trunk with our "Art Bombs" which, though fingered thoroughly at LAX, made it safely to the lovely little village of Cannes where they are now exploding upon the walls of El Teatro.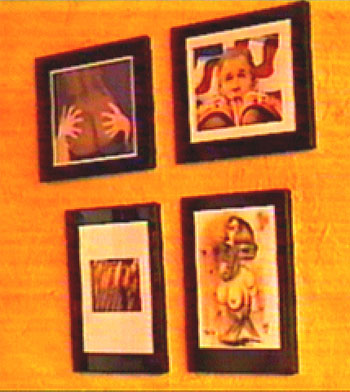 "Art Bombs" wall in El Teatro featuring works by XAM, Rick Gillihan, Brian Viveros, and Dr. Susan Block. Video Photo: XAM

Which bombs are smartest? We'll leave that to the French to decide. That's why, at a time when France-bashing is a fashionable fetish in the more pugnacious parts of America, we brought our "Art Bombs" to France. Though they never claim to have invented the french fry (the Belgians did that), the French are America's philosophical godparents, having given us the Statue of Liberty, the French kiss, the French tickler, and generally helped us make our way in the world ever since the American Revolutionary War which we may not have won without them. They are trying to help us even now as we ride our snorting Warhorse from Umm Kasr to Baghdad to Tikrit to Syria and beyond...
Yes, in part, the French, like the Russians and the Germans, have had economic reasons behind their pacifist positions. And what's wrong with having a few economic reasons reasons to prevent a massive war crime? The emergency $75 billion that Bush's chickenhawks are now coercing American taxpayers into feeding the hungry Warhorse could feed Iraq's children for a decade. It could also feed America's now burgeoning poorer class (thanks to another domestically flaccid Bush economy) and give the American veterans that fight our crazy wars some decent healthcare. The rewards that accrue for "winning" this war will only benefit certain US corporations in the oil and construction industries, as well as the military which will continue to inhabit the ever-expanding conquered territory indefinitely. Most Americans will get nothing but the hollow, jingoistic satisfaction of "winning" and the responsibility of financing George and Rummy's Great Adventure.
The night of "Shock & Awe," Max and I stopped in Rim's, a little all-night market, and there was Mohmed the clerk watching the bombs fall on fellow Arabs, anguish lining his young face. We flashed our peace signs, trying rather pathetically to "apologize." Then we went to Oasis, one of our favorite Libertine Clubs of Cannes, to try to forget about the war, and stopped back in a couple hours later. Again, we heard the sounds of bombs coming from the TV, but this time Mohmed was smiling. Was he changing his mind and now seeing the American invaders as liberators? Not quite. He'd changed the channel and was now tuned to an old movie on Vietnam, his fury placated by watching Americans on the receiving end of wartime brutality. We laughed stupidly and shivered nervously as we paid for our Evian.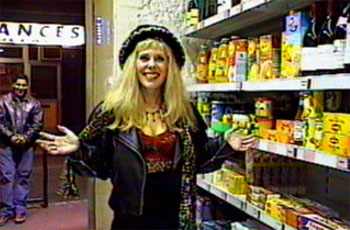 Late-Nite Shopping at Rim's on Rue Georges Clemenceau, Cannes, France (that's Mohmed in the left background). ... Photo: XAM

"Art Bombs" is also a kind of therapy, I admit. Yup, erotic art therapy for the vicariously bombed sex therapist. Why not? When the bombs began to fall, I couldn't watch TV or even read the news on the Internet without crying. From the loutish war-stoking of CNN, etc. to the scenes of suffering eloquently described by Robert Fisk and other un-embedded journalists, all of it makes the tears just stream like Spring rain. I cry for the Iraqis losing their lives, their limbs, their loved ones, tender bodies pitted with fragments from this "new kind of war." I cry for our troops, so young and strong and sexy, being shot at and killed and forced to kill civilians, blood that will never leave their hands or their mind. I cry for the families of the soldiers, helplessly and "patriotically" steeling themselves for news of their loved ones' death or injury, or perhaps they will come home in one piece physically, but mentally broken or hardened into gunmetal. I even cry for the TV news hacks, the press whores embedded with their soldier-daddies, so excited about the romance of reporting a war, trying so hard to play their part in the game, their tongues tied with the intricacies of invasion, their eyes stinging with sand and the sights of slaughter they dare not describe (for security reasons), their souls scorched by the carnage. I even cry for the blown-up buildings, and for the archeology of this ancient land of Mesopotamia, Ur, the birthplace of Sarah and Abraham , Biblical mother and father of the three "great" monotheistic religions, Judaism, Christianity and Islam (remember the outrage we felt when the Taliban blew up the Bamian Buddhas months before 9/11? What we have done to Iraq is the same crime against archeology). And I cry for myself, now branded an Ugly American throughout the world I have always loved to travel.
But all that crying just chaps my cheeks. "Art Bombs" therapy is, at least, a bit more productive. What else can an American libertine for peace do? Feeling helpless and frustrated when the bombs began to fall, despite the protests of the largest peace movement in history, I'd briefly considered becoming a human shield, but rejected that as my concern for the sanctity of life begins with my own. And though I gamely tried praying for peace (whatever that means in the new era of Permanent War), I just couldn't bring myself to "pray for the President" with the Presidential Prayer Team, organizers of the "Golf and Prayer Walk" here in the U.S. and the In Touch ministry that asks everyone, even our troops on the battlefield, to "pray for President Bush."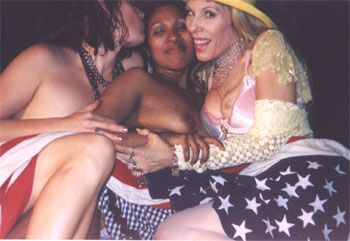 "Democratic Sex" ... Photo: Jolie Barry ..Part of the Art Bombs exhibit
.

But perhaps, as part of the evolving American Peace Movement, our little "Art Bombs" exhibit could help the French-- and the rest of the world--see that not all Americans are behind this nightmare of might obliterating life.. Perhaps it would show that some Americans wish to "support our troops" by not supporting an illegal, unconscionable, expensive invasion, despite the Raving Castrati who try to silence all criticism, pumping up their so-called Patriot Act, effectively taking away the very freedoms that we're supposedly fighting for, calling protestors "treasonous anti-American Hitler-lovers" and the like, just because we don't relish pulverizing the sandy poop out of a barely armed and hardly dangerous, sanction-decimated, sovereign nation.
Continue to page 2
of "Art Bombs"






Click to subscribe to
TheDrSusanBlockShow





See all the hot
stuff you won't
see on TV!
Join us
Backstage!