ART BOMBS
American Libertines for Peace
continued


Americans are bombers by nature. We make a big stink. The night before the "Art Bombs" opening, I went to hear Tom Jones sing "Sex Bomb" (part of Cannes' MipTV festivities). He didn't sound bad for a greasy old man, a lot better than the foppy French kids that sang around him. I guess I needed to remind myself that there are certain types of Anglo-American bombs that create and don't destroy, even if they're just disco tunes. A luminous blonde German photo-journalist by the name of Irene Hell, who's covered everybody on all sides of the world from Colin Powell to the Dalai Lama, took me there. Like most modern, cosmopolitan Germans, Ms. Hell is very sweet and sensitive, as if she is trying to make up for the mess her forefathers made when so many of them let Crazy Adolph run their show. Will this be our fate as Americans, I wonder glumly, decades of apologizing to the world for the brazen, belligerent, hazardous hubris of our Boy King Bush?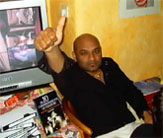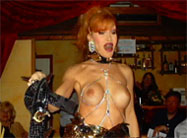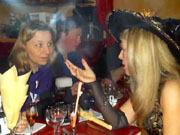 Guy from Digital Playground, the fabulous TS France, Valerie Milano of Warren Communications News & German journalist Irene Hell at "Art Bombs" opening .... PHOTOS: XAM

The night before, I'd watched the Great Pretzel Swallower himself, assuring reporters that the Iraqis were "surrendering gleefully." It was the Sunday after Shock & Awe, and he was still a bit bleary-eyed from his Top O' the War Party Weekend at Camp David, so he wasn't quite up to speed on the fact that at least some of the Hajis were fighting back. They weren't quite gleeful yet. Apparently, no one had yet informed him that after losing the Cockfight of Diplomacy in the U.N, he was losing Cockfight #2, the Battle for the "Hearts and Minds" of the Iraqi people. Even those that now "surrender gleefully," do it not out of pleasure, but abject fear and the hope that the bombing will stop.
But then, Dubya's only experience of getting "bombed" had always come, not on the end of a cruise missile, but from a bottle of Jack Daniels. Actually, that's not such a bad kind of bombed to get at this point. Pass me the Fernet.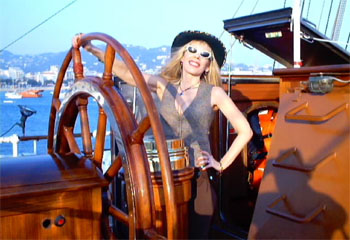 Dr. Suzy steering the good ship Lady Godiva filled with sexual aid for the Iraqis and Anglo-American troops. (actually Dag Amsterdam in Cannes Harbor) Photo: XAM

Humanitarian aid is, of course, essential, but it's just too little, too late. One liter of British mineral water per family when the Anglo-American demolition derby destroyed a water purification plant serving 1.3 million people? Bush's Bitch Tony Blair bleats on and on about the good ship Sir Galahad filled with "ayed." He sounds like a guy who's just raped and brutally beaten a woman, and then expects her to be grateful when he gives her a can of warm 7-Up and a bag of freedom fries.
Meanwhile, Iraq is now being invaded--or crusaded--by the U.S. version of Sir Galahad: thousands of American evangelical missionaries with raging hard-ons to convert the Iraqis to Christianity, bearing water, food, medicine and the gospel as their weapons in "spiritual warfare." Soon the Iraqis will be exhorted to "pray for Bush."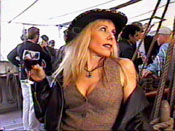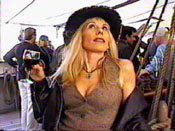 Yachting through Permanent War on the Dag Amsterdam ... Video Photos: XAM

Hearing about all this propagandistic aid, my erotic imagination and entrepreneurial spirit gets the better of me, and I think, as long as we're shipping aid, how about a little sexual aid? If Bush has his Crusader Complex, and Blair has his Sir Galahad fantasies, I can dry my eyes and dream of the good ship Lady Godiva, filled with the latest sex toys, precision-guided dildos, explosive vibrators, protective condoms, smart lube, blow-up dolls and interracial erotica, plus lots of vitamin-rich aphrodisiacs like oysters and figs, plus Godiva chocolates, good for both hungry Iraqis and sex-starved Anglo-American troops. I'd also throw in a few Art Bombs postcards and the Arabic translation of my book The 10 Commandments of Pleasure. Hey, if the Reverends Franklin Graham and Charles Stanley can just crusade into Babylon with their Bibles, why can't I?
Speaking of refreshments, our dinner at the "Art Bombs" opening night, courtesy of the lovely ladies of El Teatro, was delicieux.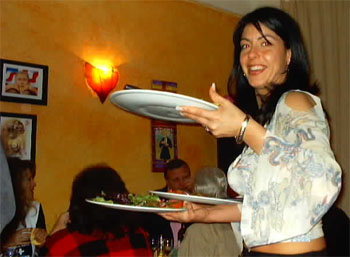 The vivacious Candice delivers Gastronomical Aid to the hungry at the
"Art Bombs" opening at El Teatro ... Photo: XAM

So was the entertainment: a multiracial, multicultural, multilateral, transsexual stripper by the name of France, who graciously told us that she loved American dollars, even though they're now sagging below the hard, hot euro. Permanent war looms, but libertines just gotta have funů


The fabulous TS France dances at the Art Bombs Opening. .. Photo: XAM

Having lost the Cockfight of Diplomacy as well as the Cockfight for the Iraqi People's Hearts & Minds, Emperor Bush has won the Cockfight of Military Might, so we are told. Each day, more Iraqis are smiling. Not gleefully though. These are the fearful grins and bows of ingratiation, sucking up to the new oppressors--uh, liberators.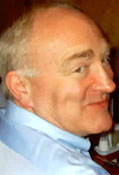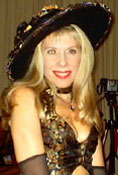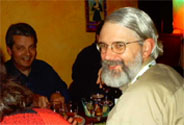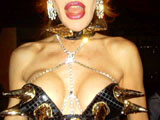 Ed Flaherty of Prime Cut Media, Dr. Suzy, our Agent Walter Behr of Behr Entertainment, DigitalPlayground, Michelle Delfino of Cannes, The Professor, Al Hendrix of Entertainment Risk Solutions, the fabulous TS France, and Martin Smelt also of ERS ... PHOTOS: XAM

At the Art Bombs opening, we also played a little game, one that Bush and his war-gaming junta seem to have forgotten how to play. It's called "Find Osama." See, one of the Art Bombs installations is my collection of political dildos from "Cockfight at the Baghdad Corral." At the outset of the opening, one dildo was missing, one that Dubya was once determined to hunt down, "dead or alive," but that has apparently slipped his mind in all the bukkake bombing, oil-rich excitement. But we didn't forget, and we were further spooked by pro-American Egyptian President Hosni Mubarak's prediction that the war is going to create "a hundred bin Ladens." It could also create a few John Allen Muhammads (the sniper who terrorized Washington, DC), and Timothy McVeighs (the perpetrator of the largest act of terrorism on American soil prior to 9/11), both of whom were veterans of Gulf War I.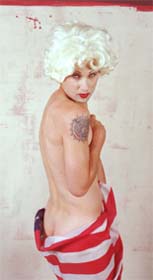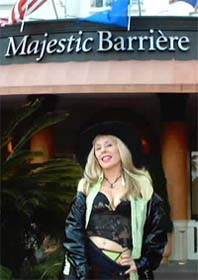 "Gabor Marilyn" Juliane Backmann .Art Bombs exhibit (left ) .... Flashing at the Majestic Photo: XAM

Almost as soon as we announced the "Find Osama" contest, our international roster of distinguished guests began searching industriously, even though the prize was hardly the $25 million on the real Osama's head, but just a Dr. Susan Block Show cap. Within moments, without dropping a single bomb, Matt the genial bartender from Quay's, our favorite Irish pub in Cannes, found the Osama dildo embedded in a flower pot. Now that's the kind of Anglo-American ingenuity we need to show the world.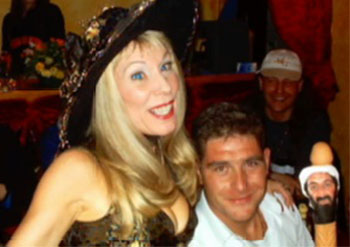 Matt finds Osama ..... PHOTO: XAM

Faire l'amour, pas la guerre. Fermer le Bush!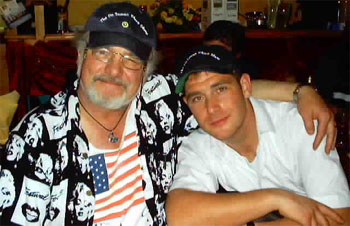 Max & Matt with the winniing Dr. Susan Block Show cap ..... PHOTO: SUZY

Published 4.8.03


ART BOMBS
American Libertines for Peace

Exhibiting Artists
Tom Zimmerman
Brian Viveros
Rick Gillihan
John Evans
Jolie Barry
Juliane Backmann
Xam
Dr. Susan Block
Curated by Kim Mendoza

Please send all comments to liberties@blockbooks.com





Click to subscribe to
TheDrSusanBlockShow





See all the hot
stuff you won't
see on TV!
Join us
Backstage!