The WEIMAR LOVE CLUB
continued from page 3

17 GREAT WEIMAR LOVE CLUB PAGES
1 2 3 4 5 6 7 8 9 10 11 12 13 14 15 16 17
OVER 700 INCREDIBLE VIDEO PHOTOS

sex-themed restaurants for every gawking tourist...
not to mention serious sexological research, and compassionate treatment for all sex-related ills.
Sex in the City was never so varied and so unfettered…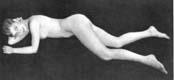 unless you happened to have a fetish for fettering.
Not all of the sex was good, of course (sex is never always good), what with the poverty-stricken child-prostitutes, the desperate hookers of all sexes, the coke addicts and lust-murderers.
But when Adolf and the Nazi boys kicked in the doors in 1933, burning the books, shutting down the clubs, closing the institutes, shooting the dissidents, segregating the Jews (who seem to have been some of the saaviest cabaret owners, if not the classiest call girls) and packing them off to concentration camps, exterminating the "undesirables"… well, that made the street crime of wicked Weimar look like the small potato latkes that it was.




The attack on the World Trade Centers flanked by the burning of
the Reichstag: two great buildings engulfed in the flames of "terrorism"
The burning of the Reichstag, the most important government building in Berlin, by a fire supposedly set by a terrorist, gave Hitler the excuse he needed to seize absolute power from a depressed, terrorized nation. This can't help but remind us of how the 9.11 attacks on three of America's most important buildings have given the current administration a patriotic excuse to strip Americans of civil liberties and throw foreigners and other "undesirables" in jail without due process. But more on those eerie political parallels later... For now, let's go back to the SEX life of wicked Weimar Berlin which, while it lasted, if you knew where to go to get what you wanted, was fantastic, orgiastic, glorious, diversified, voluptuous! Life was a Cabaret.
Every form of pleasure was explored, expressed and exploited at every level of taste and class--from vibrant night life to nudist havens to love-for-sale to the amazing Dr. Magnus Hirschfeld Institute of Sexology. With apologies to Dr. Magnus, we all felt that we were channelling the Hirschfeld Institute of Weimar Berlin through the Block Institute of Post-Millenial LA when Professor Mel came to visit the same night that we also happened to have four of the hottest stars in American porn in our studio.
Click on the thumbnails below to JOIN BACKSTAGE & see them LARGE!







Professor Mel, Teri, Merle, Monique, Mika Tan & me

Continue to Page 5
of The WEIMAR LOVE CLUB



17 GREAT WEIMAR LOVE CLUB PAGES
1 2 3 4 5 6 7 8 9 10 11 12 13 14 15 16 17
OVER 700 INCREDIBLE VIDEO PHOTOS

CLICK HERE TO JOIN The WEIMAR LOVE CLUB &
DR. SUZY BACKSTAGE, & SEE ALL THESE HOT THUMBNAILS, PLUS MORE, ENLARGED !


JOIN I FRONT PAGE 2 I SITE INDEX I WHAT'S NEW? I.JOURNAL I.THERAPY