Y A L E G A S M


Max & I get ready for Stage Blue
PHOTO: KIM MENDOZA
by Dr. Susan Block
As a Yale alumna (Class of '77) and a sporadically active member of the Yale Dramat, I decided to partake in a bi-coastal anniversary celebration of Yale's multiple contributions to modern American entertainment.


Yale Me ... PHOTO: MAX
Of course, I'm not the typical Yale grad. But then, I'm not the typical anything. So I figured I might as well join in the Stage Blue festivities, a gala event for which Jodie Foster, Meryl Streep and Sam Waterston were honorary chairs, held simultaneously at Manhatten's New Amsterdam Theater and the Beverly Hilton Hotel with events in each city broadcast via satellite to the other location.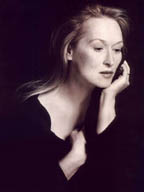 Yale Drama Queen Meryl Streep ('75)
Max and I decked ourselves out in various shades of Boolah-Boolah blue and hightailed it over to the Beverly Hilton for cocktails and entertainment celebrating the one hundredth anniversary of the Yale Dramat, the 75th anniversary of Yale School of Drama, and the 300th anniversary of Yale University. The martinis were fine, the food delectable and the bi-coastal performances were pleasant enough, kind of like having a little soiree in which a few of your friends get up to sing and dance to songs that your other friends composed. That is, if your friends happen to include the likes of Sigourney Weaver, John Turturro, Stacy Keach and Christopher Durang.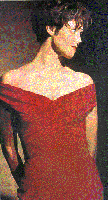 Sigourney Weaver ('74)
I remember my Freshman year at Yale when President Kingman Brewster informed us that Yale was committed to a tradition of graduating "1000 male leaders." As a female member of one of Yale's first graduating classes that included women, I took the liberty of mentally eliminating Brewster's gender-exclusionary adjective. Later, the phrase was amended to "1000 Yale leaders." Then (when there were well more than a 1000 in any given graduating class), it became simply "Yale leaders."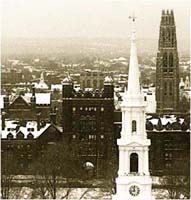 Yale in Winter (featuring Harkness Tower & Davenport)
Yale is best known for developing political leaders. For the past twenty years, we've had either a U.S. President or Vice President holding office. In the 2000 Presidential Election, we have Yalies on both the Republican (George W. Bush) and Democratic (Joe Lieberman) tickets.
But, as Stage Blue reminded us, we Yalies are also leaders in entertainment. Beyond that quintessential Yale talent Cole Porter, Yalies have won loads of Oscars, Tonies, Emmies, and Pulitzer Prizes. And not just brainy writers. Yale-trained actresses like Weaver, Streep and Angela Bassett have helped to change the face of acting in Hollywood, smartened it up, made it less personality-driven. In an interesting twist of culture, as American politics becomes more personality-driven, Hollywood becomes less so. Weaver, Streep and Bassett aren't big sexpot personalities like Marilyn and Madonna. They're highly skilled artists whose craft was honed at those Ivy halls of Yale.

Sexy Yalie Angela Bassett ('80)
Which brings us to me. Am I a "Yale leader"? Certainly, I'm not what Kingman Brewster or even former Yale Drama School Dean Robert Brustein (one of my professors) had in mind.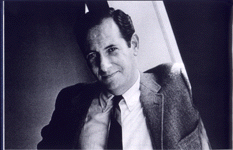 Yale School of Drama Dean Robert Brustein ('51)
For at least a decade after I graduated, for fear of sounding pretentious, nerdy or just too Yankee, I didn't tell anyone I went to Yale, and no one seemed to find out. I avoided all Yale events. I didn't attend reunions.
Then, as I got more active in sexuality, in order to differentiate myself from the other sluts in the field, I found myself admitting to having graduated from Yale. I even bought a Yale pennant (something I would have rather died than displayed while I was a Yale student), and I hung it over my show bed next to the garters and whips.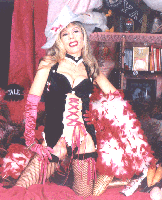 My Show Bed (Note Yale Pennant over
Left Shoulder) PHOTO: ELISE HABER
Suddenly, I realized that there were Yalies everywhere, often occupying positions of power. Yalies are kind of like Jews in that way: There aren't that many of us, but we're everywhere. Other folks resent and admire us for this. With the likes of George Dubya as a product of Yale in the public consciousness, another stereotype of Yale has emerged, that of the over-privileged, well-connected goof-off. Dubya has managed to take even this image down a few pegs. When a female journalist, Yale '86, brought up her Yale credentials so as to bond with the candidate, Dubya replied, "That's too bad. Ever since they started admitting women, Yale's gone downhill." And he calls himself a politician? Of course, on another level, I identify with George the Younger, because we're both, in very different ways, black sheep of the Yale family.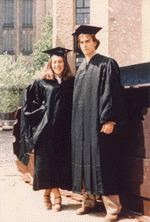 The Graduate
(with another cute Yale boyfriend named Phil)
PHOTO: STEVE BLOCK
Thanks in part to me (and other renegade Yalies like Sheila Nevins, Yale School of Drama '63 and my executive producer at HBO), Yale is also becoming associated with sex.

Sheila Nevins (Yale Drama School '63)
Whenever anyone asks me when I had my first orgasm-a fairly frequent question for me, I mention Yale. In fact, I mention one of my theater classes at Yale. We were studying Shakespeare's Antony and Cleopatra at the time. I was 19 years old, and I'd never had an orgasm. I'd had sex several times, mainly with my high school boyfriend, and he'd had plenty of orgasms. I'd masturbated, of course,but not yet to "completion." I did have a few involuntary climaxes when I rode a horse or did kip-ups in gymnastics class. But no full-fledged voluntary orgasms until I was a sophomore at Yale.
I was dating a guy named Steven Van Der Tak, a gorgeous young math genius, tall and sensuously lean, with long flowing blonde hair and David Hockney blue eyes, a Nordic God in a Yale Crew sweatshirt. The only problem was that Steven was very shy, and since I was fairly shy too, our evenings tended to be pretty dull. Nevertheless, I was infatuated with his golden athletic beauty and dazzling numerical brilliance. And one night, when I let him stay over in my tiny little dormroom in my tiny little single bed, we had sex.
I don't remember much about the sex. I think it wasn't bad, but I know it wasn't orgasmic. When Steven left in the morning for class, I remember staying in bed feeling vaguely unsatisfied. Lazily, I stroked myself, picking up where Steven had left off. I didn't know what to do exactly. I picked up one of those little how-to masturbation books (later I realized it was Liberating Masturbation, now Sex for One by Dr. Betty Dodson) that were passed around through feminist circles in those days, and I perused a few passages as I continued to touch myself. I relaxed and breathed deeply like the book told me to, and I thought about Steven's beautiful hair and eyes and body. I breathed deeper and stroked and played with myself like I'd played since I was a little girl, but this time I pushed myself farther.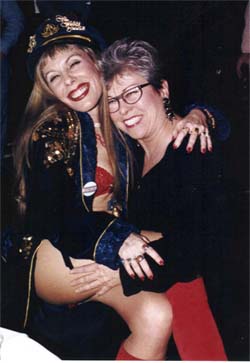 Many years later, I finally meet Betty Dodsen,
the woman whose book gave me my first
orgasm at Yale! .. PHOTO: Michael Perry
I breathed deeper and deeper, and rubbed and tickled and poked and pulled, licking my fingers and feeling the power, breathing deeper and deeper, rubbing faster and faster until, lo and behold, the dam gave way, and I had an orgasm. My first full-fledged, voluntary orgasm.




Sophomore at Yale ............................................................ PHOTOS: MAX
I remember feeling awed and amazed, as if I'd passed through a rite of passage right there on my tiny little dormroom bed. I remember feeling I'd been given a gift from God, or the Goddess, or nature, a pure pleasure that I didn't have to work for, didn't cost any money, didn't have any calories, that was so easy and relaxing, so explosive, yet so gentle. And I remember knowing I was hooked, that at that point, after 19 years of life on earth, I had become orgasmic. I knew that no matter what else happened, the rest of my life would include explosions of pleasure, that pretty much whenever I wanted, I could experience a little bit of heaven on earth. It was all as close as my fingertips.


Close as Your Fingertips
PHOTO: MAX
I remember drifting for hours in that tiny dormitory bed at Yale as if I were Cleopatra floating down the Nile on her sensuous perfumed barge toward Antony, her romantic destiny. And I remember looking at the clock and realizing that if I didn't get out of bed that minute, I'd miss that Shakespeare class! So I threw on my clothes, picked up my books and left--a New Orgasmic Woman.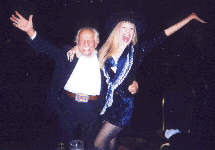 At Stage Blue with celebrated Artist Jirayr H. Zorthian (Yale ('36) who told me,
"I hate pornography. I love erotica." ..... PHOTO: MAX
Now, that's what I call Stage Blue, an important lesson I learned at Yale, not to mention a valuable contribution to contemporary entertainment. Mine, anyway.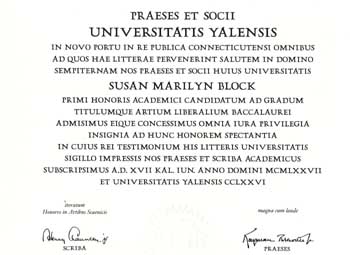 My Diploma (Yes, it's in Latin)