Hoff vs. Hef
by Dr. Susan Block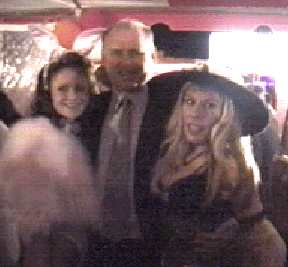 We just got back from the Moonlight Bunny Ranch Bordello and Kitty's Cathouse, two legal American brothels--or as we say down here in LA, 'Ho-Houses--in Carson City, Nevada, where we celebrated the 43rd birthday of the brothel owner himself, the New American Pimp, our friend, Mr. Dennis Hoff. Yes, there's Hef, and there's Hoff. The difference is that at Hoff's place, the Bunnies actually have sex. Hef's Bunnies don't have sex. They just model lingerie, ride horses, make gourmet spaghetti and writhe around in waterfalls. Hoff's bunnies have sex.
Of course, you have to pay for it, but hey, one way or another, you always have to pay for sex, don't you? Well, maybe you don't, but some people do, and what is wrong with that? Why is prostitution still illegal in most of this country anyway? How can a republic that supposedly separates Church and State continue to indulge in something as religiously inspired, paternalistic, innately corrupt and ultimately futile as the arrest and imprisonment of hookers?
We all know prostitution is the "oldest profession," probably one of history's earliest forms of human commerce. I'd say that it's older than humanity, since plenty of other animals practice their own versions of prostitution. When a male chimp goes up to a female chimp with a banana and an erection, and she takes both, but insists on getting the banana up front, what is that? Okay, so I'm anthropomorphizing a bit, but not much.
Back to human history. Though some say prostitution is the epitome of sacrilege, it wasn't always so. There was a time when prostitution was a vital aspect of religion. The ancient Hebrew word for "prostitute" is k'deshah, which means "sacred" or "holy." Organized prostitution was first practiced by temple priestesses in Mesopotamia, ancient Greece, Crete and Canaan, and the money they made was used to support the temple. To be a sacred temple prostitute was to be a powerful, respected woman. To have sex with the temple prostitute was to commune with the Goddess, to have a religious experience. Some were career prostitutes, others were placed into the "service" for a few months or years by their families, rather like a family might send a son into the military.
Temple prostitution, along with the general sexual freedom of women, was crushed with the rise of various patriarchal tribes, such as the Hebrews who called it an "abomination," and was virtually wiped out with the spread of Christianity. Over time, all prostitution became synonymous with illegal, immoral, sacrilegious sexuality, but it never disappeared. And it never will. Why? Because good sex is very valuable. Hey, even bad sex has value to some people. And some people will always be willing to pay for it.
Many critics associate prostitution with violence, but that's mainly because it's illegal.
Social researcher Priscilla Alexander found that "countries with the most restrictive legal systems, including the United States and Southeast Asia, have the most problems with violence against prostitutes - as well as women in general who are perceived to be 'like prostitutes,' thefts...brutal pimping...and involvement of juveniles. Conversely, the countries with the least restrictive measures...Holland, West Germany, Sweden and Denmark, have the least problems." I imagine there are also fewer cases of criminal activity against customers too. After all, when prostitution is legal, a john is more willing to go to the police if a hooker steals his wallet.
Also, where it's less restrictive, there are far fewer problems with disease. Many people associate prostitution with the dirt and danger of the street. And yes, "the street" tends not to be the best place for sex, or for finding a sex partner. But really, the simplest, most effective way to get the streetwalkers off the street is to decriminalize prostitution, make them set up their shops in buildings, like tattoo artists and chiropractors, and get monthly or weekly check-ups and health certificates. Then if we tax their practice and let the government make some money off the deal, it's a win-win situation.
And that's the situation I see at the Bunnyranch and Kitty's Cathouse. The hookers seem happy. They're definitely healthy (with weekly check-ups and health certificates to prove it), law-abiding, mostly family-oriented capitalists. Hoff sets the tone. Just a few years ago, he was a conservative Orange County real estate developer, and now here he is, running his own legal, profitable harem of hookers, and having the time of his life. How's that for an American Dream?
Maybe you think it's the
ultimate perversion of the
Horatio Alger story.
Perhaps it's the sheer entrepreneurial nature of this venture that disturbs you. Maybe you believe prostitution is evil because it reduces sex to a business transaction. Well, I hate to wake you, Virginia, but many perfectly legal sex acts are business transactions, from employees who sleep with bosses to get promotions, to girls who go out with guys to get dinner, to guys who sleep with women to stay rent-free in their apartments, to women and men who simply marry for money. Now, I ask you, are these approaches to sex morally superior to the regular 'ho who asks for her cash up front?
Everybody sells sex these days: movie producers, perfume manufacturers, car dealers, plastic surgeons, the Internet. Why shouldn't prostitutes? Whom is our vice-obsessed government trying to protect against what? Why are our police spending their precious time chasing down panderers and pot growers, instead of murderers, rapists and thieves?
Some cops actually do it for their own profit, behaving just like the gangs they're supposed to be policing. A recent corruption probe into the Los Angeles Police Department has revealed that vice officers from the Ramparts division stole drugs from dealers, then used street prostitutes to sell the narcotics for their own profit. They also kept an apartment near the station where officers would have sex with hookers while on duty. This huge LAPD scandal just goes to show how ludicrous and downright dangerous it is to keep prostitution—and other forms of "vice"—illegal. The corruption that Prohibition breeds is almost impossible to contain.
Well, at least Heidi's out of jail. At least, Hoff and his bevy of bunnies and kitties can practice their trade in relative freedom in sparsely populated areas of Nevada. But why not the rest of America? There's no good reason why not. That's why the law must change.
Now, just in case you don't know, I am not a prostitute. Nor am I a pimp or panderer, although I have had my home invaded by 20 LAPD officers who figured that anyone that dresses like me and talks like me and acts like me must be a working girl. But no. Sorry to disappoint you, Officer Moore! However, I do have great respect for prostitutes.
Hookers are the foot-soldiers in the sexual field. They're the infantrywomen fighting for sexual freedom in the trenches, putting their bodies on the line.
I myself am not so brave. I'm just a simple sex therapist, a pop philosopher, and your designated driver through the intoxicating world of human sexuality. If you'd like to talk to me about any aspect of your sexuality, you can call the Dr. Susan Block Institute 213.749.1330, and you can talk to me or one of our other fine telephone sex therapists. We're here for you, twenty-four hours a day, every day, even holidays. We're not hookers, but we are happy.