Reverend Bookburn's
Emma Goldman Freedom Award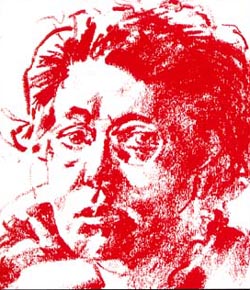 Portrait of Emma Goldman by Jeremy Sutton
Presented to
Dr. Susan Block
11/23/02 on The Dr. Susan Block Show

The Emma Goldman Freedom Award was inspired by one of the most courageous and fascinating freedom fighters in history--decades, possibly centuries--ahead of her time.
This award is to recognize an extraordinary person who carries the torch that was, in part, ignited by Emma Goldman. Emma Goldman (1869-1940) was an anarchist, freethinker, anti-war activist, early advocate for reproductive rights and voice for sexual freedom.
At a time when polite women in big poofy dresses were asking for the right to vote and being branded demonic witches from hell by religious zealots, Emma publicly called for legal and safe abortion, as well as full economic and sexual emancipation for all women.
Today the torch continues to be carried. This Award is in acknowledgement of an incredible manifestation of freedom.
It is in appreciation of your balanced range of focus, from the political to the pleasurable.
In appreciatin for your encouragement for people to actualize their sexuality and free themselves from conditioned guilt, shame, disgust, double standards, and the false, hypocritical value system of moral crusaders...
In appreciation for your delicious style of countering the Puritans...
In appreciation for being a sensational voice for sexual freedom and exploratin...
You are a brilliant, titillating, sexy, smokin' hot ringmaster of the greatest erotic circus in modern times...
With love, respect and a heightened state of arousal...
I present to Dr. Susan Block
Reverend Bookburns's Emma Goldman Freedom Award.