ETHICAL HEDONISM
M .A .N .I .F .E .S .T .O
The Bonobo Way
To Better Sex & Peace on Earth
by Dr. Susan Block


Human Hoka-Hoka ...... Photo: Glenn Campbell


Brothers and Sisters, Lovers and Sinners, we are gathered here in my little corner of the World Wide Web to entertain the remote but inspiring possibility of peace on earth, good sex for all.

I am the Irreverend Dr. Susan Block, and no I'm not a medical doctor and no, I'm not a psychologist, gynecologist, urologist or proctologist. My doctorate is in philosophy, and my philosophy is Ethical Hedonism: the Bonobo Way to Better Sex and Peace on Earth. .... Hallelujah!
Let the pleasures begin. .... Amen and Awomen. .... Please pass the dildo bowl.
Now, as you may imagine, when I tell people "I'm an Ethical Hedonist," I get a mélange of reactions. Some folks giggle and gape like they just saw Miss Manners in a g-string (and, in a way, they have). Others embrace me like a long lost sister speaking the native tongue they long to hear. "YES!" they declare, "An Ethical Hedonist! That's what I am!" or "That's what I want to be."
Then there are the cynics and skeptics, the Doubting Thomases and Tomasinas who squint at me in sly disbelief. "Ethical Hedonist? Isn't that, like, a Compassionate Conservative? Or a Bourgeois Bohemian? I mean, isn't that, like, an Oxymoron?" To which I patiently but firmly reply. "No, but it creates a lot of Oxytoxin, and if you can do it, you're definitely NOT a moron."
And you can do it.
You can be an Ethical Hedonist, just as you can very easily be an
Unethical Puritan.
You can live a life
that values pleasure
and be a person of goodness and integrity, even a model citizen.
You can have your sex
and eat it too!
Hallelujah! Praise the Lord and the Lady!

Sacrament ... Photo:

Glenn Campbell
BUT mind your manners. Ethical Hedonism doesn't mean "anything goes" or "if it feels good, screw it," damn the consequences, the kids, the maid and the neighbors. You must respect the desires--or lack of desire--of others. Ethical Hedonism is a new/ancient etiquette for a society whose doors are open to the World Wide Web in all its diverse, pansexual, multi-dimensional glory, danger, fun and foolishness. It gently but firmly guides you toward exploring and expressing your sexual, animal, pleasure-loving nature while keeping the peace as civilized, considerate ladies and gentleman.

That, in a coconut shell, is the credo of the Dr. Susan Block Institute. It is also, I believe, the emerging moral code of much of 21st century non-religious society, a code that picks up where most organized religions leave off, a code that abhors violence and repression and embraces diversity and freedom of expression.
Knowledge is the Key
In the Bible, "to know" means "to have sex with." Adam and Eve eat the fruit of the Tree of Knowledge. Nobody knows if the fruit was really an apple, a fig, a plum or a date? What we do know is they have sex.
| | |
| --- | --- |
| Primal Kiss ......Photo: Penny Antine | Knowledge leads to sex. Knowledge comes from sex. Adam and Eve get to know each other, gazing into each other's eyes, feeling each other's skins, tasting each other's nectar, whispering into each other's ears, opening up to each other, devouring each other, penetrating each other, sharing each other's deepest recesses, pleasures, pains and yearnings, communing as they consume the fruit of knowledge and each other. |
Knowledge is power. Sexual knowledge is sexual power. Socrates said "Know thyself." Ethical Hedonism says: Know thy sex. Get to know it as well as you can. Get to know your abilities and disabilities, your sexual skills and lacks, your likes and pet peeves. Get to know your partner(s) too.

Sex isn't easy to know, of course. Once you think you've got it, it slips away like mercury. Or it stabs you in the back, kicks you out of Eden before you can say "Where's that Snake?" But ignore it at your peril, certainly at your loss. It is your greatest, most vital, powerful gift from God, the Goddess, Nature, Space Aliens, Your Higher Power or Whatever You Believe In. Explore it and express it with grace, compassion, responsibility, humility, and fun--loads of fun (that's the hedonism part!).
"Sexuality, poorly repressed, unsettles some families;
Well-repressed, it unsettles the whole world."
Karl Kraus, 19th century Austrian philosopher
Ethical Hedonism Manifesto continued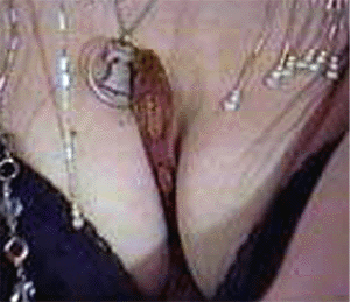 Freedom Snake .............................. Video Self-Portrait: Dr. Susan Block
Ethical Hedonism Manifesto continued