Elections, Erections,
Fuzzy Numbers &
Falling on Your Face in the
Divided States of America
by Dr. Susan Block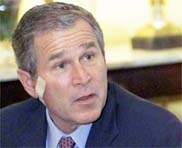 A Wounded Bush
What if we held a presidential election and nobody won? It's difficult to believe, yet impossible to avoid. Surreal, yet as real as the Florida sunshine. Not to get too Jungian, but it makes one ponder the power of the collective unconscious in American politics. The whole electoral nightmare seems to reflect our profound discomfort with both major party candidates, like a fun house mirror that's not much fun. Now we've actually gotten what so many of us jokingly said we wanted: None of the Above. You know the old saying: Be careful what you wish forů
I was one of the guilty. I hated Gore for trying to "distance" himself from Clinton, for supporting Rabbi Lieberman and Wife Tipper in their personal jihads against free speech in popular entertainment, and for continuing the ghastly American Drug War despite his own admitted marijuana use, among other things. But I supported him because I felt Bush (God's Executioner) was the Evil of Two Lessers. And due to fear of Bush, I couldn't get it up for Nader. I know, it sounds like some kind of sex problem, but it turned into a political fix.
Because I wasn't the only deeply ambivalent American. Every day, the media reminded me: Americans are undecided. And it wasn't like, this is a tough choice between two really interesting, inspiring, great leaders. It was like, "Ugh, do I have to pick one of these guys?" Tweedledum or Tweedledull?
Gore is manically engaging in family athletics--jogging with his daughter, playing football with his son....
Bush is visibly wounded.
Basically, most people were voting for one simply because they couldn't stand the stink of the other. But that simple anti-other-guy motivation was enough to polarize America into two distinct, pretty much equal camps, giving neither candidate a clear win on election night. So, oddly enough, it seems that all the collective discontent with both presidential wannabes, coupled with major fear of one or the other, twisted its way through our arcane Electoral College system into a real-life, nation-paralyzing president-elect stalemate. Whew! Talk about losing an erection. I mean, election.
Or maybe I do mean erection. The impotency is palpable. You see it in the desperate eyes of the spin-doctors on both sides. You hear it in the quivering voices of the news people and pundits who are all helpless to come up with something intelligent to say about this mess. And you see it in the candidates. Both presidential hopefuls look like they lost the election and their erections. Gore is manically engaging in family athletics-jogging with his daughter, playing football with his son. Whatever happens to the Presidency of the Divided States of America, Al Gore is determined to get his exercise.
Bush is visibly wounded. Have you seen him? He's currently sporting a large Band-Aid on his left cheek. What did he do--fall off the wagon and onto his face? Almost butcher himself shaving? Or maybe it's all this counting down in Florida-all these fuzzy numbers. Looks like Al's "fuzzy numbers" (remember Debate #1?) have come back to haunt Dubya. They seem to have made him so nervous he scratched himself bloody.
Whatever the cause, a Band-Aid on your face is not very presidential. Neither is bullying your way into the White House by trotting out that old Viagra-snorting dinosaur friend of your dad's James Baker III to squawk about pushing another generation of Bushes-the WASP Corleone Family-into the White House. Not to be outdone in the dinosaur department, the Democrats trotted out their old guy too--Warren Christopher--to say that recounting and maybe even re-voting is just part of the fun of Democracy.

Party Elders Baker & Christopher each try to appear statesmanlike while
attempting to push their guy into the White House before they die
Hey, maybe this means that we don't even need a president. Dubya keeps talking about smaller government. How about no president?
Okay, that won't work. America likes its presidents. We argue over how effective or powerful they truly are. But there's no denying that in a celebrity-loving culture such as ours, the American President, regardless of his strengths or weaknesses, is Celebrity #1.
So, how about two presidents? It's pretty much a tie, isn't it? So, maybe the two alta-cockers from each party could negotiate some sort of co-presidency. Two years for Bush, two for Gore. Better yet, let 'em divvy up the country. Gore-Lieberman could run the major metropolitan areas plus the Black neighborhoods and Jewish senior centers and Bush-Cheney could run the rural areas -all those big boxy states with no people, except the occasional Aryan Militia and church group. Bush-Cheney could pass out guns and Bibles, and Gore-Lieberman could pass out prescription drugs.
Nah. Polarized as our prosperous country is right now, officially dividing it in half plays right into the wrong side of the Civil War. So, why don't we just forget this whole presidential election, and stick with the guy we have? He's controversial but lovable, still young and virile, he's done a fabulous job against all odds, and his wife will be busy in NY. So why not let Bill stay in the White House for another four years?
Oh yeah, that's unconstitutional. Okay, then: Hillary for President! Hey, from never having held an elective office, she made it to Senator from NY. And if she can make it there, she can make it anywhere.
Maybe it's a little too soon for another President Clinton, even if her middle name is Rodham. Well, at least, this crazy election put Hillary in the Senate. At least, we got rid of a couple of those awful Impeachment House Managers. At least, we can see for ourselves what an anachronism the Electoral College is.
And at least, we've got an appropriate art exhibit up at the Speakeasy Gallery in the midst of all this electoral madness: Democratic Sex, curated by Kim Mendoza. Featuring Democrats, Republicans, Libertarians and Vegetarians.
Why "Democratic Sex"? Because sex is very democratic. Because not everyone can-or should--be President. But everyone who can breathe can have an orgasm. And everyone who can feel can fall in love.
Frustrated by the election mess?
Distort the future president
.....................


Need to Talk?
.....................



.....................


See Dr. Susan Block's
DEMOCRATIC SEX
U N C E N S O R E D
.....................


BUSHMAN

---
CONTINUE TO JOURNAL2
FRONT PAGE | NEXT | TOP | PREVIOUS | SEARCH