CITY GUIDE
.......................
AMSTERDAM, HOLLAND

HOTELS
XAVIERA HOLLANDER'S Bed & Breakfast

RESTAURANTS
BALI
PALMER'S RESTAURANT
Restaurant De Roode Leeuw
SUZY'S BAR

COFFEESHOPS
BABA COFFEESHOP
THE BULLDOG

ATTRACTIONS
EROTIC MUSEUM
RED LIGHT DISTRICT
GREEN LIGHT DISTRICT
.......................
CANNES, FRANCE

HOTELS
CANNES SOFITEL
HOTEL PALM BEACH
VILLA FRANCIA


RESTAURANTS
GALION BEACH
LA CROISETTE

EVENTS
CANNES TV FESTIVAL (MIPCOM)
.......................
CARLSBAD, CZECH REPUBLIC

LOCAL LIQUEUR
BECHEROVKA
........................
HOUSTON, TEXAS
AIRPORTS
LOVE FIELD
........................
LAKE COMO, ITALY
HOTELS
LAKE COMO CENTRAL HOTEL

........................
LONDON, ENGLAND

AIRPORTS
HEATHROW

FLATS
BEDFORD SQUARE MANSIONS

PUBLISHERS
SOUVENIR PRESS

RESTAURANTS
CLACHEN'S PUB
FAIRUZ LEBANESE CUISINE
IL PASSETTO
PrÍt ņ Manger
WHAP DEM AN CUM RESTAURANT

.......................


MONTE CARLO, MONACO

ATTRACTIONS
MONTE CARLO CASINO


.......................

NICE, FRANCE
RESTAURANTS
BENKAY

LANDMARKS
THE GOLDEN GATE BRIDGE
......................
SANTA MARGHERITA
LIGURE, ITALY

HOTELS
HOTEL LIDO PALACE

RESTAURANTS
COLUMBO'S
Da Giovanni Ristorante
......................
SEATTLE, WA.
HOTELS
THE SORRENTO

RESTAURANTS
THE HUNT CLUB
......................
TOULOUSE, FRANCE

HOTELS
TOULOUSE SOFITEL

RESTAURANTS
Il PASEO
LE CHEGILLARD

ATTRACTIONS
CLUB TABOO
......................
Z‹RICH, SWITZERLAND

RESTAURANTS
RESTAURANT KRONENHALLE

ATTRACTIONS
THE SWISS ALPS
.......................
TRANSPORTATION GUIDE
.......................
AIRLINES
CONTINENTAL
LUFTHANSA
TWA
UNITED
VIRGIN
.......................
CAR RENTALS
CALLAIS HERTZ
LONDON HERTZ
PHILADELPHIA HERTZ
........................
TRAINS
CHUNNEL TRAIN
THE EUROSTAR
.......................
CRUISES
LIBERTINE CRUISES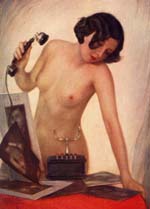 NEED TO TALK?
SEX . FUN . WISDOM The Dr. Susan Block Show




Liberté Fraternité Egalité
Révolution Plaisir



THE BONOBOS


ETHICAL HEDONISM
M A N I F E S T O


MEMBERSHIP HAS ITS
P L E A S U R E S


Dr. Block's
T R A V E L S . W I T H . MAX

Wherein The Doctor And Her Butler Return To Philadelphia, Encounter Two Rabbis, Stay In Three Hotels, Broadcast From Bed, And Get Married
(To Each Other)!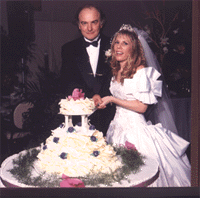 ........................
The Latham, The Presidential & The Rittenhouse
Philadelphia, Pennsylvania
It was the trip of trips: The Marriage Trip (no relation to The Marriage Trap). I was marrying the Great Love of My Life, my Ideal Man, my Prince, my Butler: Max. And we were having our wedding in my hometown, Philadelphia.
Actually, it wasn't our wedding. It was my Mom's wedding, her grand and gorgeous mega-production entirely, from calligraphied placecards to tropical flower bouquets, from smoked fish to nuts (no offense to my New York cousins). Max and I just played the roles of the groom and the bride. Now, compared to hosting syndicated talk shows and guesting on Oprah unarmed, I was sure this bridal bit would be a literal cake-walk. The part was, as my dear friend and (never-married) bridesmaid Adele called it, "a no-brainer," no intelligence, no creativity and minimal wakefulness required. Little did I imagine, from my jaded perch as a sophisticated single pop philospher, how demanding, debilitating and downright mentally deranging that common little role of "bride" would be.
As if to show how tough we were, Max and I took a TWA redeye from LA to NY. Usually, we can sleep on planes, but what with the arm between our seats continually snapping out and attacking us (stockholders may be pleased to note that TWA, another great American company on the verge of bankruptcy, certainly isn't wasting money on repairing passenger upholstery) and the airplane movie being "Father of the Bride" (of all things), we found out what makes redeyes redeyed. In NY, TWA cancelled our plane to Philly (not enough passengers!), then squeezed a football stadium's worth of people into a tiny tin contraption with propellers that sounded like someone mowing their lawn right between my redeyes.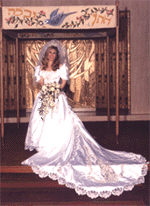 The Gown that Came
Out of the Freezer Bag
We lurched into the Philly Airport Hertz with eight suitcases and a seven-foot baby blue freezer bag filled with bridal gown. Personally, I thought the thing looked like a body bag, but airport personnel all seemed to know what it was and were so gleeful that I was a bride, you'd have thought I was Miss America. I guess every bride is Miss America on her wedding day, or some such corny schmaltzy piffel.
Naturally, Hertz didn't have the car we'd reserved weeks ago over the phone. But, Max and I both being natural-born squeaky wheels, we got oiled (after two hours of continual squeaking), and were awarded for our threats and outcries with the quintessential modern all-American bridal carriage: a humongous, wedding white Lincoln Towncar. We plugged in our phone and sped off to our first stop on the wedding trail: Mom.


General Mom
Mom was putting together this wedding like Norman Schwarzkopf put together Desert Storm, like Steven Spielberg put together "Hook", like God put together the best parts of the universe. She'd already thrown the best Bar Mitzvah, confirmation, graduation, anniversary, birthday and bridge parties east of the Allegheny, but this was to be her crowning achievement: the wedding of her only daughter to a genuine Prince of a guy (with two ex-wives and four kids, but who's counting?). We were given our schedules, battle assignments, and lunch, then we were off on a whirlwind round of errands and appointments, from Small's to City Hall. Bridal Madness had begun.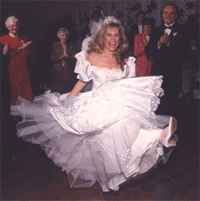 Bridal Madness
Crimson-eyed and fading, we checked ourselves into a darling little hotel in downtown Philadelphia called The Latham, and fell in an exhausted but amorous-orgasmic heap in the big bed that took up most of our little room with a view. There's nothing spectacular about The Latham, and it is rather small (our room as well as the entire hotel). But it's a nice, understated and elegant, European-style old Philadelphia landmark with fine, congenial service, especially good for business travelers who appreciate Old World niceties.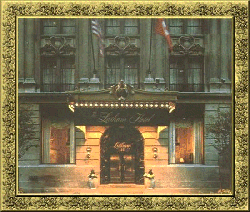 THE LATHAM HOTEL
We napped a few minutes, then pried open our eyes to go out with an old friend I hadn't seen for twenty years. His name is Dan Braverman (but I'll always call him Danny). When we were 15, Danny was going steady with my girlfriend Julie Steinberg, and I was going with a boy named Ricky Goldfein who went to Julie's school. Sometimes the four of us used to go over to Danny's house when his parents weren't home, then we'd turn the lights down low and "make out" until our faces were chafed and raw.
Danny's face--and style--were relatively smooth when he picked Max and me up at The Latham. His date was the very lovely, very sexy Ms. Robin Rothschild (who runs WVAY radio in Mount Snow, Vermont where I used to perform mime at the crafts fairs and flirt shamelessly with all the horny craftsmen - another blast from my east coast past). Danny took us to his brother David's hip new restaurant, Le Bus, on Main Street in Manyunk, the newly trendy area west of Philly. It's called Le Bus, because David's first restaurant was in a big old bus he had permanently parked outside of the University of Pennsylvania. Le Bus in Manyunk is in a regular building; it's Le Bus without the bus. It's also rather Southwestern in decor and cuisine, the current hot style in Philly. Danny ordered us up a banquet of appetizers and entrees and desserts, all of which were creatively prepared and voluptuously presented, most of which were very tasty, a couple of which were a little overcooked. Le Bus also features a spectacular assortment of imported beers, and a warm, convivial atmosphere conducive to having a high-spirited, hearty meal with my old friend Danny, my new friend Robin, and my delectable impending groom, my Max For All Seasons.
Of course, we were going on 40 hours with practically no shut-eye, so, despite the delightful company, we yawned night-night, crawled into our comfy Latham bed, made weary but passionate pre-marital love, collapsed all over each other, and before we knew it, brrriiinnggg! went the morning wake up call from the front desk, and we were off to a meeting with the first of two rabbis. Not only would this be a double ring ceremony; it would be double-rabbi to make double-sure we wouldn't be single anymore.
Rabbi Gerald Wolpe presides at Har Zion Temple in Radnor on the Main Line, one of the grandest conservative synagogues in the country. The Block family has belonged to this synagogue (now in a new building) for three generations, and this was where the wedding of Suzy & Max would take place. As we entered Rabbi Wolpe's sumptuous office, I remembered that he became rabbi at Har Zion around the time that I was chafing my face with Ricky Goldfein in Danny Braverman's house. He hadn't changed much, still charming, eloquent and difficult to get a word in edgewise. His interview of us turned rather quickly into the story of his own son, a successful author who obviously makes his papa very proud. Max didn't mind; in fact, he was grateful not to be cross-examined, and thoroughly enjoyed Rabbi Wolpe's theatrical-anecdotal, Italian-American-Jewish panache.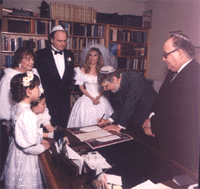 Our Two Rabbis Sign the Ketuba
Rabbi #2 was considerably tougher. Rabbi Ivan Caine, a rabbinical and secular scholar who speaks some 13 languages (several of them ancient) had been my Hebrew School teacher at Har Zion for several years, so he already knew what a handful I was. He was curious about Max though, and his 90 minute interview of my butler and future husband bore some resemblance to a Talmudic oral exam. Weaving his ex-wives, numerous children and royal Italian and Czechoslovakian ancestors into a tale of Biblical proportions, Max passed with flying colors.
Another blizzard of tasks and assignments from General Mom ensued, including the gathering of The Block Party, a motley entourage of various video and radio crew members, magazine editors, relatives and bridesmaids (arriving via plane, train and osmosis). We all converged on The Presidential and made ourselves right at home. The Presidential is a large, multi-purpose business and residential complex smack at the end of town; that is, super-conveniently located on the famous City Line Avenue between Philadelphia proper and the beginning of the Western Philly suburbs that stretch out to Valley Forge, also known as The Main Line which is where (you remembered!) Har Zion Temple is. The Presidential has been around since, well, since I was making out with Ricky Goldfein in Danny Braverman's house. You can live there, work there, or just stay there for a few days. It's a super place to stay if you need to get around Greater Philadelphia. You pay less than you pay for a nice hotel, and you get a whole apartment, including a large bedroom (or two), nice-sized bathroom (or two), living room, dining area and fully equipped kitchen (but no phone; we brought our own), as well as easy access to all the little shops, restaurants and services within the complex. In fact, it's so self-contained that it's a great place to "keep" people, like mistresses or unpredictable charges, that you'd rather not have wandering around town.
Which is pretty much what we did with Max's kids, Danielle and Michael and Michael's girlfriend Una Baer (for Baer family background, see Travels with Max #2). We spent much of the evening putting together suitable wedding outfits for the three of them. Everyone had something that needed to be covered up: Michael's tatoos (they're gorgeous, but the rabbis wouldn't appreciate them), Danielle's tracks (she'd been squeaky clean for a few months, but still...), and Una's three-month's pregnant stomach (my relatives were braced for me to be an instant step-mother, but a step-grandmother? Oy vey). With a little bit of long-sleeved this and loose-and-shapeless that from everybody's wardrobe, we actually covered and guzzied them up to the point where these Three Lost-&-Found Children of the 90's looked absolutely perfect for a conservative Philadelphia Jewish wedding. Michael's overgrown goatee looked downright rabbinical, the ring through Danielle's nose seemed almost Semetic, and Una looked like a lot of suburban Jewish Philly girls, pretty, but a little plump around the middle. We celebrated with mediocre margaritas and decent enchiladas at the El Torito on The Presidential premises.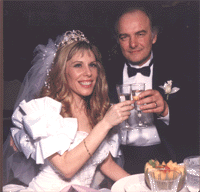 L'Chaim!
That night, Max and I channelled our prenuptial tensions into about four hours of rollicking premarital sex, then passed out for three hours, when ddrruuuaaannnggg! went the handy dandy Presidential alarm clock, and we were off on another breathless round of pre-wedding activities, including the formal notarizing of the Pre-Nuptial Agreement (what did you expect?). In the latter part of the day, I was scheduled to pose for my formal wedding portrait at the photography studio where my mother had had her wedding portraits taken. Since the wedding itself was the next morning, I was to get my hair done that afternoon before the portrait sitting.
As Max and I entered the lower level of Mel's Beauty Salon in North Philly, little did we realize that we had descended into Hairdo Inferno; it just looked like a bunch of nice, elderly ladies getting their hair done. Actually, I think my mom was the youngest person there, and she's almost 73. But before I had a moment to worry about having my own hair styled like one of The Golden Girls, I was whisked up to the upper, younger, hipper and trendier floor where I was to have my hair done by the owner, Mel himself. O lucky me. Mel looked me over, brushed off my attempts to tell him exactly how I wanted my hair styled (nice soft waves with a few curls), and chirped, "Don't be such a nervous bride. I'm going to make you look very vogue."
I asked Mel what "very vogue" meant, but he never told me. He did tell me that he'd been married four times, and he'd never left North Philadelphia in his life. I guess maybe he'd married every North Philly girl who would marry him, and now he was alone and miserable, and he was taking it out on me, and he was going to make sure I looked as ugly for my wedding as possible! Whatever his dysfunctional background, within about 6 minutes, he had me looking like he had dipped a mop into rubber cement, then stuck the mop ontop my head, and pulled the cement-soaked strands apart. In other words, he gave me a pseudo-bad-perm, so bad that when I first got a glimpse of it, I could not speak. I, rarely at a loss for a bon mot, was shocked into utter speechlessness. Good ol' Mel was either oblivious to my mute agony, or relishing it. I staggered downstairs to where Max was getting his hair(s) trimmed by Mom's hairdresser, Allan Gomer.
GO TO A REALLY GREAT HAIRDRESSER
When I saw Max's squinty-eyed reaction to the new, very vogue mop on my head, I realized it was true, I wasn't dreaming, I was in Hairstyle Hell for my one and only wedding - and I burst into hysterical tears (just like a nervous bride, huh?). All the blue-haired, red-faced ladies looked up quizzically from under their hairdryers, Allan gallantly attempted to iron out the mop, and Max reassured me he'd love me even if my hair fell out, but I wouldn't stop blubbering until my mother declared the situation to be a genuine Bridal Emergency and called up the photography studio to cancel my portrait sitting. Then I took a bow for my performance before Mel's entire astonished salon (though Mel himself had conveniently disappeared), and rushed back to the massive, sprawling, downhome comfort of The Presidential to do my own hair. Now I understood why so many couples prefer to elope.
After a sexless, sleepless night of lying in bed with curlers on my head, fretting about everything even remotely related to this wedding that I could think of, I opened my eyes to my last morning as a single woman, and I realized I had nothing to fret about, because lying right beside me, his leg flung luxuriantly over mine, was the most magnificent human being in the world, my future husband.
"Max!!!!! Wake up! We gotta go get married!" I shrieked, and we were up and out of there, "goin' to The Chapel of Love." If I were to tell you just how grand and glorious that wedding turned out to be, you'd think I was exaggerating, bragging, or boring. Suffice it to say that everyone looked gorgeous and behaved like princes, even if their family trees stemmed from shoemakers, sheepherders and town thieves. All Mom's talents as an artist, floral arranger, set designer, party thrower and field commander came together for this one, and not anyone, not me or Max or his kids or my New York cousins, could screw it up. Even my hair looked good.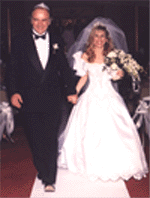 Charging Down the Aisle
Well...just a few highlights (I can't resist): Max's brother Charles, who flew in from Italy with his wife and daughter, kissing Mom's hand in true princely fashion upon their introduction... Signing the Ketuba (Jewish marriage contract) in the rabbi's office, surrounded by our beaming, sniggering bridal party...The two rabbis oratorically outdoing each other, resulting in showers of eloquence and profundity, and aching feet for those of us standing through it all in brand new bridal shoes up on the pulpit...Out of a bevy of adult single ladies all vying for the bridal bouquet, my 10-year-old flower girl Miriam catching it...My brother Steve catching-- actually diving for--the garter (watch out, ladies, he's ready!), then dancing with it on his head (at least it wasn't my panties on his head)...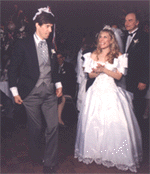 Brother Steve with
Garter on Head
Max's aggressively adorable six-year-old niece Giovanella (also a flower girl) following me around like an angelic attendent, helping me with my train, dancing with me, and looking up at me as if, with all those petticoats, I must be...Miss America(!)...Max and I taking advantage of the profound exhibitionistic/religious thrill of our "you may kiss the bride" moment by French-kissing up a small tropical storm right in the center of the sanctuary, until I heard Mom stage-whispering from behind us "That's enough now!" And then there was the Grand Bridal Dance: I really couldn't imagine how I was ever going to dance decently with six petticoats and a punishingly tight (but very hot-looking) corset, but dear darling Allan (who had so chivalrously blown up at his boss Mel for mop-erizing my hair) and his wife Bobbie had barely bustled my train when the band leader was calling Max and me in to dance that first dance the bride and groom always have to dance.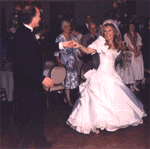 Let's Dance
They played a barely recognizable version of The Doors' "Hello I Love You" as we walked into the banquet room (which Mom had fixed up to look like a '90's Synagogue version of the Copacabana), then launched into a more plausible rendition of Marvell, Stracey and Link's "These Foolish Things" for the actual bridal dance. Feeling sort of sheepish at first, not to mention nervous about tripping over all those petticoats, I soon realized that this was the hottest, sexiest moment of The Wedding for an inveterate exhibitionist like me. I mean, everyone had to watch us; we were the bride and groom. And we did, of course, dance divinely - even aerodynamically. When Max spun me around or lifted me up, the petticoats acted like a sort of sail, and I felt - and looked - like I was soaring or floating or actually flying through the air. Since one of my favorite recurring sexual fantasies involves flying, this flying bridal dance experience was truly orgasmic (I think my panties were wet, though who could feel them through all those petticoats?).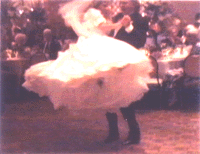 She flies through the skies with the greatest of ease,
But this daring young bride almost lost her panties...
As a matter of fact, sometimes when I masturbate or when Max goes down on me, I close my eyes and think about the exhibitionist ecstacy of our flying bridal dance, and I feel my whole body tingle and soar into a whopping airborn orgasm. Never knew a bridal dance could be such erotic fantasy fodder, did ya?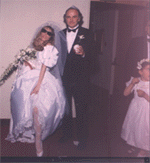 Ray-Ban Bride
Then before we could say "I do" (which we never actually had to say), it was over, and we were off in our great white whale of a car for our wedding night at The Rittenhouse with a lovely view of one of Philadelphia's prettiest little parks, Rittenhouse Square. The Rittenhouse Condominium Residences and Hotel is a contemporary, award-winning (AAA Five Diamond, Mobil Four Star) establishment, Philly's only luxury hotel owned and operated by a Philadelphia company, with extensive business facilities, elegant shops, two fine restaurants (we missed their highly ranked Restaurant 210, but did eat delicious smoked salmon salad, duck and seafood fettucini at their Southern French-style Treetops Restaurant), spa and pool, a sparkling marble, brass and glass lobby, large well-appointed rooms and bathrooms, and pretty darn impeccable, congenial service.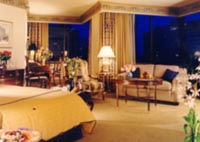 A Suite at the Rittenhouse
We arrived exhausted but ready for a great, ground-breaking wedding night. Actually, I can't imagine how couples who have never had sex before marriage manage to have a decent wedding night after all the fuss and fanfare of a big wedding. I mean, the pressure must be immense, especially if either one or both of them are virgins. Fortunately, Max and I didn't have to worry about that. However, it being our wedding night, we did want to do something we'd never done before. So, surrounded by soft, stress-reducing candlelight and classical music, we immersed our naked selves into the big beautiful bathtub (despite our many previous erotic shenanigans, we'd never made love in a bubblebath before!), and slithered and slip-slid all over each other, two wild waterbabies in early marital, lovey-dovey, utterly unrestrained lust.


Wedding Bell Lust
The next night, we broadcast the radio show live from our wedding bed (You've had Breakfast in Bed? Well, this was a Broadcast in Bed) in our plush suite at The Rittenhouse in the great Wedding Bed-Broadcast Tradition of John and Yoko. Mom and Brother Steve came over and did cameo appearances on the show. Since we videotape the radio program, I got all trussed up again in my bridal gown (now falling apart at the sleeves from all that dancing and bouquet-throwing), petticoats, corset, garters and stockings, and talked about the wedding (what else?), as various callers, fans and slaves from all over the country made airwave toasts to the everlasting erotic-exotic marital bliss of Max and me.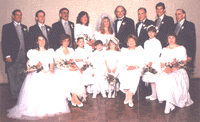 The Wedding Gang
We wished we could have stayed longer at The Rittenhouse and enjoyed more of their fine facilities and amenities (and slept in), but the next morning, we had to rush back to L.A. As soon as we hopped off the plane (United this time; we got smart), Michael picked up our bags and Dan picked up our bodies and whisked us off to an appearance regarding my presidential candidacy ("I like lots of kinky sex, but I don't have affairs, and yes, I have inhaled") on The Montel Williams Show. Max carried my bag. He's my husband now, but he'll always be my butler. And I'll always always love him and want to lick his sexy body.
4.12.92
continue to more of Dr. Block's Travels with Max


Bride to Flower Girl
the dance continues

JOIN I FRONT PAGE 2 I SITE INDEX I JOURNAL I.WHAT'S NEW? I.THERAPY