DR. SUSAN BLOCK'S
T R A V E L S . W I T H . M A X
EUROPE (continued)
Dutch Exhibitions
Friday morning, Xaviera moved us to another room. This is one of the hazards of staying Chez Xaviera; the lady of the house may move you around a bit. Not that it mattered too much to us, since we were leaving that night after the party anyway. But having to pack up in the middle of the day got us off to a late, rather disorganized start.



World's Sexiest Couple: Cora & Shai ..... PHOTOS: SUZY
At about 3 PM, we finally went out to visit Cora and Shai, one of the world's sexiest couples. Cora is Aida's mom (and Willem's ex-lover), a pretty, petite, proud exhibitionist and sexuality teacher. Shai is also an exhibitionist, but he's from Philadelphia (another sexual show-off from Philly!), so he's got that American East Coast edge. Plus, he used to be a gigolo. Yes, women actually paid to have sex with him; he even showed himself off in one of those Red Light District windows. He's also been a spy and served in the Israeli army, among other odd jobs. And he has an incredible voice, sounds more like Frank Sinatra than Frank, Jr.
We hung out at their flat and watched them have a little sexplay on their balcony overlooking the city.



Shai & Cora on their balcony (everyone has some kind
of window act in Amsterdam)............... PHOTOS: MAX
Inspired, I did a quasi-strip tease to a CD of Shai singing "Witchcraft."


















Shai Dancer ................................................................................................. PHOTOS: MAX
Then we all went out for a stroll and a busride to Amsterdam's fine Erotic Museum. What an exhibition: Five floors of beautiful vintage and modern erotic art of all kinds. The most amazing piece was the Pissing Mannequin. On the top floor, you look up at a rather low glass ceiling to see an elegant mannequin squatting over you and urinating (or simulating urination) all over the glass. Quite impressive.




Golden Shower from the Top Floor of Amsterdam's Erotic Museum..PHOTOS: MAX
Then we wandered over to a Yuppie-style bar called "Suzy's," appropriately enough, where we drank beer and, though the place wasn't a coffeeshop and didn't sell hash, they didn't mind if we lit up at the bar. Amazing. California bars won't even let you smoke cigarettes, let along pot. The smoke was good, but the freedom was intoxicating.
They do make you buy matches here. The Dutch are pretty tolerant, but they want to make a guilder off you whenever they can. And why shouldn't they? We didn't mind buying matches from a machine if it meant being able to smoke a joint in a mainstream bar.


Buying Hash In a Friendly Public Place
(M is for Manali) .. PHOTO: SUZY
We'd been drinking, smoking and philosophizing so much, we were running late, but we were also starved, so we just had to stop at our favorite herring house, Restaurant De Roode Leeuw. That catch was just as fresh and delicious as our first bite.
Party Time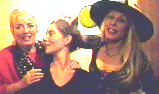 PartyTime ................ PHOTO: MAX
Full of fish, we rushed back to Xaviera's, just in time for her party for us. It was wondrously warm and festive, filled with great food (the herring was just an appetizer), good wine and about 30 of the best people in Amsterdam. Shai and Cora were there, playing with each other (and me!) on the couch. Willem strode in after his radio show. We enjoyed excellent cabaret entertainment by "L'Amour Ravissant" with the vivacious Fifi L'Amour and sexy pianist Rodolfo. Later, while rubbing my neck (at the same time that Shai was massaging my lower back), Rodolfo told me that he sometimes played classical music for Holland's own Queen Beatrice. I invited him to the Speakeasy in LA, to try his talented fingers on the ivories of my great grandmom's Steinway Baby Grand. His eyes lit up, his fingers pressed harder. All this rubbing was quite nice (another expert masseuse, Hans with the Strong Hands, also worked my shoulders over a bit); this Dutch Guest of Honor thing sure had its perks!



Top Entertainment: L'Amour Ravissant & Shai PHOTOS: ONIE
Shall We Dance?
Other guests got up to sing and recite poetry. It was a veritable talent show! Shai sang "Witchcraft" and everyone looked spooked, like Sinatra's ghost had flown in the room. Being the Guest of Honor, I wasn't expected to perform. But at a certain point, someone called out their request for "the doctor" to analyze Amsterdam's sexual problems, or something like that. Xaviera liked the idea. Not having an immediate answer (I can't think too precisely when being body-rubbed by three hot men and a lovely lady), I threw the question to the crowd, and the crowd snapped at it like a bunch of hungry dogs going after a chunk of filet.


A Heated Discussion PHOTO: ONIE
They shouted and argued (quite good-naturedly, of course) over women's problems and men's problems, singles' problems and couples' problems, the same as people everywhere. Then Shai wondered aloud if all this much-vaunted sexual freedom in Amsterdam was making sex "boring." I disagreed. Sex can get boring in captivity too. Besides, better a little boredom than brutality, intolerance and persecution. People who say we need unnecessary laws and restrictions to make sex exciting are being lazy (no offense, darling Shai, I know you work very hard!). If restrictions are what you like and need to make sex hot, fine, join a church that restricts you, or go to a dominatrix. But don't give that power to the government!
Suddenly, I figured out the Big Dutch Sex Problem: Dancing! That is, the lack of it. Amsterdam has legal whorehouses, public hash bars, great pubs, fabulous art museums, superb historical sites, yummy food, excellent lodging, everything for adult pleasure except places to dance. Everyone agreed. There was not enough dancing in Amsterdam.

Dangerous Dancing .....PHOTO: ONIE
Ready to correct the problem with Dutch and American know-how, we tackled Xaviera's stereo system, foraging for dance music. It wasn't easy. Amsterdam is just not a dancing town. That made us even more determined to dance! An effervescent young lady named Muriel (like the cigar) put on something sultry and danced with me as if we were contestants in a lady's wrestling match. Whew! Dancing was dangerous in Amsterdam! Rodolfo then swept me up into a sort of Dutch tango that proved quite exciting, until we lost our dance music. It came back with a Latin vengeance and I found myself dancing sensuously with Cora, at which point Shai got down on his knees and under my skirt. Wow, he hasn't forgotten the oral tricks of his old profession!



Kissing Cora .............................................. PHOTOS: MAX
You may wonder where Max was during all of this. So did I! Just kidding. I knew where he was every moment (I always do), regaling his old and new friends with tales of our incredible trip. Which reminded us, we had to go! We had to get the car to Callais for the switch the next morning, which meant we had to pack up our stuff and leave, just as the party was ending (probably, if we didn't have to go, it wouldn't have ended). Amsterdam was one place we hated to leave, but there was nothing to be done about it.


Max in Amsterdam PHOTO: SUZY
It was a lovely evening. If you stay at Xaviera's, I can't guarantee she'll have a party in your honor, but she probably will have some kind of soirée on any given Friday night that you could attend. Also, Xaviera, bossy Grande Dame that she can sometimes be, genuinely cares for her guests' well-being, an important quality in a hostess. When I accidentally left some jewelry that had belonged to my beloved Mom in the first of our two rooms, Xaviera and her handsome helper James, searched for it, found it and shipped it right back to me in the States. Now that's service with "something extra"!
Home
But now we had to get back on the road. We kissed Xaviera and the gang, hopped into our trusty silver Mercedes, tore out of Holland, through Belgium, and back into France, switched cars in Callais, drove onto the Chunnel train and made our way back to Hertz in London by noon. Then "home" to Bedford Square Mansions. Cathy let us in, cheery as always, and we collapsed for a couple hours. Then, it being our last day in London, we threw off our exhaustion and went out to Carnaby Street, picking up some of the only bargains in London as gifts for the Bonobo Gang. It was fun. But it wasn't Amsterdam.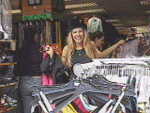 Shopping in London ......PHOTO: MAX
We did go to Clachen's Pub, a cute little joint around the corner from Carnaby, and ate hearty but somewhat mushy fish n chips, plus a delicious shandy. A shandy is a beer mixed with lemonade that's perfect for those of us who find that even the finest beers taste like fizzy piss (not that there's anything wrong with that, but it's not my taste…).
We took Continental home. No more Virgin. Max had a bit more room for his long legs (all three of them), but it seemed somehow less exciting than going "on Virgin." Not such great movies (though one, "Anna & the King" did focus on the extraordinary power of dancing; the Dutch need to see this movie). More delays. No free champagne. Or maybe it's just that we were departing instead of arriving. Well, we didn't want to leave but we did want to get back. We missed our Bonobo Gang. We wanted to get back into fixing up the Speakeasy, running our place, our gallery, even (coming soon) our Bed & Breakfast. Our home is in LA. But we've been bitten by the EuroBug, and we'll be going back very soon.
Epilogue
Oh, I bet you're wondering what we did with all that hash we bought in Amsterdam. We really wanted to take it home with us. And actually, we started to. But when we landed at Houston's Love Field Airport, Max took one look around at the dour-looking customs guys, heard someone with a menacing Southern accent drawl over a loudspeaker that if you so much as joked, you'd be taken in the back room and investigated, and threw the little baggie under a baggage carousel. No sense getting busted in Texas for the sake of a bit of hash. They're probably executing smugglers these days. But still, it brought home the insanity of our War on Drugs, America's War Against It's Own People, that we are ALL losing. Oh well, some janitor in Houston airport got himself a good Manali high that night.


Manali High ... PHOTO: MAX