DR. SUSAN BLOCK'S
T R A V E L S WITH M A X
Paris Pleasure Travelogue
(continued from previous page)
Our next adventure was a private tour of Paris' own Musée de L'erotism. The Erotic Art Museum. Ooh la la!
Venus of Willendorfc.

24,000-22,000 BCE

Paris is famous for its extraordinary art museums, and the Musée de L'erotisme is a more than worthy representative of art of a sexual nature.Of course, it's difficult to say just where erotica ends and "regular" art begins. Arguably, the oldest art piece in the world, the Venus of Willendorf, could be considered a work of erotica. Some have even called it a sculpted sex toy (un gode)!
Heresy? Hardly. Many of the most respected artists in history, now enshrined in our most honored museums, were considered "erotic" artists or even "pornographers" in their day.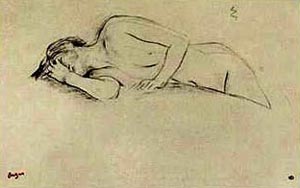 The "Pornography" of Edgar Degas
Just down la rue from the Moulin Rouge, smack in the center of the Pigalle district, on 72 Boulevard de Clichy, le Musée de L'erotisme regales the visitor with seven floors of erotic, sensuous, hilarious, brilliant paintings, sculptures, photography, video and mixed media from all over the world, from ancient times to the present.







Click on the thumbnails to see enlarged photos of some of the magnificent art from five different continents at La Musée de L'erotisme in Paris
If I were going on a hot date in Paris (and I was!), this would definitely be a stimulating stop to make along the way to le lit.




La Musée de L'erotisme is one of the most stimulating in the world. Click above!
Our private tour was conducted by le Directeur lui-même, the chicly bald, sensuously mustachioed, genial yet Mephistophelean-looking Joseph "Jo" Khalifa and his sweet and helpful press associate Cecilia Conseils .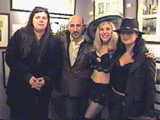 Cecilia, Jo, Me & Imanne
Le Musée de L'erotisme is Jo's bébé. He "gestated" it when he started collecting erotica during his travels, and "gave birth" to the museum itself, inhabiting a restored, 19th century building on Boulevard de Clichy, in 1997. Open from 10.00 to 2.00 a.m., le Musée de L'erotisme is the only Parisian museum which can be visited day or night !



Click on these erotic Indonesian paintings. See the bonobos (or are they gorillas)?
Jo and Cecilia took us on a mesmerizing journey through the visual and kinetic delights that grace his walls on seven floors, including a special exhibit of wonderful, whimsical paintings by Julian Murphy that show how sex of all kinds can occur between everyday household appliances...






Julian Murphy's whimsical sense of sex & technology
A hand-sculpted meal of luscious vulvas with cock-shaped silverware...
Miniature sex scenes enacted by the erotic equivalent of toy soldiers...



The Joy of Sex with the Toys of Sex
Sculptures of every shape and kind, including some of our own Karin Swildens...



Erotic Sculpture by Karin Swildens
Gorgeous tapestries of tantra, fetish, sex magic, confections of flirtation, the art of seduction and orgiastic expression...
and even some bonobos (at least, I think they're bonobos).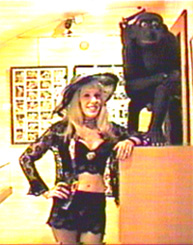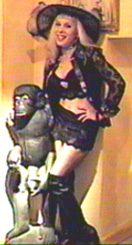 Horny Apes (Bonobos?) at La Musée de L'erotisme

At the end of our tour, Jo enhanced the already potent appeal of his art by presenting us with several beautiful erotic art books, including Histoires du pénis by Dr. Marc Bonnard and Dr. Michel Schouman...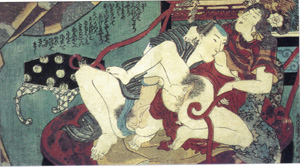 Shunga Print from Histoires du pénis by Dr. Marc Bonnard and Dr. Michel Schouman
la caverne sentimentale by anne van der linden...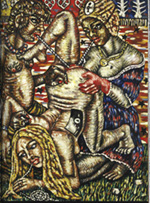 la citerne...... anne van der linden
and Denyse Willem by Denyse Willem.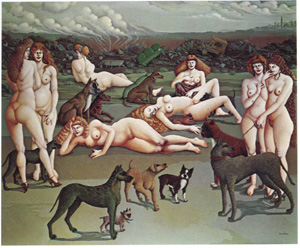 Agression Canine ................. Denyse Willem
While I was gabbing with Jo and Cecilia and gawking at erotica, Max bought me a 10th wedding anniversary present ("Thou Shalt Give Her Things" being the 7th Commandment of a Lady's Pleasure; so what if it was my money he was buying it with!): an exquisite sculpture of a naked woman garlanded by gold roses, apparently waiting to be spanked or taken from behind. It's what I call "touchable art." Sculpted of resin, her derrière is so smooth and well-formed, I just love to rub it like a magic lantern for good luck.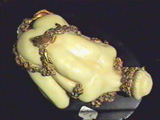 touchable art from Le Musée de L'erotisme

Wanting to continue to get to know our intriguing host and his vision of erotica in the heart of world art, we joined Jo for drinks and un peu manger at a nice, friendly little bistro named mpib. Good food, good wine, good conversation and, erotic art, Parisian style: just what we needed to inspire another night of pre-10th wedding anniversary sex...
NEXT: Paris Dernière on Paris Première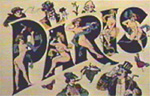 Continue to Paris Pleasurelogue
Page 4



JOIN I FRONT PAGE 2 I SITE INDEX I WHAT'S NEW? I. JOURNAL I THERAPY